Front Page Photo
'Just Ducky'
by Gigi Pilcher
September 13, 2003
Saturday 12:30 am

Ketchikan, AK - All summer long the wild mallards living at Bar Harbor have delighted summer visitors and local Ketchikan residents alike. The flock of ducks lives in and around Bar Harbor. Among the wild mallards is one lone white duck.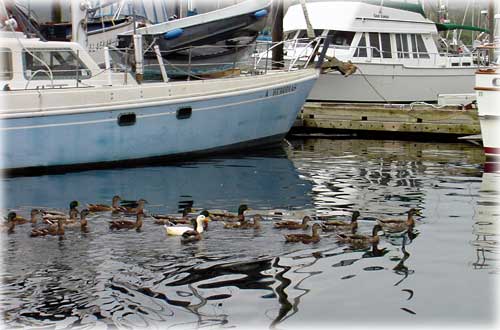 Some folks refer to it as the "ugly duckling" other call it the "odd duck" but a human friend of the flock says that it may be a "trash duck". A " trash duck" is a duck that was perhaps some child's Easter present that may have become to burdensome and was released among the wild ducks. This same source says that there use to be two white ducks but one fell prey to a eagle this Spring. Regardless of its parentage, the lone white duck has been adopted and excepted by the flock.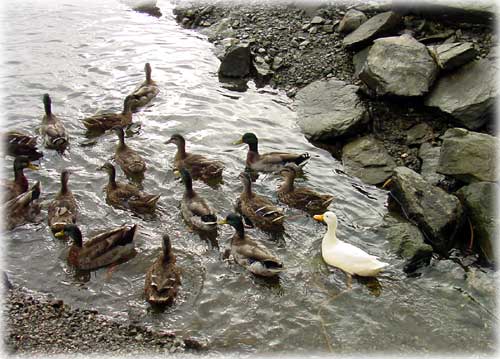 Perhaps it really is one of the "rare, Alaskan albino mallards" as one local resident likes to tell the season visitors. Friends of the Bar Harbor ducks keep a sack of cracked corn to toss out to the ducks on special occassions.
photos & text by Gigi Pilcher ©2003
gigi@sitnews.org
E-mail the Editor
Post a Comment View Comments
Submit an Opinion - Letter
Sitnews
Stories In The News
Ketchikan, Alaska