People of Ketchikan
De Chellis NTFD's New Fire Chief
by Dick Kauffman
August 12, 2003
Tuesday - 1:15 pm

Ketchikan, Alaska - The new fire chief of the North Tongass Fire Department is Steve De Chellis. De Chellis said he was born in 1952 and raised in Glendale, a town outside of Los Angeles. He lived in Glendale and worked for the Los Angeles Fire Department for 20 years before retiring in 1993.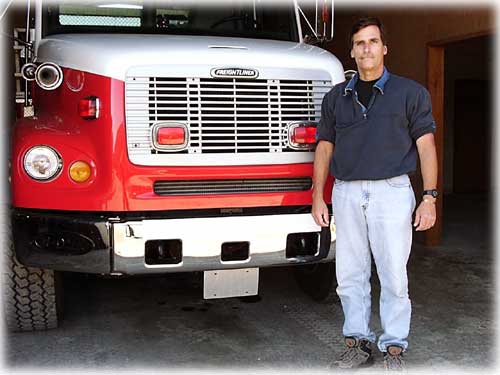 NTFD Chief Steve De Chellis
Photo by Dick Kauffman

After retiring, De Chellis lived in Coeor d' Alene, Idaho from 1993 until 1996. From Coeor d' Alene De Chellis moved to Saudi Arabia where he worked as the Deputy Fire Chief with the Aramco Fire Department from 1996-2001. From May 2001 to May 2003, De Chellis was the Fire Chief in Soledad, California which is a small town of 12,000 east of Monterey. In June 2003, De Chellis was offered and accepted the position of Fire Chief for the North Tongass Fire Department (NTFD) with a starting date of July 28th.
Presently, Chief De Chellis is the only employee of the NTFD however he will be hiring an EMS Coordinator. Chief De Chellis currently has six volunteers who respond to fires and medical situations in the NTFD area. The Chief said he is looking for more volunteers to bring the fire department staffing up to a workable unit and asks persons who are interested in volunteering their services to contact him. De Chellis can be reached at 247-5521 or his cell phone at 209-4249.
The Chief said two new fire engines are expected to arrive September 5th, and a new ambulance a few weeks later. Two more tankers have just been ordered as well as other fire department equipment needed for a fully staffed facility.
Currently the NTFD is located in a rented building at mile 7 North Tongass Highway where the previous Pond Reef Volunteer Fire Department was located. However, De Chellis said there are plans to begin building the first NTFD fire station in the North Tongass D-1 loop area and plans to build a second fire station later further out on the north end.
Chief De Chellis said the North Tongass Fire Department will be offering full coverage to the North Tongass Service Area as soon as possible. Until the NTFD is fully functional, the City of Ketchikan will continue responding to any emergency calls and the South Tongass Fire Department will respond to any fire calls.
The North Tongass Fire Department located at 7332 North Tongass Highway will hold an Open House on Sunday, August 17, 2003 from 1:00 to 4:00 PM. The proposed sites for the new fire stations and displays of the new fire fighting equipment can be viewed at the Open House.
Related:
©2003
Submit your News In Photos for publication to photos@sitnews.org.
Post a Comment View Comments
Submit an Opinion - Letter
Sitnews
Stories In The News
Ketchikan, Alaska