Front Page Photo
Empress of the North
photos by Dick Kauffman
September 06, 2003
Saturday - 12:50 am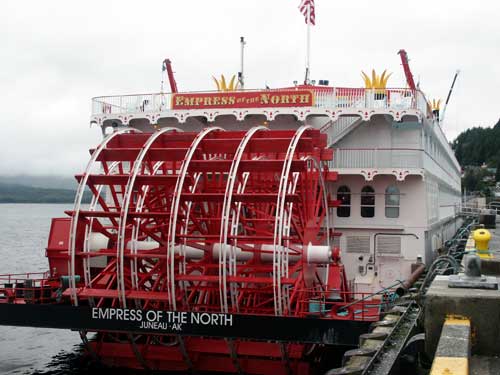 Ketchikan, AK - The first stern-wheeler to cruise Southeast Alaska's Inside Passage in more than a century made its debut passage through Ketchikan last month on its way to Juneau. The ship's second sailing was scheduled to leave Seattle on August 31st and the stern-wheeler was again seen docked in Ketchikan Friday.
The ship's 12-day journey from Seattle to Juneau, or 11-day journey from Juneau to Seattle, starts at $3,500 per person and includes shore excursions at each of the trip's nine ports - with Ketchikan one of the ports.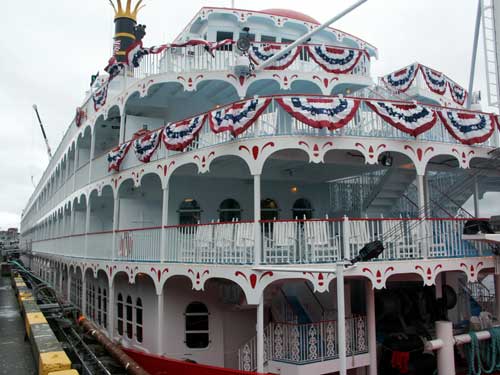 The ship with an old-time riverboat look is owned by American West Steamboat, based in Seattle. The $50 million Empress of the North was built by a company in Washington state last year for American West Steamboat.
The ship is decorated in U.S. flags, and patriotic music is piped through the boat.
The Empress of the North is registered in the U.S. with an all-American crew. The 360-foot vessel is powered mostly by its stern wheel with the support of two Z-drive engines. It can reach speeds of up to 14 knots but its usual cruise speed is reported to be 10 knots.
The stern-wheeler has 112 state rooms and holds 235 people and a crew of 84 .
photos by Dick Kauffman ©2003
Submit your photos for publication to photos@sitnews.org.
Post a Comment View Comments
Submit an Opinion - Letter
Sitnews
Stories In The News
Ketchikan, Alaska