Front Page Photo
'Preserving the Goose'
photo by Dick Kauffman
March 08, 2004
Monday - 1:00 am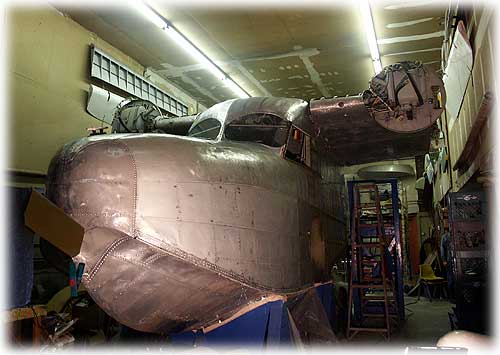 Preserving the Goose
Photo taken: Sunday, March 07, 2004
Ketchikan, Alaska - Don "Bucky" Dawson who started the Save the Goose Project in 1988 along with other volunteers are restoring the first Goose operated by Ellis Airlines in the late 1940s.
The first Goose arrived in Ketchikan on December 11, 1945, and was one of two that Bob Ellis, the Ellis airline founder, leased from war assets which they refurbished for civilian use.
According to Dawson, it will take about two more years for the Save the Goose Project to complete the restoration of the Goose.
There are approximately 70 Gooses surviving worldwide, in museums or flying.
Dick Kauffman ©2003
E-mail
Submit your photos for publication to photos@sitnews.org.
Post a Comment View Comments
Submit an Opinion - Letter
Sitnews
Stories In The News
Ketchikan, Alaska