Monthly Grind Packs House
by Chris Wilhelm
March 14, 2004
Monday - 1:30 am

Ketchikan, Alaska - The March Monthly Grind began at 7 o'clock Saturday night, with Kevin Sullivan and Marty Gillet hosting 6 groups to a sold out Saxman Tribal House. With a theme of St. Patricks Day, the hosts commandeered a perfect Irish brogue from the streets of Dublin itself, which vastly contributed to their humorous antics.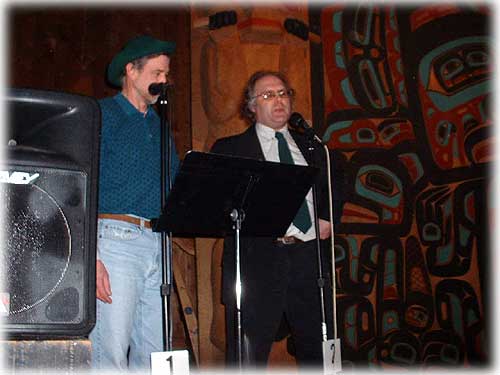 Hosts: Kevin Sullivan and Marty Gillet
photo by Chris Wilhelm

The House Band warmed up the audience with an original song about past Grind acts by Chris Wilhelm. The first act to perform was the Salsa Dancers, a couple from Juneau. They are professional instructors Antonio Diaz and Heather Haugland, who thrilled the audience with their exciting pas de deux.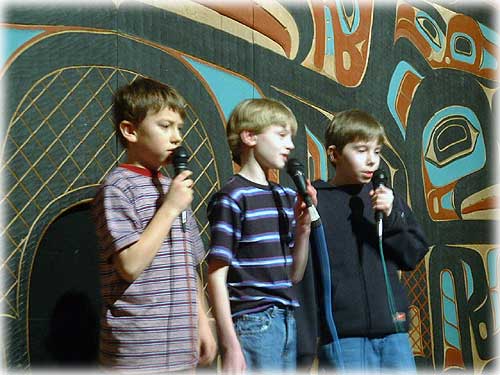 Aesop Singers, Sy Hovik, Alec Pankow and Ethan Bowlen
photo by Chris Wilhelm

Next up was the Aesop Singers, Ethan Bowlen, Alec Pankow, and Sy Hovik. Accompanied by Andy Pankow on guitar, they recounted several of Aesop's wise fables in song form, which was a delight to all. Part of the trio's singing included disagreements among themselves about their stories; the audience roared at their witticisms and professionalism.
Next, host "Mickey" Gillet donned boxing gloves and challenged anyone in the audience to a boxing brawl. He shook his fists at the audience, turning down at least one offer by someone who was declared just too big by 'brother' host Kevin Sullivan.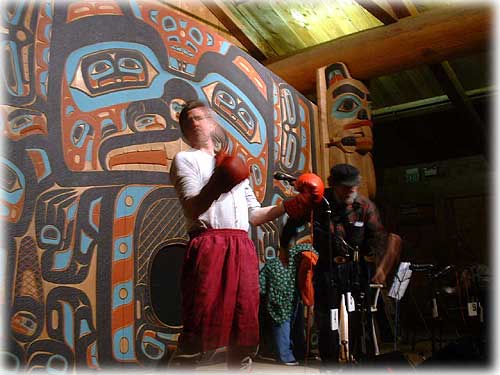 Mickey Challenges the Crowd...
photo by Chris Wilhelm
Finally, he accepted the challenge of Ellie Potter, a fourth grader at White Cliff. 'Mickey' went on to demonstrate his one-two, as well as his three-four. Ellie would not be intimidated. She put on her own set of gloves and readied herself for the event. "Mickey"'s 'brother' accepted her and instructed the two of them that there was only one rule, which was that there were no rules.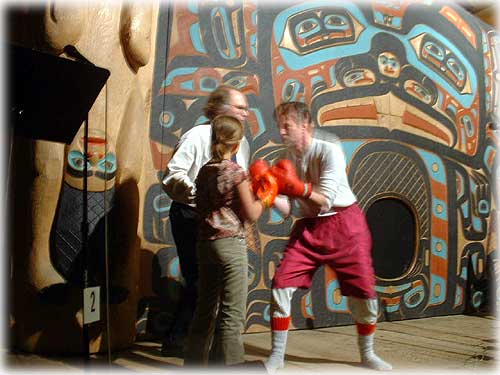 Ellie Potter fights Mickey
photo by Chris Wilhelm
Ellie then struck 'Mickey' unexpectedly with a one quick jab to the midsection and knocked him down cold.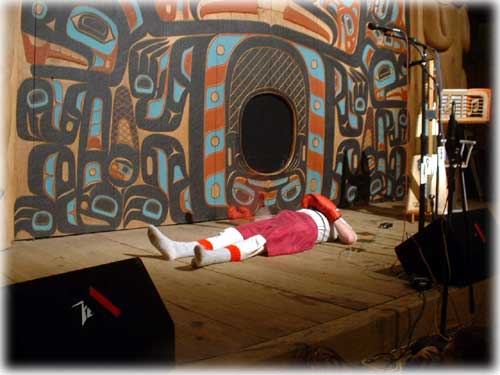 It's a knock out!
photo by Chris Wilhelm

Last before intermission came the memorable Celtic harp music by Anita Hales. Her songs were well-known melodies, including a lovely rendition of "The Water is Wide". The harp itself was a work of art, which Hales built here in Ketchikan. It is made of maple wood with a cherrywood soundboard and has a full range of octaves.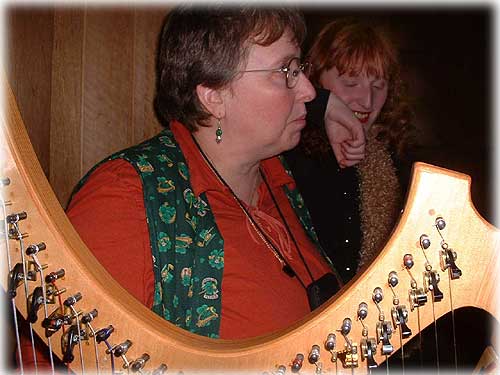 Anita Hales
photo by Chris Wilhelm
During the intermission, Anita took questions about her music and her beautiful harp, which is decorated with a dragon insignia and other handpainted designs.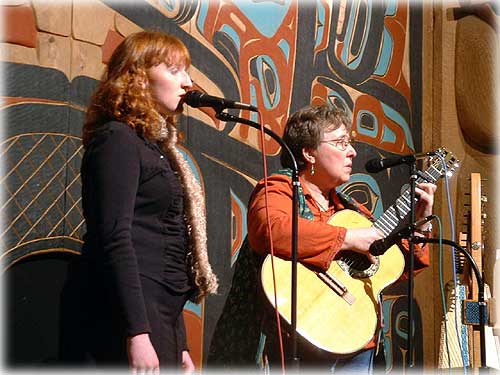 Shoshona and Anita Hales
photo by Chris Wilhelm

Hales was then joined by her daughter, Shoshona, for two more numbers, which Anita accompanied on guitar. Their voices blended so beautifully, in a perfect British Isles tradition. The second song, about a dysfunctional family member, was said to be a Hales family favorite, which described in poetic detail the demise of each family member in turn by the other, in two part harmony.

Host Kevin O'Sullivan then instructed the crowd on the next event, the always a favorite dessert tables.
After the intermission, Junkyard Jammers Cindy Barber, Lori Coates, Patrick Enright, Kim Kleinschmidt, and George Shaffer bowled the still-full house over with several numbers which required nothing more than drumsticks and music stands They played the floor, the chairs, their knees and thighs and a slide whistle.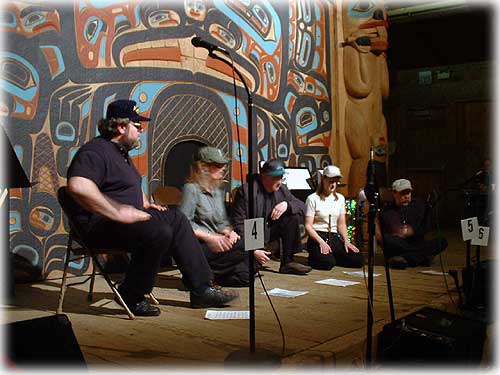 Drummers
It was just the warmup for the big event as it turns out. Shaffer and Barber had built a percussion tree, loaded with the items from whence they derived their name, including scrap pipes, pots, pans, and hubcaps. As Enright kept a steady beat on a box drum, the other four surrounded the percussion tree, reading music as they each played the percussion features of each side of the tree, using special gloves, drumsticks, and an occasional foot. For this listener it was the highlight of the evening.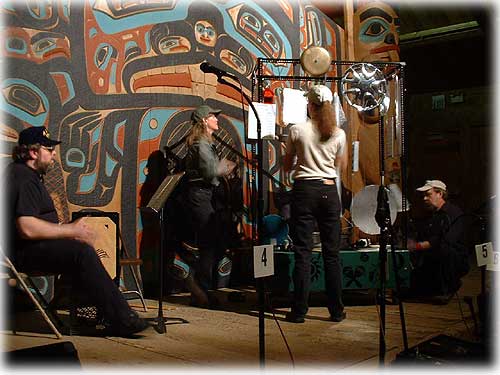 Drummers
photo by Chris Wilhelm
Linda Jimdar continued in the Grind tradition with seldom-heard-played-live classical music. She remarked that while classical pieces are the most beautiful music in the world, they often have absurd titles.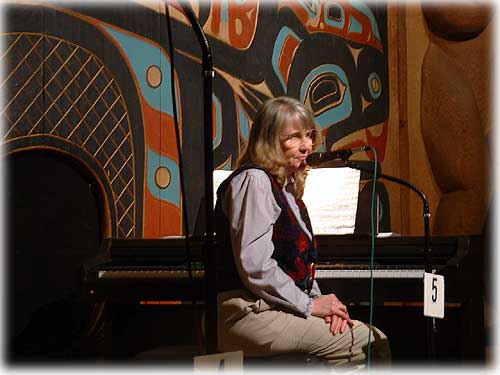 Linda Jimdar
photo by Chris Wilhelm
Her first piece for example was by Frederic Chopin, his Waltz in C Sharp Minor, and is one of eighteen pieces he called, simply, 'Waltz'. She went on to describe the next piece as one not known by the title the composer gave it, but by one given by a later recorder, and subsequently it has been called Beethoven's "Moonlight Sonata".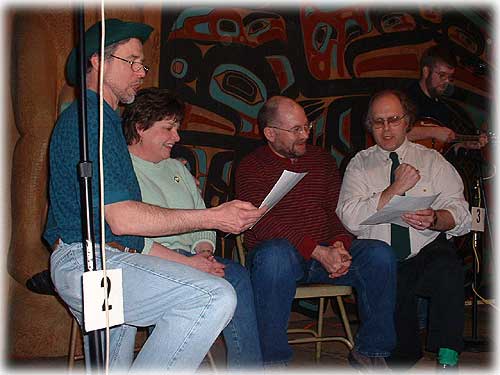 Dan and Mary Ann Christensen celebrate their 25th
wedding anniversary on St Patrick's Day...
photo by Chris Wilhelm
During the change of stage, hosts Kevin and Marty called for anyone who might be celebrating 25 years marriage on St Patrick's Day. The word had gotten out about Dan and Mary Ann Christensen's anniversary. Kevin and Marty were ready, and while the audience grimaced at even more of Kevin's antics, joined together in harmony, singing the familiar tune 'Danny Boy", and celebrated the Christiensens in the venerated Ketchikan tradition, with thunderous applause and cheering.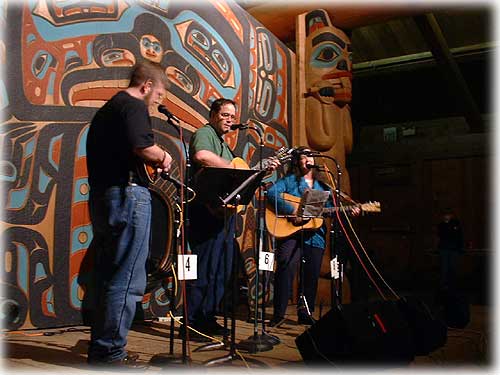 The Genuine Article
photo by Chris Wilhelm
The last act for the March Grind was a collection of teachers from Kayhi, Ryan Miller, Sean Powell, and Mary Larsen. Calling themselves The Genuine Article, they solicited the audience for suggestions for other names to go by. Opening with "Breakfast at Tiffany's", they contined with more tunes which featured breaks for Miller's excellent mandolin noodlings. They were joined by two other Kayhi teachers, Grind guest producer Rebecca Bowlen and Cheryl Neuhart for one number. When preparing for their final number, Powell's guitar broke a string, and as emergency repairs were conducted by yours truly, Miller entertained with apropos comments. At last, the crowd was treated to an acoustic version of Styx's 70's anthem, Come Sail Away. Many sang along.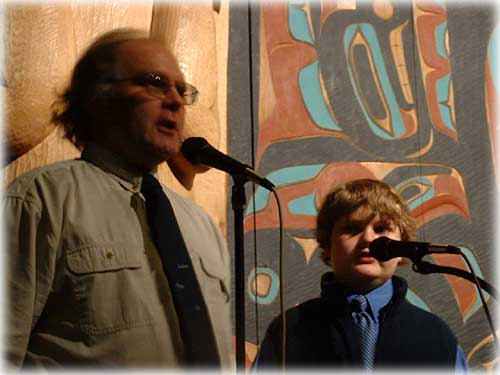 Kevin Sullivan and son John
photo by Chris Wilhelm
In his departing brogue remarks, Kevin Sullivan invited his son John to the stage and gave a stirring rendition of the Irish tune "Leave Her Johnny, Leave Her". It was a terrific send-off and the building was cleared by 10 pm.

Chris Wilhelm ©2004
E-mail Chris Wilhelm: citytour@kpunet.net
Submit your photos for publication to photos@sitnews.org.
Dick Kauffman: editor@sitnews.org
Post a Comment View Comments
Submit an Opinion - Letter
Sitnews
Stories In The News
Ketchikan, Alaska