Photo Essay
'Monthly Grind'
by Chris Wilhelm
February 23, 2004
Monday - 12:45 am

February's three-hour Monthly Grind featuring the talents of musicians, poets and other entertainers took place Saturday at the Saxman Tribal House.
The Monthly Grind kicked off with The Ladybugs as hosts: Humbug, played by Chaz Staunton; Lovebug, played by Marleen Kuehl, and Computerbug, played by Valerie Brooks. They were supreme in their various renditions of Beatles numbers rewritten for the Grind. Their backup band was High D and the Beetles (Heidi Hays, Arne Tollfeldt, Austin Hays and Nelson Hays). Cherry Rice mixed the February Grind.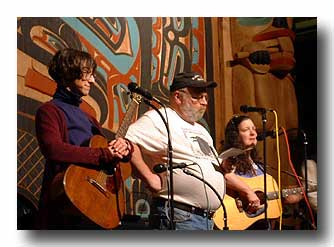 The House Band
Monthly Grind founder Peggy Hovik (left) Tom Le Compte (middle) and Mary Larson (right)...
The house band opened with a tribute to Carolyn Stallings. The band led the audience in one of Carolyn's favorite songs. Chorus as follows:
All God's critters got a place in the choir
Some sing low and some sing higher
Some sing out loud on the telephone wire
Some just clap their hands or paws or anything they got now.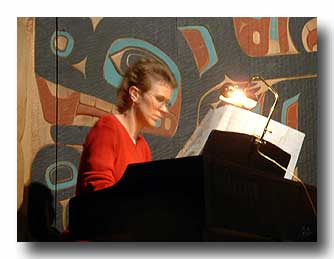 Sarah Corporon
Four singers - Frances Klein, Calli Olmstead, Deb Turnbull and Elizabeth Nelson - from the FIRST CITY PLAYERS Jazz and Cabaret Workshops performed individual solos, with Sarah Corporon accompanying on the piano.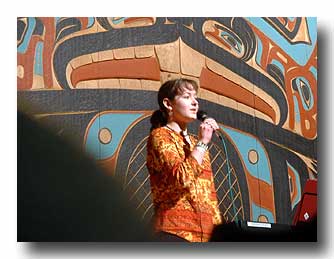 Frances Klein from the FIRST CITY PLAYERS Jazz and Cabaret Workshops...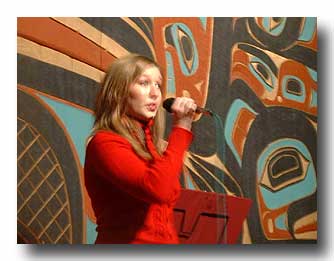 Calli Olmstead from the FIRST CITY PLAYERS Jazz and Cabaret Workshops...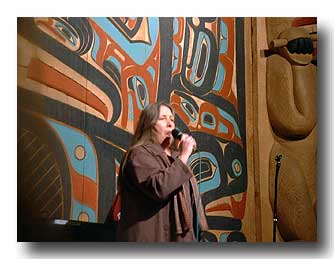 Deb Turnbull from the FIRST CITY PLAYERS Jazz and Cabaret Workshops...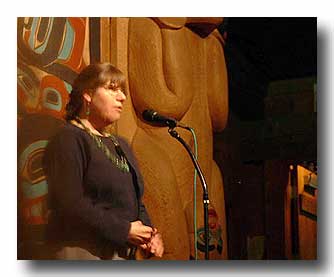 Elizabeth Nelsonfrom the FIRST CITY PLAYERS Jazz and Cabaret Workshops...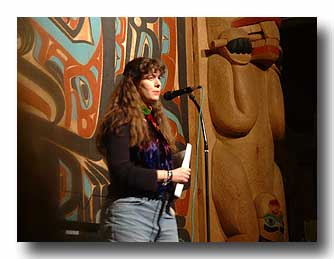 Erin Hollowell read four poems, including one she had written.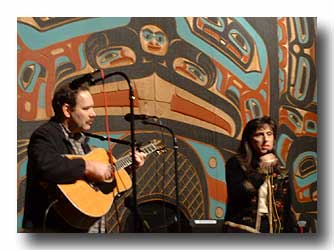 Tim and Kay Long
Kay and Tim Long delighted the audience with two Simon and Garfunkel numbers, 'April Come She Will' and 'The Boxer'. They were joined by Grind guest hosts Rudy Saccomanno and Mary Kowalczyk for a CSNY cover of 'Helplessly Hoping'.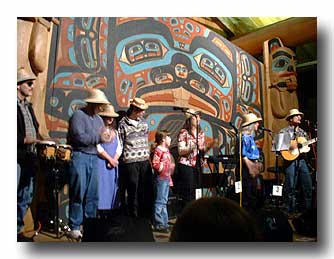 Rudy Saccomanno, Mary Kowalczyk and the Cariebe Crew
Mary and Rudy continued with a series of very funny songs, including a caribe/Southeast song featuring a kazoo orchestra that finished the first half.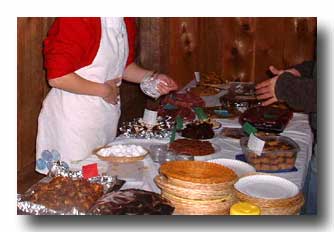 During the half time break, dessert was enjoyed by everyone and four prizes were given out for best desserts.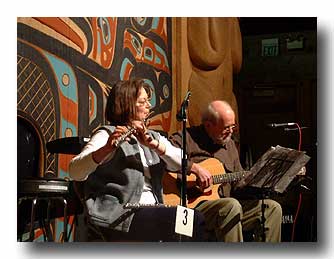 Annette and Harvey Hansen
The second half began with classical pieces, five beautiful flute and guitar duets by Harvey Hansen, guitar, and his wife, Annette, on flute. Hansen amused the audience by announcing a piece to be a 13th century French song about winter, then proved incapable of pronouncing its title. The next piece had a Spanish language title, which he did successfully pronounce, only to announce that he had no idea what the title meant! Their music was very well received.
Professor Lubosh (Louis Bartos) and Tom LeCompte
Professor Lubosh (Louis Bartos) amazed the crowd with magic tricks. He declared his act to be a college course, Statistics 201. After taking two volunteers from the audience, he caused playing cards to disappear and reappear inside sealed envelopes before the crowds' very eyes. It was quite amazing.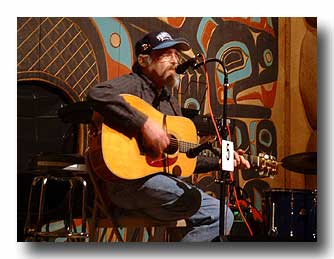 Mike Truax of Juneau
Finally, Mike Truax of Juneau closed the night with a half dozen very clever guitar songs about love, Hell, and the criminal mind.
The sell-out crowd left the building at 10 pm.

Chris Wilhelm ©2004
E-mail Chris Wilhelm: citytour@kpunet.net
Submit your photos for publication to photos@sitnews.org.
Dick Kauffman: editor@sitnews.org
Post a Comment View Comments
Submit an Opinion - Letter
Sitnews
Stories In The News
Ketchikan, Alaska