Front Page Photo
"Vision of the Seas"
Photo by Chris Wilhelm
August 09, 2003
Saturday - 9:00 pm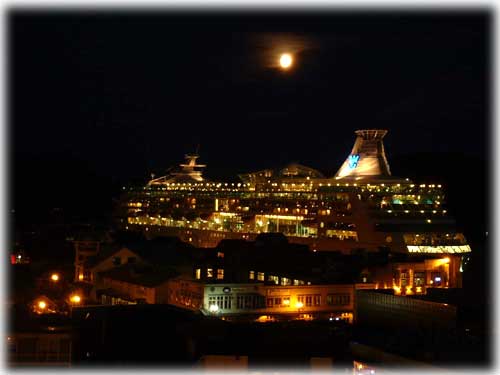 The Vision of the Seas was still in Ketchikan Friday night although it was scheduled to leave at 3 pm Friday afternoon. It was reported the ship had an electrical problem which caused their propulsion to fail. According to a Southeast Stevedoring employee, the Vision of the Seas tried to leave at 1 am Saturday morning but still had problems. The Vision was able to sail out of Ketchikan at around 8 am Saturday morning.
With the clear skies and beautiful weather Ketchikan has been enjoying, the moon shines brightly over the Vision of the Seas and Ketchikan Friday evening.
Chris Wilhelm ©2003
Submit your photos for publication to photos@sitnews.org.
Post a Comment View Comments
Submit an Opinion - Letter
Sitnews
Stories In The News
Ketchikan, Alaska