'Singing Christmas Tree'
Photos by Carl Thompson
December 11, 2004
Saturday

Ketchikan, Alaska - The annual performance of the Singing Christmas Tree which has reached the level of a tradition over the decades is going on this weekend at the Clover Pass Community Church.
This first two performances were Friday evening. Other performances are Saturday, December 11th at 7:00 pm, and Sunday the 12th at 2:30 pm and 4:00 pm. Tickets are $2.00 and available at Stenfjords' Hallmark in the Plaza, Tongass Business Center and Heavenly Creations.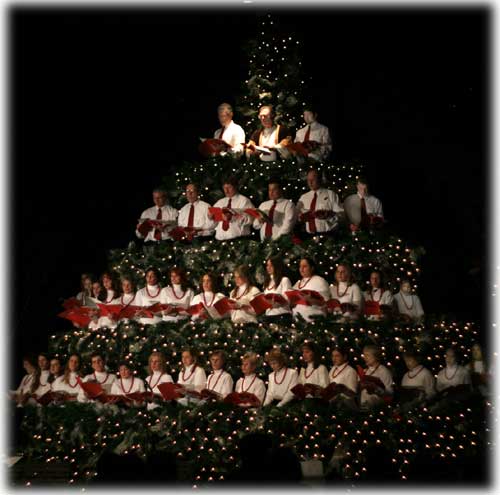 Singing Christmas Tree 2004
Pamela Holston, Sheri Nicholson, Christina Grieb, Leah Grieb, Amy Newell, Stephanie Hemminger, Amber Shull, Rebekah Wiedenhoeft, Molly Mickel, Janene Mickel, Shawn Caskey, Byron Love, Virgil English, Patricia English, Sheila Gould, Ann Graham, Patrice Gray, Julie Benson, Anne Hosford, Katrina Monta, Richard Pickrell, Paul Wiedenhoeft, Larry Meshew, David Gould, Scott Walker, Clint McClennan, Sara Steffen, Jodi Albertson, Natalie Richards, Helen Wickert, Jenn Maloney, Julie Anne Grieb, Sandra Meshew, Deanna Vincent, Denny Terry, Kristina Hale, Chris Cooke, Larissa Cook, Danielle Cook, Briana Constuble.
Photo by Carl Thompson

The Clover Pass Community Church also plans to open its historic little red church built approximately 50 years ago. Past performances of the Singing Christmas Tree will be showcased in the historic little church. The hours will coincide with the weekend performances.
Clover Pass Community Church is located at 105 North Point Higgins Road, approximately 14 miles north of Ketchikan. For information call 247-2360.
Singing Christmas Tree Photo Gallery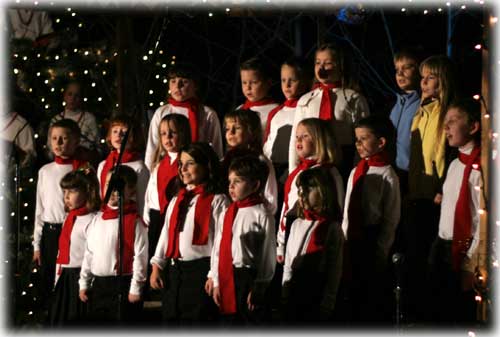 Children's Choir
Nathanael Benson, Rebekah Benson, Brittany Cropp, Nicole Emmert, Anthony Emmert, Sarah Gucker, Jackson Landis, Claire Landis, Micah Long, Miranda Tallman, Brian McClennan, Sarah McClennan, Brendan Nason, Rebecca Nason, Beau Albertson, Daniel Enger, Torey Jorgensen, Clarissa Hubbard, Kessa Elliot, Timothy Wiedenhoeft.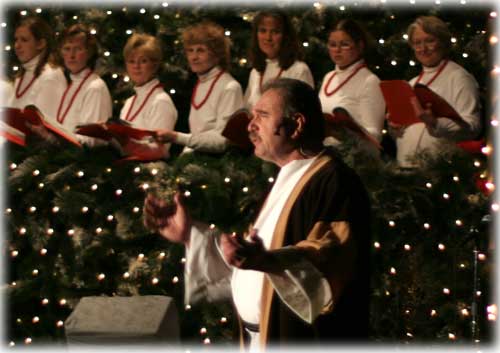 Virgil English plays the part of the "Innkeeper"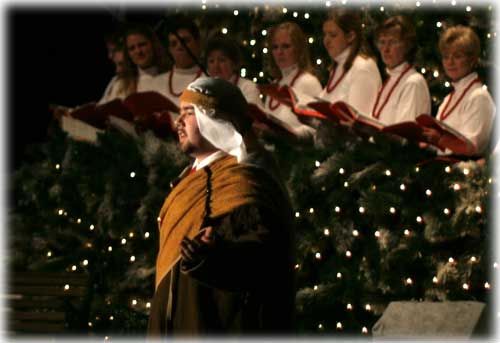 Byron Love plays the part of the "Shepherd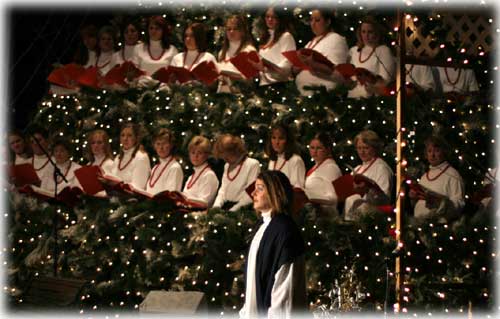 Kristina Hale plays the part of "Mary"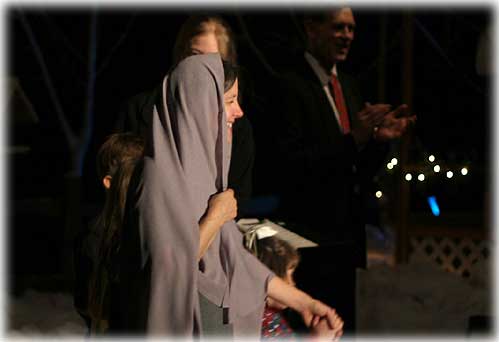 Wynn Hopkins as "Anna" - Curtain call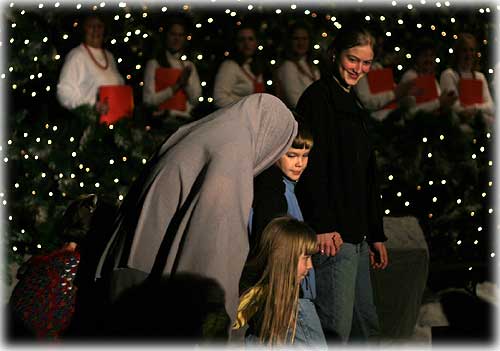 The "Family" and "Anna" (in the shawl ) - Curtain call
Carl Thompson ©2004
Carl's Alaska Photos Web Site
Send your photos for publication to photos@sitnews.org
E-mail Dick Kauffman: editor@sitnews.org
Post a Comment View Comments
Submit an Opinion - Letter
Sitnews
Stories In The News
Ketchikan, Alaska