Front Page Photo
'Fairweather'
Photo by Carl Thompson
December 16, 2004
Thursday

Ketchikan, Alaska - Fairweather, named after Mt. Fairweather in Alaska's Glacier Bay National Park, was first launched in 1967. The ship spent almost every summer surveying in Alaska waters from Ketchikan in southeast Alaska to Shelikof Strait along the southern Alaska peninsula. Because of budget cutbacks, Fairweather was deactivated in 1988. It was briefly reactivated in 1989 to conduct damage assessments in Prince William Sound after the disastrous Exxon Valdez oil spill. For 15 years the ship was docked at the NOAA Marine Operations Center-Pacific in Seattle, Washington.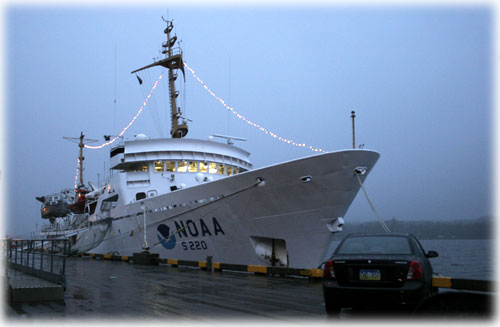 Fairweather photographed on a rainy Wednesday docked in downtown Ketchikan...

After 18 months of refurbishment and an investment of $18.3 million, Fairweather is now one of the most technologically advanced survey vessels in the world. The Fairweather, home ported in Ketchikan, was reactivated and welcomed back into the NOAA fleet of research and survey ships on August 18, 2004 during a reactivation ceremony held at the U.S. Coast Guard Integrated Support Command base in Ketchikan.
NOAA ship Fairweather conducts hydrographic surveys in Alaska's coastal waters. It is also capable of conducting essential fish habitat surveys that are required to make science-based decisions about uses of fisheries resources.
Carl Thompson ©2004
Carl's Alaska Photos Web Site
Send your photos for publication to photos@sitnews.org
E-mail Dick Kauffman: editor@sitnews.us
Post a Comment View Comments
Submit an Opinion - Letter
Sitnews
Stories In The News
Ketchikan, Alaska