Front Page Photo
'High Noon'
Photo by Carl Thompson
December 08, 2004
Wednesday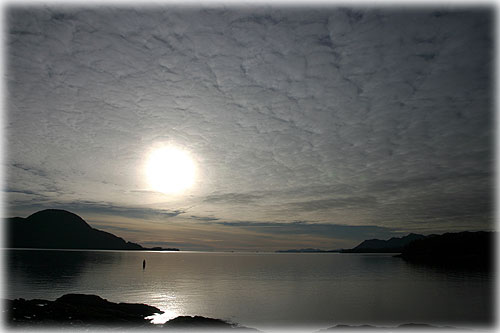 Ketchikan, Alaska - Still days away from the Winter Solstice, the sun is low in the sky at high noon in Ketchikan Tuesday.
In the northern hemisphere, the Winter Solstice is day of the year when the Sun is farthest south. (December 21 - December 22 ~The date of the winter solstice shifts through the Gregorian calendar according to the insertion of leap years.)
On the shortest day of the year, the sun is at its lowest and weakest, a pivot point from which the light will grow stronger and brighter. This is the turning point of the year. The Romans called it Dies Natalis Invicti Solis, the Birthday of the Unconquered Sun.
Carl Thompson ©2004
Carl's Alaska Photos Web Site
Send your photos for publication to photos@sitnews.org
E-mail Dick Kauffman: editor@sitnews.org
Post a Comment View Comments
Submit an Opinion - Letter
Sitnews
Stories In The News
Ketchikan, Alaska