Front Page Photo
'Early Morning Light'
Photo by Carl Thompson
September 22, 2005
Thursday PM

Ketchikan - The soft autumn-like colors of the early morning light in Ketchikan Thursday are fitting to the equinox which is marked today.
On the autumnal equinox (Sept. 22, 2005, 6:23 P.M. EDT), the sun appears to cross the celestial equator, from north to south; this marks the beginning of autumn in the Northern Hemisphere.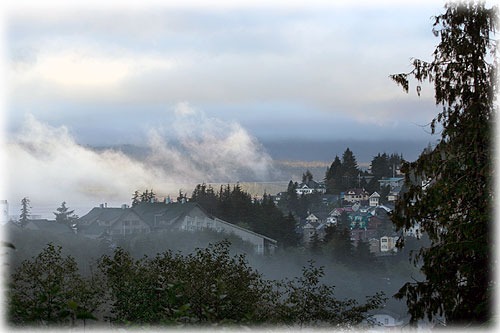 Every place on earth experiences 12-hours of daylight and 12-hours of night twice a year on the Spring and Fall Equinox.
Carl Thompson ©2005
You can purchase Carl's photos at
Carl's Alaska Photos
Send your photos for publication to photos@sitnews.org
E-mail Dick Kauffman: editor@sitnews.org
Post a Comment View Comments
Submit an Opinion - Letter
Sitnews
Stories In The News
Ketchikan, Alaska