Front Page Photo
'Bird In Black'
Photo by Carl Thompson
July 14, 2005
Thursday

Ketchikan, Alaska - Ravens can grow to the size of a large hawk, and may live 25 - 50 years - usually on the shorter side in the wild... or eating French fries?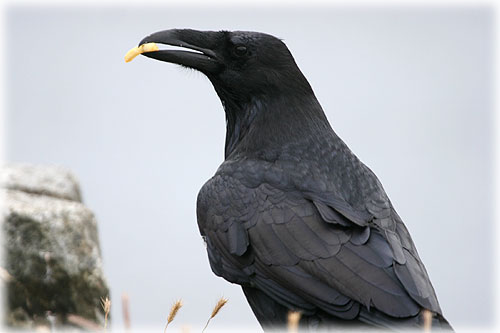 Raven with French fry...

This ingenious and versatile bird has long been recognized as one of the most intelligent birds. The ravens are members of the crow family, which includes jays and magpies, and are found everywhere in the northern hemisphere. They adapt to very different terrain, from deserts to mountains to rainforests - a feat that definitely requires high intelligence.
Carl Thompson ©2005
You can purchase Carl's photos at
Carl's Alaska Photos
Send your photos for publication to photos@sitnews.org
E-mail Dick Kauffman: editor@sitnews.org
Post a Comment View Comments
Submit an Opinion - Letter
Sitnews
Stories In The News
Ketchikan, Alaska