Front Page
Ketchikan's Fireworks Show Dazzling
Photo by Carl Thompson
July 05, 2004
Monday

Ketchikan, Alaska - The 2004 Fourth of July ended in Ketchikan with a brilliant fireworks show lasting about a half hour. The event was coordinated by the Ketchikan Lions Club which has coordinated the Fourth of July fireworks show for almost twenty years.
A Fourth of July celebration without fireworks would be unthinkable to Americans. The tradition began when our country proclaimed its independence from England as John Adams wrote, "The day (independence) will be the most memorable in America. It ought to be solemnized with pomp and parade, bonfires and illuminations (fireworks) from one end of the continent to the other."
And following tradition, Ketchikan ended its Fourth of July celebration with illuminations! The fireworks were lit from a barge anchored off the north end in the Tongass Narrows bringing to an end another wonderful Fourth of July in Ketchikan.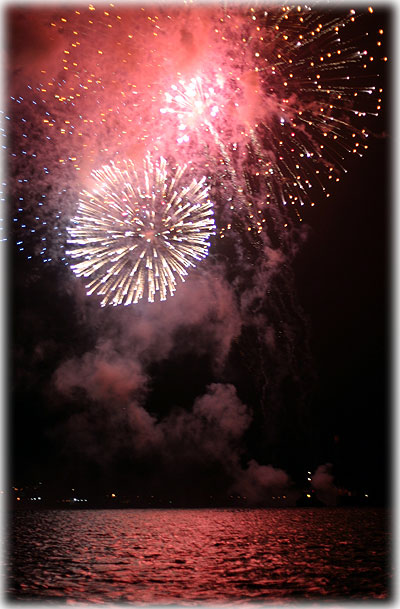 Carl Thompson's photographs are available for purchase at the following Ketchikan locations: Parnasus Books; Sockeye Sams; Blue Heron Gallery and Gifts; Hide-A-Way Gifts.
Carl Thompson ©2004
Carl's Alaska Photos Web Site
Send your photos for publication to photos@sitnews.org
E-mail Dick Kauffman: editor@sitnews.org
Post a Comment View Comments
Submit an Opinion - Letter
Sitnews
Stories In The News
Ketchikan, Alaska