Front Page Photo
Summer Solstice: June 21st
Photo by Carl Thompson
June 21, 2004
Monday

Ketchikan, Alaska - June 21st is the Summer Solstice. It is a celebration of the longest day of the year, the shortest night of the year, and the beginning of Summer. Photographer Carl Thompson was able to capture the last rays of the sun as it set on the eve of the Summer Solstice on June 20th as it was viewed from Murphy's Landing looking out over Channel Islands.
From the moment of Summer Solstice on June 21st, the Sun immediately begins to wane. The journey into the harvest season will begin.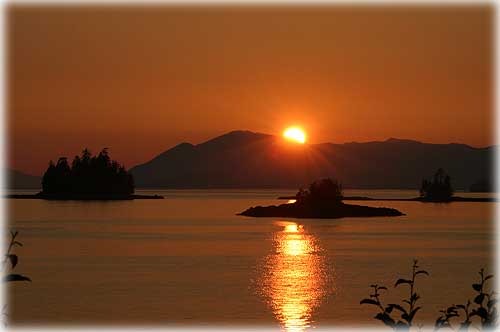 Summer Solstice Eve Sunset - June 20th

Solstice comes from the Latin (sol, sun; sistit, stands). For several days before and after each solstice, the sun appears to stand still in the sky-that is, its noontime elevation does not seem to change.
It is said that whatever is dreamed this night will come to pass - certainly Shakespeare acknowledged the magic of this time in A Midsummer Night's Dream.

Carl Thompson's photographs are available for purchase at the following Ketchikan locations: Parnasus Books; Sockeye Sams; Blue Heron Gallery and Gifts; Hide-A-Way Gifts.
Carl Thompson ©2004
Carl's Alaska Photos Web Site
Send your photos for publication to photos@sitnews.org
E-mail Dick Kauffman: editor@sitnews.org
Post a Comment View Comments
Submit an Opinion - Letter
Sitnews
Stories In The News
Ketchikan, Alaska