Front Page Photo
'Fairweather'
Photo by Carl Thompson
February 15, 2005
Tuesday

Ketchikan, Alaska - The M/V Fairweather, the state's fast vehicle ferry, is in Ketchikan for winter lay-up. The three ports that were served from Juneau by the M/V Fairweather - Haines, Skagway, and Sitka - are also served by mainline ferries two times each week. Haines and Skagway are served by the M/V Matanuska/ each Friday, and by the M/V Malaspina each Monday. Sitka service is provided by the M/VLeConte on each Thursday and Saturday.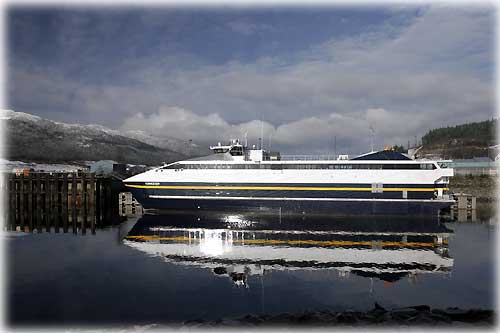 M/V Fairweather in winter lay-up in Ketchikan.
Photographed Sunday February 13, 2005

In a January 3, 2005 letter to the Alaska Labor Relations Agency, the state's Director of Labor Relations, Art Chance, noted that it is uneconomic to continue operating the M/VFairweather under the residual terms of an expired agreement entered into last spring. The state proposed to reduce operations from seven days per week to four during the winter, which would require laying off the vessel's second 15-member crew. However, it would require a new agreement with the three unions in order to allow operations to continue.
When the state was unable to move to the reduced schedule, operation of the M/V Fairweather ceased on January 25, 2005. DOT&PF Commissioner Mike Barton said at the time, "Tying up the vessel will result in the layoff of virtually the entire specially trained crew, a result we would sincerely hope to avoid."
"Our negotiators did achieve a tentative agreement on the fast vehicle ferry with the Inlandboatmen's Union, but the remaining two maritime unions have not yet been to the table," Barton said when the Fairweather was taken out of service and moved for lay-up in Ketchikan.


Carl Thompson ©2005
Carl's Alaska Photos Web Site
Send your photos for publication to photos@sitnews.org
E-mail Dick Kauffman: editor@sitnews.org
Post a Comment View Comments
Submit an Opinion - Letter
Sitnews
Stories In The News
Ketchikan, Alaska