'Touring NOAA's High Tech Fairweather'
January 26, 2005
Wednesday

Ketchikan, Alaska - Students from Holy Name school recently toured one of the most technologically advanced survey vessels in the world, NOAA's Fairweather.
Fairweather, named after Mt. Fairweather in Alaska's Glacier Bay National Park, was first launched in 1967. The ship spent almost every summer surveying in Alaska waters from Ketchikan in southeast Alaska to Shelikof Strait along the southern Alaska peninsula. Because of budget cutbacks, Fairweather was deactivated in 1988. It was later briefly reactivated in 1989 to conduct damage assessments in Prince William Sound after the disastrous Exxon Valdez oil spill. After that, for 15 years the ship was docked at the NOAA Marine Operations Center-Pacific in Seattle, Washington.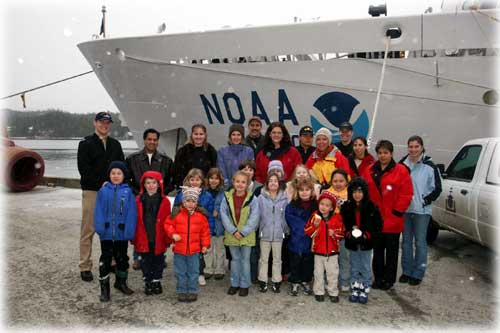 Front row starting from the bow of the ship: Brandon, Leif, Tony, Sarah, Ashley, Erica, Kaileigh, Maura, Courtney, Macaela, Cheyennne, Joey, Mina, Nedalyn.
Back row parents and crew: LTjg Mark Van Waes, Danilo Gonzales, Jessica Mathews, Diana Maioriello, John Krosse, Brenda Souza-teacher, ENS Tri Nguyen, Connie Stewart, ENS Abigail Higgins, Kathy Fast, Erlinda Gonzales, Surveryor ST Jennifer Keene.
Photo by Carl Thompson ©2005

The Fairweather was recently reactivated and began operations on Aug. 23, 2004 with a hydrographic survey of Decision Passage in southeast Alaska. After 18 months and an $18.3 million refurbishment, Fairweather is now one of the most technologically advanced survey vessels in the world and represents another step forward in the modernization of the NOAA fleet.
Alaska's coastal waters are increasingly transited by large cruise liners, cargo ships and oil tankers, yet many of the seafloor surveys of areas outside primary shipping lanes were done decades ago using technology that did not provide full bottom coverage. Changes due to receding glaciers, storms, shipwrecks and other hazards also can make more recent surveys obsolete.
Home ported in Ketchikan, Fairweather has been equipped with the latest multibeam echo sounder technology, and state-of-the-art side scan sonar will be added next year. The ship will be able to map 100 percent of the ocean bottom, determine bottom characteristics and identify areas of interest to navigators, biologists and geologists.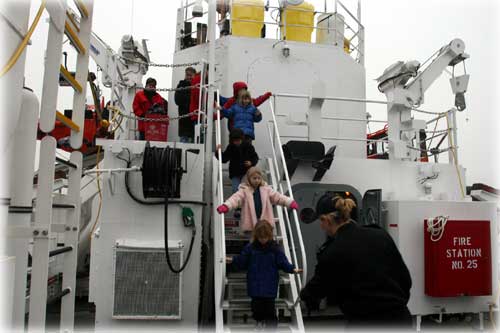 Touring the Fairweather
Photo by Carl Thompson©2005

The vessel can carry four survey launches, greatly increasing its efficiency in survey area coverage. Pairing Fairweather with its sister ship, Rainier, will enable NOAA to cover a far greater area quickly and efficiently, providing data for the update of nautical charts, making Alaska's waters safer for expanding commerce and navigation.
In addition to the work to reduce Alaska's 9,700 square nautical miles of critical survey area backlog, Fairweather has other missions. The Fairweather is capable of conducting essential fish habitat surveys that are required to make science-based decisions about uses of fisheries resources.
The NOAA fleet of research and survey ships and aircraft is operated, managed and maintained by NOAA Marine and Aviation Operations. NMAO includes commissioned officers of the NOAA Corps and civilians. The NOAA Corps is the nation's seventh uniformed service, and, as part of NOAA, is under the U.S. Department of Commerce. The Corps is composed of officers - all scientists or engineers - who provide NOAA with an important blend of operational, management and technical skills that support the agency's environmental programs at sea, in the air and ashore.


Carl Thompson ©2005
Carl's Alaska Photos Web Site
Publish a Letter
Read Letters
Submit an Opinion - Letter
Sitnews
Stories In The News
Ketchikan, Alaska