Column
Newspapers Embrace Billionaire Buffs
By PETER FUNT
May 05, 2016
Thursday PM

The circle of life for America's newspaper industry began over three centuries ago in the hands of men driven largely by political posturing and outsized egos. If, as many predict, the business is now in its waning stage, it appears destined to wind up much as it began — as a tool, for better or worse, of wealthy individuals.
The most recent move was the purchase of Utah's largest paper, The Salt Lake Tribune, by the Huntsman family. The players are Paul Huntsman, son of billionaire Jon Huntsman Sr., and Paul's brother Jon Jr., the former governor and presidential candidate.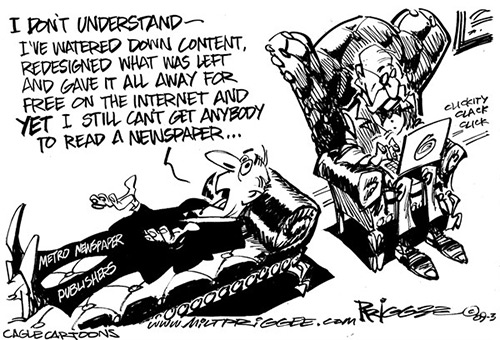 Newspapers
By Milt Priggee ©, www.miltpriggee.com

A few months earlier, Nevada's largest paper, The Las Vegas Review-Journal was scooped up by the right-wing billionaire Sheldon Adelson.
This is happening during a period of consolidation and desperation among established publishers. The Tribune Company, for example, is entertaining a bid for properties including the Los Angeles Times and Chicago Tribune from Gannett, owner of USA Today and dozens of dailies large and small.
But while some deals are among corporate giants, an intriguing number now center on men like Huntsman and Adelson, who share a fondness for newsprint to the point of being billionaire buffs.
They join the ranks of such rich and powerful men as Jeff Bezos, the Amazon chief who bought The Washington Post; John Henry, the Boston Red Sox owner who acquired The Boston Globe, and Glenn Taylor, majority owner of the Minnesota Timberwolves basketball team who purchased the Minneapolis Star Tribune.
Each new owner pledged pretty much the same thing: the papers are returning to local control, no major changes are planned and, of course, news coverage will improve.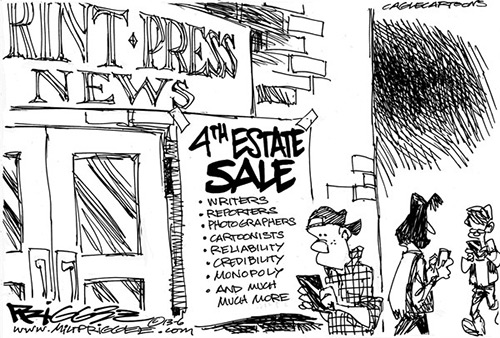 Media
By Milt Priggee, www.miltpriggee.com

Beyond that, the underlying motives for making large investments in fading properties are unclear. Adelson would certainly benefit politically and economically by crafting content in the Review-Journal to suit his many interests. Bezos, on the other hand, seems genuinely concerned with allowing the Post to maintain journalistic excellence — although it's hardly a secret that Bezos is tinkering with marketing and advertising using elements of the Amazon model.
This is all reminiscent of the first two-and-a-half centuries of American newspapering, beginning in 1704 with the nation's first successful paper, the Boston News-Letter. Not until the mid-1900s did individual and family control of a significant number of dailies give way to corporate chains. By the time newspapers reached a zenith of economic viability toward the end of the century, vast media conglomerates had become the dominant owners.
Then, as we know all too well, the bubble burst in a flurry of Internet activity. With circulations plunging and ad revenues evaporating, chain owners looked to shed properties.
Enter wealthy saviors and with them the question of which is the lesser evil for newspapers: callous corporate chains with excessive focus on the bottom line? Or, individuals with political agendas and an ownership fascination that might fade as quickly as it developed?
When a small group of investors purchased the venerable Berkshire Eagle in western Massachusetts recently, one of the principals, banker Robert G. Wilmers, explained, "I've not been involved with newspapers except as a newspaper addict. I read five papers a day."
Like many of us, the guy clearly loves print. Unlike most, he has millions of dollars to spend on what might be just an exotic hobby.
Most of my colleagues who work at papers owned by cutthroat chains, such as Digital First Media — which off-loaded the Tribune in Utah and the Eagle in Massachusetts — are ready to embrace private individuals at the helm. They've suffered too long as jobs were outsourced and news coverage slashed.
Maybe the return to individual ownership won't last long, if printed papers become too impractical, even for rich hobbyists. But for now, it's a welcome trend.
Even worse than seeing any newspaper die is watching it slowly decay in the hands of greedy corporate owners.


© 2016 Peter Funt
Peter Funt can be reached at www.CandidCamera.com
Peter Funt is a writer and speaker. His book, "Cautiously Optimistic," is available at Amazon.com and CandidCamera.com.
This column is distributed exclusively to subscribers by Cagle Cartoons, Inc., newspaper syndicate.
This column has been edited by the author. Representations of fact and opinions are solely those of the author.
Contact the Editor
SitNews ©2016
Stories In The News
Ketchikan, Alaska

Articles & photographs that appear in SitNews may be protected by copyright and may not be reprinted without written permission from and payment of any required fees to the proper sources.