Icy Straits Lumber and Milling Co. expands in SE
By PAULA DOBBYN
August 22, 2012
Wednesday PM

(SitNews) Hoonah, Alaska - Wes Tyler of Hoonah works in an industry that has suffered heavy losses in recent years. Despite a sharp downturn in Alaska's once-thriving timber industry that resulted in hundreds of lost jobs and mill closures, Tyler's Icy Straits Lumber and Milling Co. is surviving and recently took steps to expand.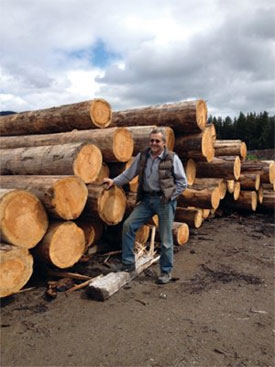 Wes Tyler, owner of Icy Straits Lumber and Milling Co., stands in his sort yard next to a pile of old-growth logs from the Tongass National Forest in Southeast Alaska. Tyler operates a custom lumber and wood products company in Hoonah.
Located on a remote northeast corner of Chichagof Island, Tyler's small sawmill and manufacturing facility employs about a dozen people. The company - which many consider a model for value-added timber processing in Alaska - opened a showroom this summer in Juneau.
Tyler sees the showroom as an opportunity to build his client base by reaching out to Juneau's 30,000 or so residents and boosting sales of his custom old-growth wood products from the Tongass National Forest.
"A foothold in Juneau should open up new markets to us. People will get to see the products and get to know what we can offer," Tyler said.
At this point, the showroom operates by appointment only. But Tyler hopes eventually to have it staffed during regular business hours. Located in an industrial park in Juneau, near Costco, the showroom is stocked with samples of Icy Straits Lumber products — items such as beams, crown molding, decking, siding, paneling, chairs, tables and mantles. Complete home and cabin packages are available.
Everything is made from Sitka spruce, Alaska yellow cedar, Western red cedar and Western hemlock grown in the Tongass National Forest. The trees that Tyler selects are typically massive and several hundred years in age. They produce lumber with a tight, clear grain and few knots, the type sought after by discerning contractors, carpenters, boat builders and wood aficionados with high-end tastes.
"The quality of the wood he produces is unsurpassed," said Dr. Lindy Jones, a Juneau physician and woodworker who has made three timber frame homes from Tyler's products. "There is no source in North America better than Southeast Alaska for large clear timbers, particularly Sitka spruce. You can't get this kind of wood anywhere."
Jerry Reinwand, a Juneau lobbyist, is also among Tyler's customers. Reinwand bought a red cedar cabin package from Icy Strait Lumber in 2007. The two-story, 20-foot by 30-foot home is located at Hand Troller Cove on Shelter Island, about 10 miles north of Juneau.
"We couldn't be happier with the home," said Reinwand. "It's top quality."
Third generation logger
Tyler and his wife, Susan, bought Icy Straits Lumber in 2003. But their roots in Southeast Alaska date back more than three decades.
A third-generation logger from Sweet Home, Oregon, Tyler moved to Alaska in 1968. He worked for two of his uncles who owned and operated Tyler Bros. Logging Co.
Tyler Bros. supplied timber to the region's two large pulp mills, which closed in the 1990s. For 12 years, he and Susan lived in a logging camp on Zarembo Island, between Petersburg and Wrangell, and raised a family. They moved to Hoonah in 1982 where Tyler worked as general manager for Whitestone Logging until the company left Southeast and moved to Afognak Island off Kodiak nearly a decade ago. He bought the mill from Keith Walker, Whitestone Logging's former owner, and renamed it Icy Straits Lumber and Milling.
"We had the opportunity to move to Afognak but decided to stay in Hoonah. At the time, the State of Alaska was heavily promoting value-added wood processing. Wes and I saw an opportunity to do that and to keep people working here in Hoonah. So we purchased the mill and have been working to get value-added products out the door ever since," Susan Tyler said.
Among a handful of existing mill owners in Southeast, Tyler and his crew annually harvest about one million board feet of timber, a tiny volume compared to the pulp mill era. By comparison, the volume of timber under contract to the Tongass timber industry in 1982 was 2.2 billion board feet a year, according to the Alaska Forest Association.
The level fell to 739 million board feet when the Sitka pulp milled closed in 1994, and again dropped to 425 million board feet in 1997 when Ketchikan's pulp mill ceased to operate.
Last year, 94 million board feet of Tongass timber was under contract and only about a third of it was cut, said Bob Vermillion, Forest Service product group leader.
When the pulp mills were operating, thousands of people worked in the timber sector. In 2011, only about 200 private-sector jobs were tied to forestry in the Tongass, according to the Alaska Department of Labor.
Minimal impact
Besides being a survivor, Tyler is what some would call a micro-logger. He harvests timber sustainably and he adds value to what he cuts. Tyler's product line is one that environmental activists in Southeast Alaska have long clamored for: niche, custom-milled wood items harvested sustainably from the Tongass, a 17-million-acre temperate rain forest that covers most of the Southeast panhandle.
Icy Straits Lumber uses about 85 percent of each tree cut "maximizing operating efficiency and reducing bio-waste. The Tylers are also committed to maintaining a small-sized operation. Their logging rate of 1 million board feet per year is compatible with the rate at which trees in the Hoonah area grow," according to a market research report by the Southeast Alaska Conservation Council.
Icy Straits Lumber "has a minimal impact upon the ecology of the forest in the Hoonah area," and is a responsible user of Tongass timber, the report says.
The fact that he's become somewhat of a poster child for conservationists is a sign of the times in the Tongass, a landscape of stunning beauty and notorious battles over land use and resource extraction. The rain forest covers most of the Alexander Archipelago, a 300 mile swath of islands and fjords teaming with abundant populations of salmon, trout, bears, wolves, whales, eagles and seabirds, among other species. More than a million tourists visit the Tongass each year, most of them by cruise ship.
Although calmer now than in the 1990s when mills were closing and logging-related lawsuits were multiplying, the Tongass remains a place of controversy. Whether it's efforts to privatize tracts of the Tongass to settle Native land claims or court battles to protect species or end development in roadless areas, the Tongass is never without its share of drama. But amid the legal feuds and policy squabbles, Tyler's operation seems to be universally embraced as a positive development on the Tongass.
"I really appreciate that he's made a commitment to the community of Hoonah and a commitment to Southeast Alaska. He has made a personal business transition that has been extremely challenging at times and it's very important to the region that he succeed. In many ways he's a pioneer of the new timber industry," said John Sisk, senior policy advisor for The Nature Conservancy in Alaska.
The Forest Service also sees Icy Straits Lumber that way.
"I didn't know him until I moved here to Hoonah six years ago. One of the first things my boss said was, 'Try to help him and his mill.' He's a third-generation logger; his son is fourth-generation and works with him. Wes is as hard working as the day is long," said Rich Jennings, Hoonah District Ranger.
The Forest Service is transitioning away from large, old-growth timber sales in the Tongass and moving toward smaller-scale, sustainable logging that emphasizes value-added wood processing, forest restoration and second-growth timber. Tyler's operation fits well with that model, Jennings said.
Extreme challenges
Although timber runs in Tyler's blood, the transition from old-school logger to Tongass lumber innovator has not been easy. Among other hurdles, getting loans to buy equipment proved very tough.
"It's not like the banks were just going to write you a check," said Susan.
The loans they did get were backed by personal assets. Tyler said he and his wife have invested more than $2 million of their own money, including retirement accounts, in Icy Straits Lumber. They've had to learn about marketing and the whole array of skills needed to run a specialty lumber company.
Four years into the venture, a fire nearly leveled the business. The cause of the 2010 blaze, which consumed half of the mill, has never been determined. The Tylers' insurance didn't cover anywhere near the entire cost of rebuilding the mill. But they managed to continue to operate and replaced some of the equipment.
The high cost of energy and transportation in Southeast Alaska continue to strain Icy Straits Lumber. But the Tylers hope their new showroom in Juneau will help boost the bottom line. Building awareness among Alaskans that locally-made wood products are available is a key step.
"Our goal is to market to Southeast Alaskans," said Tyler.
Currently most of the wood that Alaskans build with comes from the Lower 48. Economies of scale have made it such that it's cheaper to import lumber and lumber substitutes from the Pacific Northwest than to obtain the materials locally. But the niche the Tylers hope to fill rests with Alaskans who to want their home or cabin to be constructed from a local product, especially a high-quality item that showcases the prized old-growth trees for which the Tongass is known.
"The way we describe it is 'rustic elegance,'" said Susan.
One of the main reasons Jones said he's repeat customer is because he likes buying locally sourced wood.
"I want my home to reflect the environment I live in," Jones said.
Much of what will drive the Tongass timber industry forward - and businesses like Icy Straits Lumber in particular - is successful marketing and branding.
"I think the biggest problem is that people don't know what we have here," Jones said. "Once they know, it could really catch on, sort of like Copper River wild salmon," he said.
Paula Dobbyn is a freelance writer based in Anchorage.
©Paula Dobbyn 2012
A republication fee is required.
Contact her at pauladob@gmail.com
E-mail your news & photos to editor@sitnews.us


Publish A Letter in SitNews
Contact the Editor
SitNews ©2012
Stories In The News
Ketchikan, Alaska

Articles & photographs that appear in SitNews may be protected by copyright and may not be reprinted without written permission from and payment of any required fees to the proper sources.