Wrangell's pioneering tourism entrepreneurs
By PAULA DOBBYN
August 05, 2013
Monday PM

(SitNews) Wrangell, Alaska - Sylvia Ettefagh made her living as a drift gillnetter, fishing the waters near her home in Wrangell for many years. When prices for Alaska wild salmon tanked in the 1990s following the rise of Chilean farmed salmon, Ettefagh knew she needed to switch gears.
She and her husband, John Verhey, took a look around. It was 1995 and Wrangell's main employer, a sawmill, had just closed, leaving more than 250 people jobless. Between the mill closure and the depressed salmon prices, Wrangell's economy was dire. But amid the gloom and hardship, Ettefagh and Verhey saw potential in the town's location. Wrangell sits on a mountainous coastal island in the heart of the Tongass National Forest. A massive rainforest of nearly 17-million acres, the Tongass hosts thousands of miles of salmon and trout-filled rivers and lakes, picturesque stands of ancient trees, a plethora of wildlife including whales, bears, moose and eagles, as well as stunning glaciers, emerald fjords, and snow-capped mountains.
"It looked to us like tourism could be an option," said Ettefagh.
She and Verhey launched Alaska Vistas that year, becoming one of Wrangell's pioneering tourism companies. Until then, tourism was in its infancy in Wrangell, a blue-collar town with a history of boom-and-bust cycles in fur, fishing, mining and more recently timber. Ettefagh was not alone in sensing that Wrangell's natural beauty could attract tourists. Several timber industry veterans moved in that direction as well. There are now at least seven jet boat tour operators, a slew of hunting and fishing outfitters, a glistening convention and visitors' center, and no shortage of operators offering kayaking, guided hiking, cultural tours and other options.
While Wrangell remains a sleepy, off-the-beaten-track town still trying to secure its economic footing, tourism has evolved into a growing sector that adds diversity to what had been a one-industry town. Tourism in Wrangell is largely built around the area's wild landscape. Some of the main Wrangell-area highlights include the Stikine River, the LeConte Glacier, and the Anan Wildlife Observatory, one of the world's best places to view black and brown bears feasting on salmon.
"There's nothing in Alaska, hands down, that beats Anan," said Ettefagh.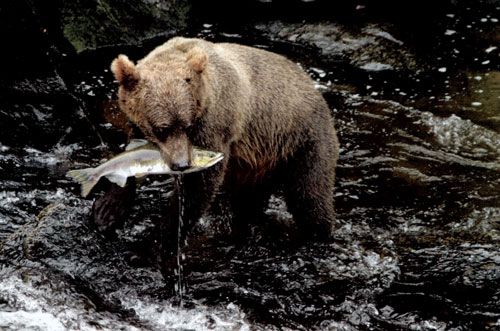 Above: A grizzly bear with a fish in the Anan Wildlife Observatory near Wrangell.
Photo by Tish Beach - Courtesy of Wrangell CVB

Although it lacks the name recognition of some of Alaska's top tourist attractions such as Denali or Glacier Bay National Parks or the McNeill River State Game Sanctuary and Refuge, Anan Wildlife Observatory is growing in popularity because of its large and easy visible resident bear population.
About 35 miles southeast of Wrangell on the mainland, Anan is located in one of the Tongass' protected spots, an area zoned as Land Use Designation Two (LUD II) for its critical fish and wildlife habitat. Human activities in LUD II areas are restricted so that fish and game can flourish. The LUD II designation has proved to be a boon for tourism businesses. In the case of Anan, the visitor industry considers it one of the prime destinations in Southeast Alaska.
A float plane or a boat ride is required to get there. A half-mile trail through the forest leads to an observation deck from which up-close bear viewing takes place.
About 60 black bears and 15 brown bears congregate at Anan Creek when the salmon are running, usually from early July until late August or early September, according to Matt Jurak, the Forest Service site manager for Anan.
An historic fishing site for members of the Tlingit tribe, Anan Creek has one of the most prolific pink salmon runs in Southeast Alaska, with an annual average return of 250,000 fish. It's one of the few places in the world where black and brown bears tolerate each other.
"It's very unique in that regard," Jurak said.
Ettefagh said her clients are routinely wowed as they watch salmon jump through the waterfalls and getting snatched by the bears.
"In any given day, you can see anywhere 10 to 30 bears. It's because of the huge pink salmon run. Bears feel comfortable being there. There's plenty of food for them to eat. It's an amazing place," said Ettefagh.
There's growing pressure to increase visitation at Anan. Under the current management plan, a maximum of 60 people per day can visit Anan during the peak season of July 5 to August 25. But that 10-year plan is up for review and with public comments currently being accepted.
Most of the comments received so far are from people asking for more access to Anan, Jurak said.
Alaska Waters Inc.
Jim Leslie, owner of Alaska Waters Inc., is another tourism entrepreneur who, like Ettefagh, was also forced to change because of Wrangell's economic meltdown.
Leslie had a prior career before starting a tour company in 1992. He owned a logging business, Leslie Cutting Inc. When logging was in its heyday, Leslie employed 75 workers, operated seven remote logging camps and had offices in Wrangell, Ketchikan and Thorne Bay on Prince of Wales Island. But when the Southeast Alaska timber industry went bust, so did Leslie's company.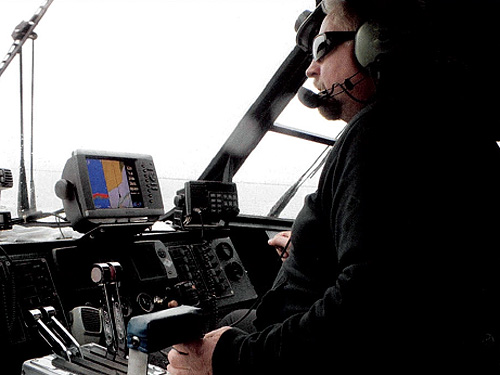 Jim Leslie, owner of Alaska Waters Inc., piloting a
jet boat on the Sitkine River near Wrangell.
Photograph by Paula Dobbyn ©2013

He took little time – exactly one day according to Leslie -- deciding what his next move would be. Like Ettefagh, he decided that Wrangell's backyard – both Anan Creek and the nearly 450,000-acre Stikine-LeConte Wilderness Area – could spawn a new business.
With his wife, Wilma Stokes-Leslie, the Vietman veteran launched Alaska Waters Inc., a full-service tour company which showcases the Stikine River Valley, Anan bears, local glaciers and other attractions. It also specializes in cultural tourism, providing visitors the opportunity to learn about Wrangell's tribal communities. One of their tours consists of a rainforest walk with an Alaska Native cultural interpreter who instructs about Tongass edible and medicinal plants that indigenous people have used for millennia.
While the early years of his tourism business were tough going at times, Leslie said never seriously considered leaving Wrangell after the timber industry imploded.
"I like Wrangell and my wife is Alaska Native. Her family has been here for 10,000 years," he said.
Naturally Wrangell
It's 7 a.m. at the cruise ship dock in Wrangell, a Saturday in early May. It's quiet except for the hum of Leslie's jet boat engine. This is the "shoulder season," a couple of weeks cruise ships arrive in Southeast Alaska.
Several Southeast towns along the Inside Passage have chosen to make large cruise ships a centerpiece of their economies. Juneau, Ketchikan and Skagway are cases in point. These towns are scheduled to receive more than one million cruise ship passengers this summer and their downtowns are set up to cater to them. Glitzy jewelry shops, kiosks offering shore excursions and seasonal gift shops selling T-shirts, plastic totem poles, and other souvenirs dominate the main streets. The skies are filled with flightseeing helicopters that buzz tourists over ice fields and plop them on glaciers for picnic-style lunches and brief walkabouts.
Wrangell is different. Large cruise ships don't come here. Most of the visitors who arrive come on smaller vessels, or the state ferry, or they fly in as independent travelers. As a result, the town has kept much of its original character. In place of trinket shops, Wrangell has hardware and drug stores, grocers and bars, the kind of places that serve regular people.
"We're the real deal," said Terri Henson, Wrangell's director of conventions.
That's one of Wrangell's main selling points.
"People come here because they want to experience what the real Alaska is," said Brenda Schwartz-Yeager, a fourth-generation Alaskan who was born and raised in Wrangell. Schwartz-Yeager owns Alaska Charters and Adventures, a company that offers jet boat tours, fishing excursions and other tourism adventures. She's been in the tourism business for 24 years.
"Originally I started off in charter fishing. Gradually over the last 20 years, we've moved into much more nature-based tours. There's still a bunch of people who want to come to fish but there's a whole bunch of other people who want to see spectacular scenery, glaciers, bears. And we happen to have that all in our backyard," said Schwartz-Yeager.
Leslie is well aware of that.
After a small group of passengers board on this early Saturday morning, Leslie pulls his jet boat away from the dock. Crisp air infused a hint of salt and seaweed fills the cabin. The first stop is Leisnoi Island, a sea lion haulout at the mouth of the Stikine River. After lingering for a few moments, Leslie drives the boat past the Stikine River Delta, a major stopover for migrating birds on the Pacific Flyway.
"We'll have over 100,000 shorebirds come through here over the course of the migration," said Leslie, gesturing toward a muddy flat in the braided river. Old logs and trees stumps line the mud.
Many of the snags have bald eagles perched in the branches, scanning the river looking salmon.
Naturalist John Muir described the Stikine River Valley as "a Yosemite 100 miles long." A trans-boundary river with its headwaters in Canada, the Stikine runs about 400 miles until it empties out at Wrangell. It is North America's fastest flowing navigable river, a place that naturalist John Muir once described as "a Yosemite 100 miles long." It flows through a majestic valley dotted with glaciers and snow-capped peaks. In the spring it attracts one of the world's largest concentrations of bald eagles and in the summer it's filled with five species of Pacific salmon, trout and steelhead. Brown and black bears, moose and wolves are common.
As if on cue during the boat tour with Leslie, a brown bear scampers up across the delta as the jet boat approaches. An hour or so later, a moose with calves are spotted swimming across one of the river's many tributaries.
This is the way tourism is supposed to be, according to Leslie. It blends in with the local scenery and doesn't change the charter of a place.
"We don't do large cruises. We're not geared up for it. We're geared up to be ourselves. We're the real Southeast Alaska," he said.
Paula Dobbyn is a freelance journalist based in Anchorage.
©Paula Dobbyn 2013
A publication fee is required.
Contact Paula at pauladob@gmail.com
E-mail your news & photos to editor@sitnews.us


Publish A Letter in SitNews
Contact the Editor
SitNews ©2012
Stories In The News
Ketchikan, Alaska

Articles & photographs that appear in SitNews may be protected by copyright and may not be reprinted without written permission from and payment of any required fees to the proper sources.