Hoonah's Top Chef;
Southeast Woman Brings Haute Cuisine to Tlingit Village
By PAULA DOBBYN
April 22, 2013
Monday PM

(SitNews) Hoonah, Alaska - Anchorage resident Jeff Gorton works on the North Slope, pulling two-week-on and two-week-off shifts in Alaska's oil patch. When he's off duty in the summer Gorton flies south to Hoonah with his three sons, ages 14, 11, and 6. They keep a live-aboard boat in Hoonah and spend their time sport fishing for salmon and exploring the forested islands and inlets of Southeast Alaska's Tongass National Forest.
As soon as the air taxi touches down in Hoonah, the Gorton family follows a routine.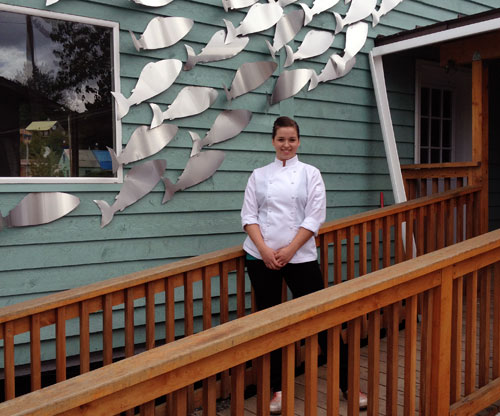 Kristi Skaflestad
Photograph by Paula Dobbyn©

"We get out of the plane and the first place we go is Chipper Fish, even before we unload our bags at the dock," said Gorton. "My kids would prefer to eat at Chipper Fish than do anything else in Southeast Alaska. They basically spend all winter in Anchorage looking forward to going to Hoonah, not to see their friends, not to fish, but to eat salmon bites at Kristi's place."
Owned by Alaska Native chef Kristi Skaflestad, Chipper Fish is a humble but top-notch restaurant located in downtown Hoonah, a mostly Tlingit community of 750 residents on isolated Chichagof Island. It's about a half-hour plane ride from Juneau. Adorned with a school of stainless-steel salmon swimming up the outside wall, Chipper Fish specializes in seafood – mostly wild silver and king salmon caught by Gus Skaflestad, the owner's father. It's not fancy as far as lighting or décor. But the fresh, locally-caught wild seafood it offers makes the eatery a standout. Items like salmon tacos, salmon-salad melt and salmon bites – lightly breaded salmon pieces quickly deep-fired and served with homemade tartar sauce – dominate the menu.
Open from May to September when the tourism and fishing seasons are in full swing, Skaflestad's customers are a mix of visitors and locals. But fishermen – both those based in Hoonah and others who come by port to offload their catch or do boat maintenance -- are her mainstay. One of them is Tim Merriman, a regular customer.
"I'm a fish snob, okay? I'm a fisherman. You can't pull anything over on a fisherman when it comes to fish. I know what's good and what's not good. And I can't say enough good things about Kristi's food. She takes it to a whole new level," said Merriman, a Juneau troller who commercially fishes out of Hoonah.
Besides the freshness of the seafood and knowing where it's caught, there's something else he likes about Chipper Fish.
"The portions are man-sized. You eat one of her breakfast burritos and you're basically good for the rest of the day," Merriman said.
An Unlikely Offering
Chipper Fish is housed in a simple blue building located on Front Street, the main drag in Hoonah. There's a take-out window, a deck with outdoor seating and some tables and some bar stools inside. All told, it can accommodate up to 40 people.
Flower boxes and the metal fish sculpture are a pleasant touch. But without stopping in and sampling the menu, it would be easy to bypass Chipper Fish without realizing that the food is comparable to that of a fine-dining establishment.
Part of the surprise factor comes from Chipper Fish's location. A former logging town with a strong fishing tradition, Hoonah is like many Alaska villages: it's a bit rough and tumble in appearance. That was especially true when the economy fell on hard times in the late 1990s. But more recently, tourism has flourished in Hoonah with the 2004 development of a cruise ship port called Icy Strait Point. New businesses have popped up to serve the tens of thousands of cruise ship passengers that now come to Hoonah. At the same time, strong salmon prices and healthy returns have revitalized the town's fishing industry.
But the bottom line from a culinary perspective is that Hoonah remains a blue-collar town in an off-the-beaten path area of Alaska, making Chipper Fish a refreshing if unlikely offering. The restaurant has several things going for it. Skaflestad's exacting standards, her culinary education and her access to high-quality seafood are all selling points.
Among her fans is the communications director of Alaska Seafood Marketing Institute.
"I took my boat over there last May and tried some of her food. I was blown away," said Tyson Fick.
Fick's group, which promotes Alaska seafood globally, put Skaflestad's cooking abilities to the test last summer during the Great Alaska Seafood Cook-Off in Anchorage. From a pool of 29 professional chefs, Skaflestad joined a group of six that competed in a cooking contest at the Bill Sheffield Railroad Depot at Ted Stevens Anchorage International Airport last May.
The goal was to use Alaska seafood and turn it into a winning dish within one hour's time. Skaflestad came in third place for her creation: Dungeness crab-stuffed king salmon with macadamia spot prawn cakes topped with curried-pineapple sauce.
"It's nice to see terrific new talent emerging. There's no better spokesmen for Alaska seafood than chefs and fishermen," Fick said.
A Blessed Product
While Skaflestad emphasizes seafood on her menu, she also offers hearty breakfast standards like biscuits with sausage gravy, and lunch items such as chicken wraps, beef burgers topped with pulled pork, nachos and hot wings. Main dishes are served with a choice of two sides, one of which is dubbed Mom's Potato Salad.
For every three pounds of potato Skaflestad uses in the salad, she adds one pound of bacon, along with sweet pickle, celery and hardboiled egg tossed with a tangy mayo dressing. It's not for anyone counting calories.
But heart-healthy seafood remains Skaflestad's main focus.
"Half of my menu is salmon," she said.
The chef is passionate about protecting the Southeast Alaska rivers and ocean that produce the fish she serves. Her menu and business card include the slogan, "Thank you for supporting wild, sustainable, eco-friendly salmon fisheries." With out-of-state customers, she'll often talk about the ocean and freshwater conditions that give rise to Alaska's healthy wild salmon.
"It's such a blessed product that we have," said Skaflestad, who is part Tlingit and Aleut.
Two of her great-grandfathers were Norwegian fishermen who came to Alaska to harvest seafood and ended up marrying Alaska Native women.
Chipper Fish opened in May 2011. Skaflestad, who was raised in Hoonah but who now lives in Anchorage during the winter, decided to open the business after graduating from Le Cordon Blue College of Culinary Arts in Portland, Ore. She bought the building that houses Chipper Fish in part with a loan from Haa Aani' Community Development Fund. Haa Aani', a subsidiary of Sealaska Corp., is a non-profit financial institution that works to stimulate and support economic growth in Southeast Alaska's rural communities.
Last year Chipper Fish expanded seating and added an espresso bar. Her family has been instrumental in making the business a success, Skaflestand said. Her parents and extended family in Hoonah helped her fix up the building where Chipper Fish is now located. And her father continues to supply her with more than a thousand pounds of salmon every year. He pressure bleeds and flash freezes every salmon he catches on his power troller, locking in the freshness.
"It's the quality that sells the product. This fish is the finest-quality product on Earth," said Gus Skaflestad.
Paula Dobbyn is a freelance journalist based in Anchorage.
©Paula Dobbyn 2013
A publication fee is required.
Contact Paula at pauladob@gmail.com
E-mail your news & photos to editor@sitnews.us


Publish A Letter in SitNews
Contact the Editor
SitNews ©2012
Stories In The News
Ketchikan, Alaska

Articles & photographs that appear in SitNews may be protected by copyright and may not be reprinted without written permission from and payment of any required fees to the proper sources.