Following Fish
By PAULA DOBBYN
April 15, 2013
Monday PM

(SitNews) Hoonah, Alaska - She grew up in Wisconsin farm country. Today, Dodie Lunda of Hoonah is an Eagle, an adopted member of the Kaagwaantaan clan, Wolf House, of Tlingit Indians. Her Tlingit name is Wha a' hee.
She's also a community volunteer, Alaska seafood advocate, culinary instructor, retired commercial fisherman, and more recently, first responder in an accident that nearly claimed the life of her husband. But among the many roles she plays, being an adopted Kaagwaantaan is among Lunda's most prized.
"It's a very cool thing, especially living in the village and being part of the tribe. You're much more accepted. You get to do things you otherwise wouldn't and there are expectations that go along with it too. I help with the elders, I help with the children, I help with the funerals. My husband says I'm never home," said Lunda, a retired commercial fisherman.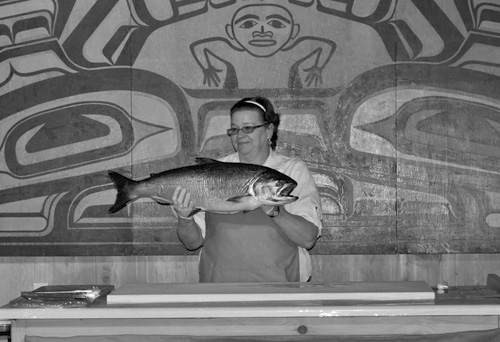 Dodie Lunda
Photograph courtesy of Icy Strait Point

It's uncommon for a non-Native to be adopted into an Alaska Native tribe. The privilege is bestowed only after careful consultation, particularly among elders, said Ken Grant, clan leader of the Seagull House or T'akdeintaan. Grant's Tlingit name is X'óolxaa.
"The honor may come to you if you married a Native person or if you have substantially contributed to the community as a whole. Everyone saw that Dodie has done that. She's there to help out without being asked," said Sally Dybdahl, Hoonah Community Director, Big Brothers Big Sisters of Alaska, an organization for which Lunda volunteers.
Over the years, Lunda has woven herself into the fabric of Hoonah, a mostly Tlingit community of about 750 located on Chichagof Island near Glacier Bay National Park.
"She helped us with the loss of our mom. She took care of my daughter and son at the potlatch. She basically managed the children. She's the kind of person who can just take charge of things," said Hoonah School Superintendent Angie Westman Lunda, a Kaagwaataan clan member who is married to Dodie Lunda's brother-in-law.
But Lake Wissota, Wis., where Lunda grew up, is a long way, geographically and culturally, from Hoonah. How did a Wisconsin farm girl embed herself into the heart of a Tlingit village on an island of coastal mountains and temperate rainforest?
Lunda followed fish.
A Recurring Dream
Lunda's world has always revolved in some way around fish. Early on it was walleye, northern pike and crappie that captured her attention growing up on Lake Wissota near Chippewa Falls, Wis.
"My Dad taught me how to bait my first worm," Lunda said. "I've always loved the thrill of catching a fish."
Lunda's passion for freshwater sport fishing eventually morphed into something bigger -- a livelihood based around wild salmon, halibut, crab and shrimp.
As her Midwestern childhood faded into adulthood, Lunda longed for mountains. At age 21, she headed to Colorado where she managed a restaurant and lounge. She appreciated the Rockies but felt something was missing.
Inexplicably, images of rivers pulsing with scarlet-colored fish began dominating her thoughts.
She wasn't sure what it meant but Lunda knew she wouldn't figure it out by staying in Colorado. With few spots left in the Lower 48 with big populations of Chinook, coho, sockeye, pink and chum salmon, Lunda knew she needed to look north – beyond the urban sprawl, agricultural run-off and dams that have shrunk wild salmon runs in the Pacific Northwest, California and elsewhere.
"I kept having this recurring dream that I was living in the forest in Alaska."
Lunda did some research and discovered a region where big forest and salmon rivers dominate the landscape.
Lunda decided to head there.
In Search of Salmon
She hitch-hiked from Grand Junction, Colo., to the Pacific Northwest. When money ran out Lunda found work in the Seattle neighborhood of Ballard, running parts for a mechanic. She stayed long enough – about a month -- to buy a place ticket to Juneau. Arriving in 1980, Lunda cleaned rooms at the Driftwood Lodge and started walking the docks.
Motivated by her dream, Lunda envisioned a life built around commercial fishing. She persuaded the captain of hand troller to hire her as a deckhand that next summer. The vessel plied the Inside Passage trolling for salmon. Compared to her previous jobs, commercial fishing in Alaska was exotic but backbreaking work.
"You'd start around three in the morning and you weren't done until around eleven p.m. or midnight," Lunda said.
But Lunda was hooked. Her office was the Gulf of Alaska and she was part of a commercial fleet that annually harvests about 50-million wild salmon from waters surrounding the Tongass National Forest. A 17-million-acre rain forest of hemlock, spruce and cedar, the Tongass is comparable to a West Virginia-sized estuary that breeds fish on a massive scale.
For Lunda, life was suddenly very good. The salmon were copious, the paychecks fat, and then there was the matter of this other fisherman. His name was Bob.
Life on a Float House
"I met Bob on the fishing grounds. He had his own vessel," Lunda said. "We started batting eyes at each other."
The two became a pair. Bob Lunda, also born in Wisconsin but raised in Fairbanks and Juneau, was a hand troller as well. The next summer Dodie and Bob began fishing together and switched from trolling for salmon to long lining for halibut.
"I remember being awake once for 72-hours straight, fishing," Lunda recalled.
That was before fishing regulators converted halibut fishing from a pull-out-all-the-stops derby-style affair to a much more regulated quota system.
"It became safer. We'd make three, three-day trips and earn our season's money."
Lunda and her husband lived year-round on a float house in Freshwater Bay, a scenic inlet close to the fishing grounds not far from Hoonah. The couple lived a semi-subsistence lifestyle, making most of their food from scratch, hauling water from a nearby waterfall, eating seafood they caught and deer they hunted. They would go to Hoonah to sell their catch, see people and do errands. Otherwise life revolved around their home on the water.
"We'd go grocery shopping once a year," Lunda said.
They stayed on the float house for 23 years.
"Then I hit 50 and I panicked. I said, 'I'm not sure if this is going to be user-friendly when I'm 60.'"
Alaska's Wildest Kitchen
The Lundas moved into Hoonah several years ago, although they kept their float house for weekend getaways and sport and subsistence fishing excursions.
They retired from halibut fishing in 2011. Lunda has taken her passion for Alaska seafood from the water into the classroom in a new role as culinary instructor at Hoonah's tribally owned cruise ship port, Icy Strait Point.
During the summer, at an attraction called Alaska's Wildest Kitchen, Lunda teaches cruise-ship passengers how to fillet fish and make Alaska specialties like smoked salmon dip, grilled halibut and salmon casserole. In a classroom adorned with red and black Tlingit artwork, visitors sip wine spritzers and snack on Lunda's creations. They head out back afterwards to an alder-fired grill to cook their fillets.
"Only turn it once. When the fish starts to sweat, it's done," Lunda coached during a session last summer.
She peppers her instructional talks with tales about her life at sea and on the float house.
"There's no better spokesperson for Alaska seafood than someone who works in the industry, whether they're still active or not. Dodie's a great spokesperson for commercial fishing because she likes to get out in front of people and tell her story. Fishing is generally a career that doesn't lend itself to that," said Tyson Fick, communications director for Alaska Seafood Marketing Institute.
Aside from teaching visitors about how to cook wild seafood, Dunda also sometimes discusses the local ecology that makes Southeast Alaska such a giant salmon nursery.
"They have a hard time wrapping their head around the fact that there's not even a million people living in this state. We don't have the agricultural run-off, the industrial run-off, and things like that. That's what's preserved our fisheries. Lot of these visitors are from the Great Lakes region where they're told to throw away the belly strip portion of their fish because that's where the contamination gets lodged," said Lunda.
When she fillets Southeast Alaska salmon, Lunda lets visitors know that the belly strip, in her opinion, is the best part and that it's fine to eat.
"They love that."
Not Cashing It In
Although retired from commercial fishing, the Lundas' connection to the sea remains strong. Like many other rural Alaska residents, their summer is dominated by fishing.
Last summer, though, they hit a snag. One of those major wake-up calls that make people re-evaluate. The couple was at their float house with some relatives and friends. Bob and another man went off in a skiff with the man's eight and eleven year old boys to catch a few halibut. A whale breached beneath their boat, tossing everyone in the water. The man and kids swam to a nearby island. The current caught Bob, dragging him away from shore.
Lunda, inside the float house, eventually heard commotion. Peaking outside she saw the father and sons screaming and waving their arms on the island. She jumped in a skiff but couldn't start the motor. Oars in hand, she rowed to them, which took about an hour. They told her Bob was still in the 50-odd-degree water. But the time they reached him, Bob had been dog paddling for about two hours.
"I was just about ready to cash it in. I couldn't move my legs anymore," Bob recalled. "I thought, 'Well, I guess this is how it's going to end.'"
As he was preparing to succumb, Bob saw the bow of a boat approaching, with Lunda inside. When they finally got back to the float house, Bob violently shivered for two hours with Lunda wrapped around him in bed. He'll no longer go anywhere on the water without a life jacket. And he's trying to get Lunda to think long term.
"I'm really trying to get her to stop smoking."
The Lundas spent much of last fall traveling in the Lower 48 to visit family. After Bob's close brush with death, it was time to reconnect.
But after several decades on Chichagof Island, the Lundas consider Hoonah home. Lunda plans to remain active as a Kaagwaantaan clan member. One of her duties is to prepare salmon-salad sandwiches at ceremonies, particularly funerals. It's a simple recipe that mixes smoked salmon, mayonnaise, onions, pickles, salt and pepper. Lunda figures she's made several thousand of these sandwiches over the years.
"It's a traditional meal."
Fortunately no salmon-salad sandwiches were needed last summer at what could easily have been her husband's own funeral. While Lunda still loves the ocean, it's tempered by Bob's near-fatal encounter with a humpback.
"I have a profound new respect for whales," Lunda said. "It's a miracle that nobody died."
(A shorter version of this story appeared in the
February/March 2013 issue of Alaska Magazine)
Paula Dobbyn is a freelance journalist based in Anchorage.
©Paula Dobbyn 2013
A publication fee is required.
Contact Paula at pauladob@gmail.com
E-mail your news & photos to editor@sitnews.us


Publish A Letter in SitNews
Contact the Editor
SitNews ©2012
Stories In The News
Ketchikan, Alaska

Articles & photographs that appear in SitNews may be protected by copyright and may not be reprinted without written permission from and payment of any required fees to the proper sources.