Match of the Month
By Nancy Coggins
March 14, 2006
Tuesday

Ketchikan, Alaska - Enjoy a good laugh, anyone? That's what "Big Sister" Lilah Walker and "Little Sister" Jana do a lot of the time during their meetings. Lilah says, "When I am with Jana and she starts laughing, it's so easy to find the humor in things. She has such a wonderful sense of humor."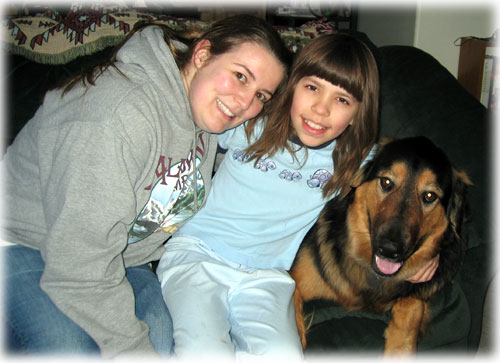 Lilah and Jana pose with Lilah's dog Rocky

As of December 2005, Lilah and Jana have been matched within Big Brothers Big Sisters (BBBS) organization for three years during which time they have had so many good times together -- bowling that often includes ordering cheesy breadsticks from Godfathers and amusing themselves with video games, playing mini-golf, eating at McDonald's, playing at the beach, watching movies and cartoons, playing with Lilah's two cats and a dog, or just simply hanging out and chatting.
Jana is just as much at ease drawing and painting horses and other animals as she is wearing headphones and making up songs and singing them into a microphone. Because of Lilah's job at the radio station, Jana has had a chance with Lilah to utilize the equipment in the station's production room -- off the air, of course -- to produce her own CD of songs.
Are these meetings work for Lilah and Jana? No way! One of their biggest adventures revolved around playing in the new-fallen snow in a nearby park. They packed an outside staircase with snow so they could slide down its "stairs" without too much bumping. Other times, they throw snowballs and go sledding. Lilah comments: "We wind up completely frozen and tired, but it is always fun."
And there has been lots of growth all around. "Little Sister" Jana has grown almost at tall as her "Big Sister" Lilah, and she has become so much more talkative than when they first met. Jana considers Lilah such an important and happy part of her life that her grandmother feels comfortable asking Lilah on the spur of the moment if it would be all right to drop Jana off for awhile while she runs an errand.
Lilah's enthusiasm spills over: "It's so great to have a friend who is so young and has such a different perspective on things. She is a really fun person to be around. I am so proud to be able to call her my 'Little Sister'."
Sound like Fun? Join the Big Brothers Big Sisters program. "Bigs" in the Ketchikan Program meet with their "Littles" two to four times a month and they do whatever interests both of them. Call 907-247-3350.


On the Web:
Big Brothers Big Sisters of Southeast Alaska
http://www.southeastbigs.org/


Publish A Letter on SitNews
Read Letters/Opinions
Submit A Letter to the Editor
SitNews
Stories In The News
Ketchikan, Alaska