The Salmon State
By JENNY WEIS
February 06, 2019
Wednesday PM

(SitNews) - The sitting president of the United States visited Dillingham in 2015 and picked fish, ate traditional foods, and joined local kids for Yup'ik dancing. On Kanakanak beach, President Obama picked a humpy out of the net with local residents, Mae Olson and Alannah Hurley, when it spawned on his shoe .
Despite historic events of that trip, including that the President called Bristol Bay one of the United States' "most important natural resources," within days, that humpy became the nationwide story of President Obama's visit to Alaska. Featured from KDLG to The Guardian, coverage of the Presidential trip to the north quickly spread far and wide, and always included a picture of him with that spawning humpy.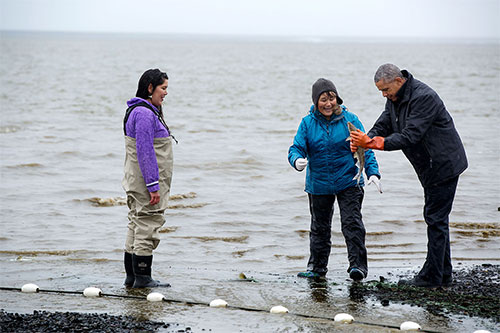 President Barack Obama on Kanakanak Beach in Dillingham with two Alaskans and a soon-to-be-viral spawning salmon.
Photo credit*: The White House.
Such is the nature of viral internet content. What "goes viral," when internet content is shared rapidly from one user to the next, is highly unpredictable. But it's easy to recognize once it's happened. Though Alaska has its fair share of viral-worthy content created almost daily, it's the infamous salmon-related content that never seems to die.
Few would consider a humpy spawning on President Obama a highlight, nor do many Alaskans celebrate the regrettably viral stories concerning Alaskan tapeworms, which we're all still trying to forget.
Last fall however, an annual tradition at Katmai National Park became viral, which may more closely reflect the type of salmon-related content that Alaskans might join in sharing.
Starting back in 2014, in order to bring attention to hyperphagia, the phase when brown bears gorge themselves on sockeye to prepare for hibernating over winter, a visual media specialist ranger in Katmai National Park created "Fat Bear Week." The ranger posted pictures of the largest bears in the park feasting at Brooks Falls and had the internet vote to crown the fattest.
In 2018, a tweet paired with a meme depicting the future-winner, Bear 409, with the caption "THICC" set off a tweet-storm and media frenzy that induced calls to the park from The New York Times and The Washington Post. By the time it was all said and done, 2018's Fat Bear Week had a combined reach of over 823 million.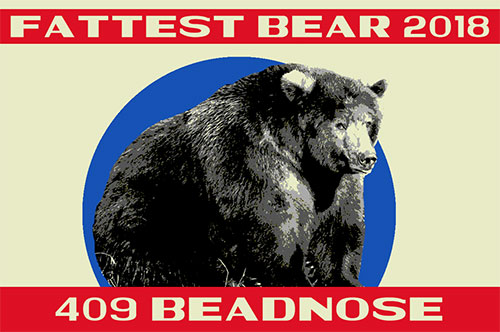 2018 Katmai National Park "Fat Bear Week" winner, "Beadnose" or bear 409. "What does the she win for all this hard work?" the Park's viral post asked. "Stronger chances of living through the winter."
Photo courtesy of Katmai National Park & Preserve Facebook page.
"Fat bear week is really fun, but it is about bear survival," said Katmai Conservancy project manager and former Katmai National Park ranger, Sara Wolman. "They are surviving because of all the salmon that are there. That's what people should think about."
Other Alaskan viral content makes the salmon connection much more directly. "So Apparently There Is Something Called A Salmon And It's Freaking Adorable," is an internet article that has reappeared regularly since it was first published in 2015.
"Say hi to your new favorite thing ever," the article says, now with over 17,000 shares on the Facebook platform alone. And later, "'Hello, I'm a salmon, and I'm incredible. I live in the river. Did I mention I'm THE ABSOLUTE CUTEST?'"
Though some content leaves us scratching our heads, others make perfect sense.
Like the viral entrepreneurial sensations Emma Teal Laukitis and Claire Neaton, better known as the Salmon Sisters, who together design their own clothing including women's and men's garments, salmon-leather accessories, and kitchenware, while selling their own fish and donating canned Alaskan salmon to Food Bank of Alaska.
The Salmon Sisters, hailing from the Aleutian Islands with a flagship store in Homer, were recently featured in Forbes' "30 under 30" list for 2019.
In other less productive or philanthropic corners of the internet, some recall the time pop-mogul, Taylor Swift, dressed like the bottom of a salmon fillet, which could have easily gone viral, but luckily, didn't.
This isn't an exhaustive list, nor the end of salmon-related viral content in Alaska. Whether the media makes Alaskans beam with pride, laugh, or grimace, salmon are an integral part of our culture and economy. As Americans' love for gawking at their notoriously entertaining northern neighbors lives on, our salmon-based viral stories won't likely end anytime soon, either.
**FYI the image info says: This official White House photograph is being made available only for publication by news organizations and/or for personal use printing by the subject(s) of the photograph. The photograph may not be manipulated in any way and may not be used in commercial or political materials, advertisements, emails, products, promotions that in any way suggests approval or endorsement of the President, the First Family, or the White House.
JENNY WEIS ©2019
Mary Catharine Martin ©2019
Mary Catharine Martin [mc@salmonstate.org] is an award-winning science and outdoors writer and the communications director of SalmonState.
If you have a story you'd like to suggest for this column, contact her at mc@salmonstate.org.
SalmonState, a nonprofit initiative, with offices in Juneau, Anchorage and Homer, Alaska, works to protect salmon habitat and promote policies that will guarantee Alaska remains the Salmon State: home of the world's largest, healthiest and most abundant wild salmon resource, which provides culture, food, income, employment and recreation to Alaskans, Americans and the rest of the world.
Representations of fact and opinions in comments posted are solely those of the individual posters and do not represent the opinions of Sitnews.

Contact the Editor
SitNews ©2019
Stories In The News
Ketchikan, Alaska

Articles & photographs that appear in SitNews are considered protected by copyright and may not be reprinted without written permission from and payment of any required fees to the proper sources.

E-mail your news & photos to editor@sitnews.us

Photographers choosing to submit photographs for publication to SitNews are in doing so granting their permission for publication and for archiving. SitNews does not sell photographs. All requests for purchasing a photograph will be emailed to the photographer.