Chemical Eye on Face Implants
by Preston MacDougall
November 19, 2007
Monday AM

Dow Chemical gained unwanted notoriety with their silicone breast implants. More recently, I imagine that public perception of Dow perked-up considerably after their creative introduction of the human element (Hu) gave chemistry a much-needed face transplant.
You may have seen this commercial. With violins sweetly serenading, it begins with "For each of us, there is a moment of discovery." As much as I wish it were true, the narrator optimistically assumes that all viewers have discovered the knowledge that every material change happening while "we see life unfold" is chemical in nature.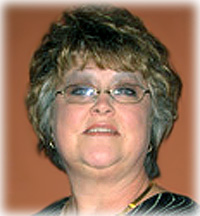 Ruth Woodall
Photo courtesy Ruth Woodall
Then, to plug the company not just the science, and to tug at the heartstrings of viewers and customers, the narrator makes a concession. In a voice as soft and warm as the violins, we are told that " in the dazzling brilliance of this knowledge, we may overlook the element not listed on the chartThe missing element is the human element. And when we add it to the equation, the chemistry changes. Every reaction is different."
The first time I saw this commercial on television, I applauded. I really did. If I had a video iPod, it would be near the top of its playlist. Not at the top, however. I would probably reserve that spot for the colorful and vigorously spurting ammonia fountain.
The chemistry driving the ammonia fountain is simple, basically Windex and vegetable dyes. But beauty is in the eye of the beholder, and in this case beauty inevitably leads to wonder.
I have no doubt that many American high school students had their Dow "moment of discovery" while beholding the ammonia fountain, most likely during a National Chemistry Week exhibition put on by their local section of the American Chemical Society.
In 2007, this annual Fall event was celebrated by over 160,000 members, as well as their captivated audiences, for the 20th time. There is a new theme every year, and perhaps as a grateful nod to Dow, this year's theme was "The Many Faces of Chemistry".
In their new marketing icon, Dow lists Earth's approximate population - 7 billion - as the atomic mass of Hu, the human element. Not everybody in the world is a chemist, but we all use chemistry in one way or another.
This is the message of another recent television commercial, put out by the Public Education Campaign of the American Chemistry Council. In this one, Hollywood special effects make X-ray films disappear as a doctor tries to make a diagnosis, and a toy car loses keys parts, spoiling its potential fun. This spot is far more ad than ed, and can be seen as the "hard sell" next to Dow's "soft sell". Probably not on the playlist, but it effectively conveys the truth of how chemistry is "essential2" much of daily life.
By some estimates, over 1 million people are employed in the U.S. chemical industry. I have a broader definition of what chemistry is than most statisticians, so I would put the figure much higher than that. Most are not professionally trained chemists, but their faces still belong among the faces of chemistry.
One beautiful face is that of Ruth Woodall. Ruth's enthusiastic and tireless volunteer efforts, on behalf of the Memphis and Nashville sections of the ACS, were gratefully acknowledged during the Southeastern Regional Meeting in Greenville, South Carolina, when they presented her with the inaugural Volunteer Services Award for the region.
Ruth's chemistry degree wasn't ACS-certified - the requirement for so-called "professional" chemistry degrees - and she has never been employed by the chemical industry, but she is a true chemistry professional. She taught high school chemistry for 20 years, and her extra-curricular enthusiasm for the central science naturally led to leadership roles in the public relations activities of the ACS - at local, regional and national levels.
Ruth's new career is as director of the Tennessee Scholars program - a statewide initiative sponsored by the Tennessee Chamber of Commerce and Industry. The purpose of this program, which has counterparts in over 20 other states, is to encourage high school students to help themselves by selecting classes that will keep as many career doors open as possible. Local businesses are sought as sponsors to reward students for doing so.
On the face of it, this is a win-win-win story that you probably won't see at halftime.

On the Web:
Chemical Eye On... Columns by Preston MacDougall

Preston MacDougall is a chemistry professor at Middle Tennessee State University. His "Chemical Eye" commentaries are featured in the Arts and Public Affairs portion of the Nashville/Murfreesboro NPR station WMOT (www.wmot.org).



E-mail your letters & opinions to editor@sitnews.us

SitNews ©2007
Stories In The News
Ketchikan, Alaska