Chemical Eye in a Music Box
by Preston MacDougall
September 18, 2006
Monday

Whether you're in the lab or at the dinner table, the sense of hearing is probably the least important when making observations of a chemical nature. Unless you count hearing someone yell "Hey! Don't mix those!"
That's not to say that sound waves are not important in chemistry - they are. Sonochemistry is growing in importance in many areas of basic and applied research at the molecular level, such as rapid processing of polymer materials, including nylon. Most of these applications use ultrasound, which has frequencies far above our audible range.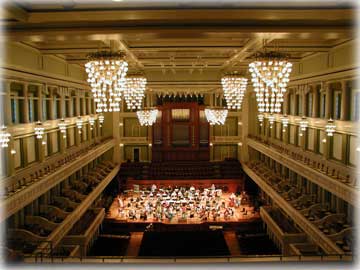 For the enjoyment of music, ears are more important than eyes, but an open mind is essential too. Photo: NashvilleSymphony.org
In one particularly complicated experiment that I did as an undergraduate, my lab partner and I measured the speed of sound in long tubes filled with different gases. The idea was to explore the interactions of energy and matter in the context of the thermodynamic theories we were learning in class. What I remember most is the beautiful sounds that we could get by fiddling with the knobs.
Chemists are also capable of appreciating the beautiful sounds of music, as I did in the audience during the dress rehearsal for the opening gala of the Schermerhorn Symphony Center in Nashville.
Maestro Kenneth Schermerhorn was the long-time music director and conductor of the Nashville Symphony. He had a vision of a new home for classical and popular music in Music City, USA. Both visual and acoustic elegance were to be the hallmarks of the new facility. He and his planning committees toured the world's great facilities - both old and new - for ideas and inspiration.
Sadly, he died unexpectedly last year, and did not see his dream become reality. In his place, the energetic and fluid Leonard Slatkin conducted the musicians in their orchestrated interactions of energy and matter.
The center itself reminded me of an alabaster music box. The shape of the concert hall is very rectangular, and I imagined that if a giant opened the lid, the formally-dressed orchestra would begin playing. For me, the most noteworthy aesthetic motif were the translucent orbs that dangled everywhere - from the great chandeliers in the entrance foyer, to the light fixtures in the patron boxes. They reminded me of large pearl drop earrings, which I thought was very appropriate since our ears are key to appreciating what the building is all about.
Pearls and calcite alabaster are chemically related, so clearly these architects thought about pleasing everyone.
The concert began with the national anthem, and I am sure that I have never heard it done so perfectly. This was followed by Shostakovich's "Festive Overture", which was a perfect way to celebrate the opening of this gift from Nashville to itself. The final two movements of Mahler's second symphony, "Resurrection", ended the historic evening with the audience humbled and appreciative.
In between, there was a beautiful piece by the American composer Samuel Barber, and a remarkable world premiere of "Triple Concerto for Banjo, Double Bass and Tabla", composed by Nashville's own Béla Fleck and Edgar Meyer, in collaboration with Indian classical music virtuoso Zakir Hussain. This latter piece had me thinking about chemistry.
At times my ear heard a sitar-like sound, but my eyes saw Béla Fleck playing his banjo. At other times, my ears heard the "whoop" sound that is characteristic of the bayan drums in Indian music, but my eyes saw Edgar Meyer bowing his double-bass, staccato style. During the piece, Zakir Hussain made some sounds with his tabla drums that were similar, and others that were very different from his fellow soloists.
In synthetic chemistry, it is often useful to simulate some of the chemical effects of one kind of atom, while omitting some of its other effects. For instance, halogens ­ such as chlorine and bromine ­ subtly direct reactions to occur at one site versus another in an organic molecule.
There may be reasons why a halogen should be avoided, and a pseudo-halogen is used instead. For instance, the azide group consists of three nitrogen atoms in line, and conducts reactions much like a bromine atom would, but can be removed much more easily when that chemical movement is finished. (And with the clash of a cymbal if you're not careful!)
I left the concert sure that a few people would react negatively to the strange foreign sounds, but that most people would see the beautiful and surprising connections that were right before our ears.
On the Web:
More Chemical Eye On... by Preston MacDougall

Preston MacDougall is a chemistry professor at Middle Tennessee State University. His "Chemical Eye" commentaries are featured in the Arts and Public Affairs portion of the Nashville/Murfreesboro NPR station WMOT (www.wmot.org).

Publish A Letter on SitNews
Read Letters/Opinions
Submit A Letter to the Editor
SitNews
Stories In The News
Ketchikan, Alaska