Chemical Eye on Poor Man's Chemistry
by Preston MacDougall
June 29, 2007
Friday

Before robots were able to manipulate chemical equipment, chemistry was called the poor man's physics. And in the same outdated hierarchy, biology was called the poor man's chemistry. Nowadays, the poor man's chemistry is likely to be cooking up a batch of crystal meth.
As a result, buying cold medications is a lot less convenient than it used to be. This is because one of the active ingredients - pseudoephedrine - has a molecular structure that is easily modified, with some readily available solvents and reagents, into a highly addictive and personally destructive narcotic.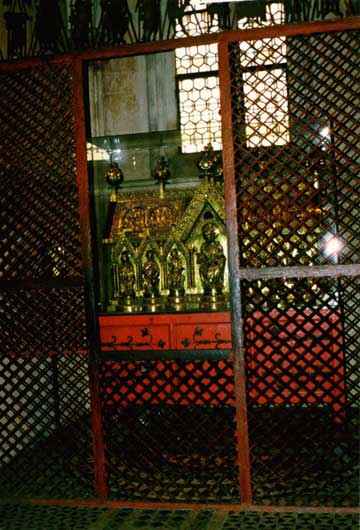 The Shrine of St. Elisabeth of Hungary, made of copper, silver and gold. Located in Elisabethkirche, Marburg.
Credit: Matthias Nagl, Fachbereich Physik, Marburg.
I don't know how this recipe spread like kudzu, but I suppose the Internet had something to do with it. Still, I suspect that pharmaceutical chemists know more organic chemistry than your average addict, and can reformulate the decongestant in a way that blocks synthesis of methamphetamine.
There will undoubtedly be an R&D cost associated with this, but it must be weighed against the cost of countless ruined lives. Coincidentally, the sacrifice of wealth and comfort for the benefit of the poor and helpless was the catalyst that started a chain-reaction almost 800 years ago in the picturesque German town of Marburg, where I am currently spending a few weeks as a visiting scientist.
Marburg is a university town, and the university here is well-represented in the archives of chemical heritage. For most tourists, streets with names such as Bunsenstrasse should rekindle memories of chemistry labs. With a name familiar to those who took organic chemistry, Hans-Meerwein-Strasse is located in the hills on the outskirts of town. No tourists, but this is where today's students are busy learning to become masters of the atomic domain.
Saint Elisabeth was born in Hungary 800 years ago this year. She died in Marburg at twenty-four - in her case, an ultimately tender age. She was the daughter of a Hungarian King, betrothed to the son of a German count, and married at the age of fourteen. (For my teen-age daughter, who said she would be listening to her Daddy-O on the radio, this is Europe. They use metric years here.) Elisabeth became widely known for her piety and personal devotion to the needs of the poor and the diseased, including lepers. According to legend, and without any knowledge of carbohydrate chemistry, when her husband surprised her in the town, she changed bread into roses to hide evidence of her smuggled charities.
Shortly after her death, a campaign on her behalf, led by a Franciscan monk with testimony about miraculous healings from her servants, led to her canonization on the day of Pentecost in 1235. The same year saw the beginning of construction of a magnificent Gothic church over her grave, which was already the destination of pilgrimages. Faithful pilgrims come still, even though the church has been protestant since shortly after the Reformation.
Leprosy is a contagious disease caused by a particular bacterium. It can be treated with modern antibiotics, but a trip to Marburg would be a very nice complementary treatment, if insurance will cover it. Adding insult to injury, many victims of arsenic poisoning in poor areas of Bangladesh have symptoms that mimic the skin lesions of leprosy. Ironically, the arsenic that poisoned these people was delivered by fresh-water wells that were dug for them by "well-intentioned" international aid agencies.
They didn't know it at the time, but the groundwater in many areas of Bangladesh is naturally high in toxic forms of arsenic that are difficult to measure accurately, especially if you are not a master of the atomic domain. In any case, the alternative wasn't much better - pond water teeming with infectious microorganisms. After the wells were dug, there was an immediate decline in deaths due to infectious diseases. Slowly, however, cases of arsenic poisoning surfaced, and many of these proved fatal.
To solve this man-made puzzle, the National Academy of Engineering initiated the Grainger Challenge Prize for Sustainability, and offered a $1 million Gold Award for an economical and convenient system for filtering arsenic from well-water. "Sustainability of Energy, Food, and Water" is also the annual theme proposed by this year's president of the American Chemical Society, Dr. Catherine Hunt. Exciting research into numerous environmental issues is ongoing with funding and support from the ACS Green Chemistry Institute.
Coincidentally, the first Grainger prize was recently awarded to a chemist from Bangladesh who came to the U.S. to complete his graduate studies. Abul Hussam and his family had two of the infamous wells in their home when he was growing up, but they didn't show any tell-tale symptoms of arsenic poisoning. This may have been due to their otherwise healthy diet. The conditions of the less fortunate motivated him to attack this problem with the chemical knowledge that he acquired later. His chemical education was obtained at fonts of knowledge including the University of Pittsburgh, where he was trained as an analytical chemist and learned how to accurately measure trace amounts of various chemical species.
Dr. Hussam's filtering system is manufactured easily, and is maintenance-free. It simply consists of sand, charcoal, bits of bricks, and shavings of cast iron - the active ingredient. Porous iron forms strong bonds to arsenic, and when the filter is saturated, the contents can be safely dumped. The filtered arsenic is in non-toxic form - immobilized and chemically bonded to iron - and it will remain so as long as there is oxygen around, since this element blocks the chemical processes that dissociate arsenic and iron.
Unless international aid agencies decide to improve the air quality in Bangladesh next, without consulting masters of the atomic domain who are experts in atmospheric chemistry, there should be a plentiful supply of oxygen there.
On the day that St. Elisabeth was given her dower of 2,000 marks, she distributed one-quarter of it to the poor in Marburg, using the rest to build a hospital to serve them. In a similar spirit, Dr. Hussam will use 70% of his prize to purchase filters for needy communities, directing the rest to sustainability R&D.

On the Web:
Chemical Eye On... Columns by Preston MacDougall

Preston MacDougall is a chemistry professor at Middle Tennessee State University. His "Chemical Eye" commentaries are featured in the Arts and Public Affairs portion of the Nashville/Murfreesboro NPR station WMOT (www.wmot.org).



E-mail your letters & opinions to editor@sitnews.us

SitNews ©2007
Stories In The News
Ketchikan, Alaska