Chemical Eye on June Bustin' Out
by Preston MacDougall
June 07, 2006
Wednesday

In like a lion, out like a lamb. That's March for you, weather-wise. Botanically speaking, April showers bring May flowers. What about June?
The aphorisms describing March, April and May seem more applicable to Western Europe and the Northeastern United States than California or Australia, but thanks to Rodgers and Hammerstein, June is bustin' out all over!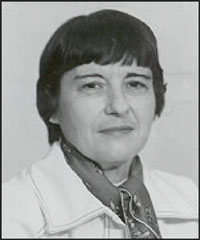 Dr. June S. Anderson.
Credit: MTSU Photographic Services
This most rousing of Broadway musical numbers has caused global excitement through the widespread popularity of the 1956 movie version of Carousel. Amazingly, the more sentimental song - "You'll never walk alone" - has even become a standard anthem sung by the notoriously rowdy supporters of the Liverpool Football Club (which would be called a soccer team over here).
A crooner I am not, but I will attempt to arouse your interest with a commentary that ties together soccer, June and chemistry - without referring to the soccerball-shaped molecules of 60 carbon atoms that are affectionately known as buckyballs.
"Sex, Lies and Title IX" is the title of a provocative article by Richard Zare that was published in Chemical and Engineering News. Zare is the chair of the Department of Chemistry at Stanford University, and is a chemist who has distinguished himself through ground-breaking research, exemplary teaching, and far-reaching public service. On this latter score, his most recent contribution is co-authoring a report from the National Academies that summarizes disturbing economic and educational trends that constitute a "gathering storm". The report also lays out a number of practical suggestions for "rising above" it.
Many modern technologies, such as implantable computer chips with biosensors, present complex challenges that require expertise in not just one, but multiple scientific disciplines. Overcoming these challenges will be no clambake, and will certainly require that our educational systems find better ways to attract the "best and brightest" into curricula that are heavy on the mathematical and physical sciences in particular. This is where Title IX comes in.
This law states simply: "No person in the United States shall, on the basis of sex, be excluded from participation in, be denied the benefits of, or be subjected to discrimination under any education program or activity receiving Federal financial assistance."
Enacted in 1972, this law has seen its largest impact on college athletics, but as you can see it is not limited to the playing fields. I think that, to a large extent, Title IX paved the "Road to Pasadena" where the U.S. women's soccer team claimed the 1999 Women's World Cup by beating China in a shoot-out after a hard-fought scoreless match.
My family and I were on the campus of Stanford University that July, and enjoyed the carnival-like atmosphere on July 4th, when the US defeated Brazil in the semi-final match held there. It was hot then, but apparently it was even hotter in Pasadena six days later - when you will recall Brandy Chastain did her own rendition of "bustin' out".
It is not unreasonable to hope that Title IX pressure will do for chemistry what it did for soccer. That is, increase the level of competition in collegiate endeavors that have traditionally been unequally represented by gender.
That covers chemistry and soccer. What about June?
Here at my university, Middle Tennessee State University, we have an atypically well-balanced distribution of men and women who profess chemistry. One third of our tenured faculty are women, and at the Full Professor level there are 4 women and 5 men. But this key statistic would be perfectly balanced if you count the ever-present impact of June Anderson.
June Anderson was the first female professor of chemistry in our department. She taught entry-level courses, as well as advanced courses on inorganic chemistry, for 25 years before she died in 1984.
June was initially hired on the strength of her science teaching abilities that were especially noteworthy considering she taught at a Nashville high school at the very bottom of the economic ladder. The chemistry department encouraged her and supported her while she pursued a Ph.D. in Chemistry at Florida State University. Upon her return, in addition to her teaching, she began a research program in X-ray powder diffraction of inorganic materials and was eventually promoted to the top of the academic ladder.
Along the way, she fought for women's rights across campus and was the driving force behind the creation of childcare centers, proper campus lighting, Women's Studies classes, and more. Most importantly, in 1977, she founded the Women's Information Service for Education (WISE). After her death, and in her honor, this regional resource was named the June Anderson Women's Center.
Among other activities, this center provides scholarships to young women who want to "bust out" of career paths that are traditionally taken by women. It also provides emotional support, so that they'll never walk alone.
Preston MacDougall is a chemistry professor at Middle Tennessee State University. His "Chemical Eye" commentaries are featured in the Arts and Public Affairs portion of the Nashville/Murfreesboro NPR station WMOT (www.wmot.org).

Publish A Letter on SitNews
Read Letters/Opinions
Submit A Letter to the Editor
SitNews
Stories In The News
Ketchikan, Alaska