Chemical Eye on Tennessee Idol
by Preston MacDougall
May 08, 2007
Tuesday AM

"Yo dog, listen up. Check it out, check it out. That project was the perfect choice for you!"
OK, that may not be the exact way he phrased his questions, but Dr. Lewis Myles, a professor of Biology at Tennessee State University, a historically black institution, always went first since he was seated at the left end of the panel of judges. Lewis also had the most experience on the panel, having judged high-school science projects for the Tennessee Junior Academy of Science for over 25 years straight. Lewis was cool, and put the students at ease, but if their project involved plants, they needed to on their toes because his questions were sharp.
Next in line was Dr. Gore Ervin, a professor of Biology at my own institution, Middle Tennessee State University. Gore is one of the most kind-hearted people I have ever met, and when passing through the halls of the ground-floor biology department to the second-floor chemistry department, his familiar chuckle is as ever-present, but far more welcome then the interesting mix of volatile organics that are exuded by various fermenting organisms.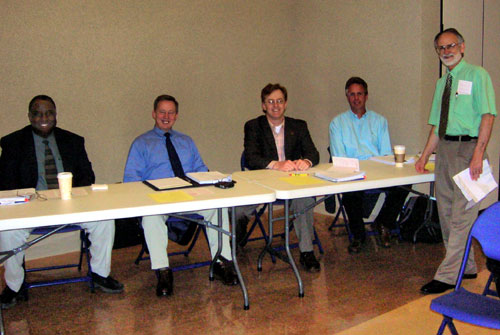 The panel of judges and their front man, for the 2007 "Tennessee Idol"
high-school science project competition.

Gore's good nature also put the students at ease, and his expertise in physiology put other judges at ease, since many of the top-contenders did their research projects in biomedical research labs at cutting-edge institutions such as Vanderbilt University Medical Center in Nashville and St. Jude Children's Research Hospital in Memphis.
Next in the judging line-up was yours truly, a chemist. I wasn't trying to be difficult, but it did seem like some of my questions about standards and controls in the chemical analyses left the students slightly speechless. That was when it dawned on me that I wasn't the "bad cop" to Gore's "good cop", I was Simon Cowell.
Since science is more complicated that signing - except for songs written by Leonard Cohen - four judges were needed in the "Tennessee Idol" contest, unlike American Idol which does quite well with only three. Dr. Paul Koehler, a nuclear astrophysicist from the Oak Ridge National Laboratory, completed our panel. Fortunately, since there are always bound to be a few science projects centered on music, Paul is also a guitar-slinging amateur musician.
While there can only be one American Idol, we were allowed to name two winners of the cash awards sponsored by the Tennessee Academy of Science. The process began with over 100 high-school students, from all corners of the state and in between, submitting results from their research projects to Dr. Jack Rhoton, Professor of Science Education at East Tennessee State University.
Jack has been orchestrating this event for a lot longer than Ryan Seacrest has had his gig, and he uses a lot less hair-gel too. The science project competition is the main event of the Annual Meeting of the Tennessee Junior Academy of Science, which Jack has directed since 1992. It was held at Pearl-Cohn Comprehensive High School in Nashville for many years, but for the second year in a row it was hosted by Belmont University. Coincidentally, our "Tennessee Idol" event was held just a few days after Belmont hosted the CMT Music Awards show, also for the second year in a row.
While you must be a high school student to enter the science project competition, one of the surprise winners during the CMT Music Awards was also a high-school student. Taylor Swift won the Breakthrough Video of the Year Award for "Tim McGraw", her song about teen-age romance.
There was nothing romantic about the science projects of this year's winners. Andrew Lu from Memphis reported on his impressive studies of breast cancer angiogenesis and metastasis, which involved control of the p16 gene and assays of the growth factor protein VEGF. These were done under the supervision of research scientists, who had large research groups, but there was nothing "pitchy" about Andrew's understanding of his research project.
Hairan Zhu, from Nashville, was also selected by all the judges as a worthy Tennessee Idol. He studied the effects of dietary fat and the presence of the gene FOXM1 - which you probably know as the familiar forkhead box M1 gene - on the health of cultured pancreatic cells. I could tell that this research was really hot when Gore, an expert on kidney function and related physiology, was clearly impressed.
Several students were also formally recognized for outstanding research projects that were much more independent, and could be likened to "garage band" music as opposed to the "orchestral" performances of Masters Lu and Zhu. For instance, Paxton Jones from Clarksville retro-fitted a remote-controlled model car and a pneumatic drill, so that both could pull weights, in order to compare the energy efficiencies of motors that run on internal combustion versus compressed air.
There were a couple no-shows, such as the student - let's just call him number 53 on the kicking team - who studied the effect of helium on the punt distance of footballs. Perhaps he and Coach were still looking for the football.
If we gave a Breakthrough Project of the Year Award similar to the CMT one, I would have voted to give it to Amy Wiggington and Elizabeth Pense, both freshman students from Nashville. Using homemade devices, their physics project studied the sound attenuation properties of wood.
Speaking of sound attenuating properties of wood, you may have to speak loudly to get through to your local school board. But science education is very important to the future economy of your state and our country. We can't all be as carefree as Sanjaya.
On the Web:
Chemical Eye On... Columns by Preston MacDougall

Preston MacDougall is a chemistry professor at Middle Tennessee State University. His "Chemical Eye" commentaries are featured in the Arts and Public Affairs portion of the Nashville/Murfreesboro NPR station WMOT (www.wmot.org).

Publish A Letter on SitNews
Read Letters/Opinions
Submit A Letter to the Editor
SitNews
Stories In The News
Ketchikan, Alaska