Chemical Eye on Red Ink Rising
by Preston MacDougall
April 02, 2007
Monday

When I think about Georgia O'Keeffe, I think pink. Pink flowers, pink shells, and the pink hues that graced the Western slopes of the Sangre de Cristo Mountains of Northern New Mexico at sunset - framed by a picture perfect window in my family's previous home.
That was then, this is now, and the negative image of institutional red ink is tinting memories from the Land of Enchantment. News stories have been splashed across papers from Nashville to New York, so you may have read about plans for Fisk University to sell Georgia O'Keeffe's "Radiator Building - Night, New York" for $7 million. Fisk president, Hazel O'Leary, says that this is necessary in order to replenish the university's endowment, which has been depleted in recent years to cover the university's operating costs.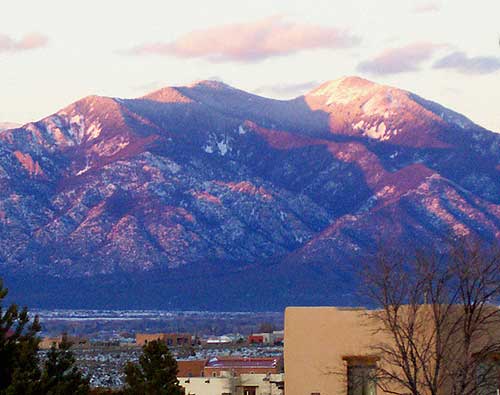 Sunset in Taos, New Mexico.
Credit: morguefile.com

Fisk became the proud owners of this valuable piece of modern American art when the painter herself donated it as part of an art collection that her dying husband, photographer and art collector Alfred Stieglitz, had said he hoped would benefit Nashville's historically black Fisk University.
Generally, there has been disapproving banter in response to these plans, which have been contested in court. But the clock is ticking on those who would prefer to raise funds the old-fashioned way, as the Fisk University Jubilee Singers did, before the gavel finally comes down.
Coincidentally, Hazel O'Leary was the U.S. Secretary of Energy when I worked at Los Alamos National Laboratory in New Mexico. Generally, there was disapproving banter in response to her plans there as well. These included shifting scientific research from basic research in support of national defense to applied research in support of industrial bottom lines. While she was rightly given credit for declassifying lots of information that ought to have been public, the industrial partnerships that she encouraged seemed to be just as secretive as the old ways. At least that is how I read the fine print of the non-disclosure agreements I had to sign.
Then, as now, a better way is to let the heart and soul of an institution plead its case before the public. This is what the Jubilee Singers did when they toured the world to raise money for their school (without the administration's support - at first). Faculty and students are the heart and soul of a school, just as scientists and technicians make Los Alamos vibrate with intellectual energy.
I'm actually not very worried about the financial future of either Fisk or Los Alamos. Fisk has rich and influential friends, especially in the entertainment industry. Los Alamos has powerful and influential in political circles. Perhaps I repeat myself.
What does worry me, though, is a small story I saw in The Tennessean on just one of the days that Fisk's woes were being publicly aired. The headline was "Memphis college's financial crisis deepens." In this case, the red ink was all over the books of another historically black college - LeMoyne-Owen.
You may have never heard of LeMoyne-Owen, and to be honest I hadn't either, until recently. While this commentary may be your introduction to the school, mine was as a judge for the Fourth Annual Undergraduate Research Conference of the Tennessee Louis Stokes Alliance for Minority Participation.
That's a mouthful. What it was, was an inspiring event capping off a year of independent research by undergraduate students in math, science, and engineering - intellectual fields with woeful participation rates by some minority groups.
I was particularly impressed by the biological research being done by, not just one, but a bevy of passionate young black women from LeMoyne-Owen - a school of less than 700 students. There was no hint of financial challenges, just excitement over the cellular research results. In the presentation of Mickie Woodall and Takena Gross - a soulful duo from Dr. Rhonda Kuykindoll's lab - it was clear that they had a supportive mentor, but there was no hint of "my research supervisor just told me to do this".
These students had taken ownership of their studies of glow-in-the-dark bacteria, which have been in the news recently. In some bacteria, the chemical communication between cells results in fascinating light displays, and "bacterial banter" was the cover story of leading chemistry magazine just a few weeks before the conference.
Compared to the Jubilee Singers, a world tour of inspiring young black scientists-in-training wouldn't be as poignant. And it probably wouldn't draw rave reviews from the salons of Europe. But I believe that if more people knew what's going on in the laboratories of historically black colleges and universities, there would be a lot less banter about what's going on in the boardrooms.
On the Web:
More Chemical Eye On... by Preston MacDougall

Preston MacDougall is a chemistry professor at Middle Tennessee State University. His "Chemical Eye" commentaries are featured in the Arts and Public Affairs portion of the Nashville/Murfreesboro NPR station WMOT (www.wmot.org).

Publish A Letter on SitNews
Read Letters/Opinions
Submit A Letter to the Editor
SitNews
Stories In The News
Ketchikan, Alaska