Chemical Eye on Dixie Chick-Lit
by Preston MacDougall
February 21, 2007
Wednesday AM

"I was never so amazed in my life as when the Sniffer drew his concealed weapon from its case and struck me to the ground, stone dead."
This is my favorite opening line from a novel. So I figured if it worked for Robertson Davies in "Murther and Walking Spirits", it would be a good way to start this commentary. However, this commentary isn't about murder or mysterious characters with names that evoke images of non-prescription drug use. That would be cheap sensationalism. This commentary is about a woman with a generous bosom.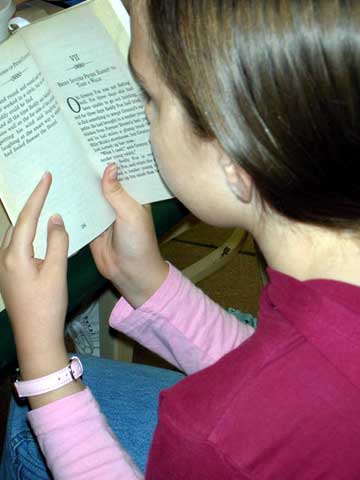 Credit: morguefile.com
Dolly Parton's not the tallest Dixie Chick on the country music scene. And she may have been raised in Shortsville, Tennessee. But there is no denying the fact that she's got huge talents. She has a big heart too.
Singing, song-writing, and acting, are among her well-known talents. But folks in Tennessee know that she also has a talent for organizing community efforts to improve the literacy of preschool children from hill or vale. With Governor Bredesen's help, Tennessee became the first state to offer the "Imagination Library" program - free - to children statewide. All that parents have to do is register their children, which can be done online or by calling the toll-free number 1-877-99BOOKS. Once registered, they will receive a colorful "board book" in the mail, every month until their 5th birthday.
If you live in another state, or a Canadian province, go to www.imaginationlibrary.com to see if Dolly's dreams for children's literacy have taken root in your community.
Most toddlers can't read. And these books don't have the silicon chips and transducers that musical birthday cards do. So when the book arrives, it's up to you to read it with your child. And, like "The Little Engine That Could" (Dolly's favorite book prop), your little dream machine could be reading years before he or she takes their first No Child Left Behind multiple-choice test.
If you are wondering why preschool reading is important to chemistry, I suggest you visit your nearest university bookstore. After you get over the sticker-shock of a freshman chemistry textbook (sometimes over $100), notice the condition of some of the ones marked "USED". The conditions of a few might suggest that the dog was still hungry after eating the homework. But I'll bet others can only be distinguished from the new ones by the stickers: the USED one and the price one. (Hurry, these sell fast!)
Judging from the pristine quality of these "used" textbooks, I would also wager that the previous owners spent more time driving around campus parking lots looking for a spot than actually reading the textbook. I'll admit that it can take a long time to find a good parking spot on a bustling campus, but it takes even longer to master challenging concepts such as electron configurations or the second law of thermodynamics.
Amazingly, I often hear the question "Are we going to use the textbook?" Chemistry professors don't always agree. For instance, there still isn't complete consensus about man-made global warming caused by rising atmospheric levels of CO2, which is transparent to visible light but has strong "heat-trapping" absorption bands in the infrared part of the spectrum. You might expect that this would have been confirmed or refuted in the time since Professor Arrhenius reported on this phenomenon in 1896. (No, that's not a typo. Google Arrhenius and greenhouse.)
There is perfect consensus about one thing though. It is humanly impossible to cover all the material in a freshman chemistry textbook in the classroom. In fact, some schools are custom ordering textbooks with major portions of general chemistry omitted, just to keep the cost (and weight) of the books down.
Suppose, in the future, research into feasible solutions to our energy problems turns toward the Sun. What if the chapter on silicon chemistry (the basis of photovoltaic materials) was left on the publisher's floor when preparing your college's textbook order? Will you be left behind?
Students who are serious about finding chemical solutions to environmental problems are expected to read on their own outside of class, and not just from the textbook (although that's the best place to start). After all, you never know from which part of the periodic table the next unexpected discovery will come from. Louis Pasteur, a famous French chemist and biologist, said it best: "Chance favors the prepared mind."
I guess what I'm trying to say is that an ingrained love of learning, which is greatly enhanced by enjoyment of reading, is a prerequisite for mastering any intellectual endeavor, be it chemistry or song-writing.
As Dolly says, "Keep Reading".

On the Web:
More Chemical Eye On... by Preston MacDougall

Preston MacDougall is a chemistry professor at Middle Tennessee State University. His "Chemical Eye" commentaries are featured in the Arts and Public Affairs portion of the Nashville/Murfreesboro NPR station WMOT (www.wmot.org).

Publish A Letter on SitNews
Read Letters/Opinions
Submit A Letter to the Editor
SitNews
Stories In The News
Ketchikan, Alaska