Chemical Eye on Winter Roses
by Preston MacDougall
January 10, 2008
Thursday

If Shakespeare's Juliet had been a modern chemist, she would have told Romeo "that which we call a rose, by any other name would smell as sweet - at ambient temperatures".
It might have killed the mood, but she would have known that at 320 degrees below zero on the Fahrenheit scale - the boiling point of liquid nitrogen - roses don't smell at all. In fact, they are so cold that when hammered with a banana, they shatter like glass. I haven't actually shattered a rose myself, but I have hammered a nail into a wooden board using a banana frozen with liquid nitrogen.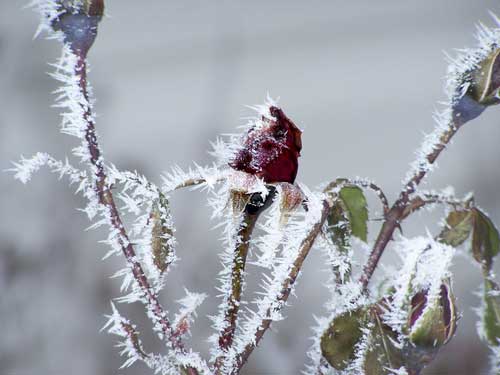 Credit: morguefile.com

Fortunately for romantics everywhere, that which we call air wasn't liquefied until the late 19th century, by Bavarian refrigeration pioneer Carl von Linde. Linde's name isn't on any of the thermodynamic theories that govern expanding and contracting gases - he taught his students about the Carnot cycle and the Joule-Thompson effect just as we do today.
However, the Linde name has been on factories and chillers that profit from this fundamental knowledge ever since he left his academic post to start a refrigeration machinery company that still bears his name.
Chlorinated fluorocarbons, CFCs, or Freon, are names that most people associated with refrigeration equipment. But they are also associated with thinning of the ozone layer, not to mention being potent greenhouse gases. This is one of those lucky instances when the solution preceded the problem.
Ammonia - a urinal-smelling compound of nitrogen and hydrogen - is actually the fluid of choice for efficient cooling, and has been since Linde used it to liquefy air. The NHL uses giant ammonia chillers to freeze almost two inches of ice, both quickly - since many arenas are also used for rock concerts and basketball games - and hard enough to sport a fast-paced game of professional hockey.
Hockey games aren't always played indoors, however. Back in Canada, my friends and I waited for the chilled air blowing off Lake Ontario to freeze the Rattray Marsh. This was not very efficient - we didn't have any compressors to take advantage of the Joule-Thompson effect. And it wasn't always as safe as we told our mothers - if you weren't careful, and skated too close to the lake, you got a soaking.
Mother Nature often interrupted our season with frustrating warm spells. That hasn't been the case recently around Lake Ontario, and during an afternoon snowstorm on New Year's Day, 71,000 huddling NHL fans enjoyed the 2008 Winter Classic at the Buffalo Bills football stadium.
An extra ammonia chiller was needed to freeze the rapidly assembled outdoor ice rink to NHL standards, but the caliber of the game between the Buffalo Sabres and the Pittsburgh Penguins was as high as it gets. After playing to a 1-1 draw through three Zamboni-interrupted periods, and one fast-paced overtime period, the Penguins won in a shoot-out. The winning goal was scored by a blooming young superstar named Sidney Crosby, who brings excitement and flair to the sweetest game on ice.
Like most hockey players, he was hammered into the boards a few times. But he always rebounded, and was likely to have somehow maintained possession of the puck. In addition to skillful stickhandling, Crosby delighted spectators with amazing offensive maneuvers including puck-juggling and a spin-o-rama. I was reminded of Michael Jordan's gravity-defying charges to the net, but in Sidney Crosby's case, I guess you'd call it friction-defying.
I wasn't there, but having played competitive hockey for several years, I can imagine what the two dressing rooms smelled like after the game, and roses do not come to mind.
Roses had been on my mind all morning before the hockey game, because watching the Tournament of Roses Parade is a New Year's tradition in my family. This year was extra special, and must-see TV, since my niece, Kelsey MacDougall, was the red-head among the beautiful Rose Princesses.
Pasadena was characteristically sunny, but judging from the coats worn by spectators, the temperature might have been a bit fresh. That's perfect for the flowers, grasses, and all manner of plant matter that must completely cover each of the floats entered in the parade. For instance, the float celebrating the 50th anniversary of the LA Dodgers was decorated with popcorn kernels and crushed peanut shells, among other flora. It was just as appropriate to see Tommy Lasorda among the float's fauna. However, the float sponsored by the City of Anaheim was sporting one inorganic decoration that caught my eye.
Lord Stanley's Cup is made from a silver-nickel alloy that is both hard enough to be indelibly engraved - with names like Wayne Gretzky in the past, and Sidney Crosby in the future - and shiny enough to sparkle in the daydreams of young, sweating, smelly winter roses on a frozen marsh.
On the Web:
Chemical Eye On... Columns by Preston MacDougall

Preston MacDougall is a chemistry professor at Middle Tennessee State University. His "Chemical Eye" commentaries are featured in the Arts and Public Affairs portion of the Nashville/Murfreesboro NPR station WMOT (www.wmot.org).



E-mail your letters & opinions to editor@sitnews.us

SitNews ©2007
Stories In The News
Ketchikan, Alaska