Fish Factor
Bering Sea crab fisheries underway;
Salmon ups and downs; & Share the bounty
By LAINE WELCH
October 19, 2009
Monday

Bering Sea crab fisheries got underway on Oct. 15 with the eastern waters at Bristol Bay seeing the most action right off the bat.
Fish and Game at Dutch Harbor said 93 boats pre-registered for the red king crab fishery, and 62 dropped pots on opening day. The guideline harvest at Bristol Bay is 16 million pounds of red king crab, a drop of almost 22% from 2008. Another 1.2 million pounds of blue king crab can be harvested at St. Matthew Island this year, the first opener there for a decade.
But the overall drop in king crab supply from Alaska won't be reflected in higher prices to fishermen - due to the global recession and the 23 million pounds of king crab coming into the U.S. from Russia.
According to the Inter-Cooperative Exchange (ICE), which represents nearly 70% of the king and snow crab caught in the Bering Sea, crabbers approved an advance price of $4.67/lb for red king crab.
"Based on a wholesale price of $9.00/lb, Trident agreed to advance 96% of that amount on the fish ticket ($4.48). Other processors are advancing 94.4% ($4.40). The final price will be determined after sufficient sales have been made. We are appreciative of the efforts of Trident Seafoods to work with us toward a mutually beneficial climate of cooperation," said ICE spokesman Jake Jacobson.
Trident also posted a price of $2.48 for smaller blue king crab from St. Matthew Island, which opened for the first time in a decade.
The snow crab fishery also opened on Oct. 15 but the fleet won't target those crab until January. That quota also is reduced to 48 million pounds, down 18%.
Freezers are chock full of snow crab, sales are slow and product is backing up said Seafood Trend market analyst Ken Talley. Snow crab landings from fisheries just wrapping up in Canada totaled 190 million pounds and imports to the U.S. are up nearly 27%.
Of all the crab markets, Dungeness is the most active. Talley said strong sales reflect the dungies' popularity as a local favorite all along the West Coast. Southeast Alaska's fall Dungeness fishery got underway October 1, where crabbers will take about one million pounds and enjoy higher prices --- Southeast Dungeness prices were reported at $1.80-$2/lb, up from $1.50 this summer.
Salmon ups and downs
Wholesale prices show some real ups and downs for Alaska salmon sales this summer. The state Dept. of Revenue's Tax Division compiles volumes and values each quarter by region for six salmon products. By far, most of Alaska's salmon sells as frozen H&G, or headed and gutted product. The biggest shocker is the downward spiral of roe prices - notably, wholesale prices for pink and chum roe were down by half. Lots of sales will be made in coming months and wholesale prices will change by year's end. Meanwhile, here are 2009 salmon wholesale prices for May through August, with comparisons to the same time last year --
Share the bounty
Laws require that fish taken as bycatch during target fisheries must be tossed overboard. Fifteen years ago a 'bycatch to food banks' program was launched by concerned stakeholders as a way to divert discards by Bering Sea boats to hunger relief programs. Today, the program has grown to become one of the largest sources of protein donations in the U.S.
"Bycatch was all we did in 1994 and 1995, but now it's less than five percent of our total volume every year," said Jim Harmon, executive director of Sea Share in Bainbridge Island, Washington.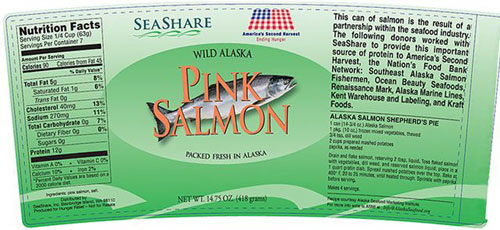 The non-profit Sea Share has expanded to include seafood companies nationwide and Harmon said the group now gets more donations of "first run" products, such as frozen pollock blocks, canned salmon, catfish, even shrimp, lobster and mussels. Sea Share has so far turned 26 million pounds of donated seafood into 130 million meals for food banks, and won six national awards for hunger relief along the way.
"We can take products that aren't ready for food banks and bring in other donations of services, cold storage and freight. We combine those donations to come up with a finished product that no single organization can do or sustain. We're all pulling on the same oar," Harmon explained.
"It also becomes self sustaining that way - when you have four companies working tougher on a donation project, they tend to keep each other involved so that year after year they keep generating big donations to food banks."
Food bank demand is up 30% nationwide, Harmon said, and good protein is the toughest item to source.
"It's something they can never get enough of, and when we supply it, it's the first thing to go. So what we provide is kind of the top tier of items that are needed and wanted by the food banks," he said.
Another plus, Harmon said, is that Sea Share donations build more acceptance for seafood.
"The people who go to food banks aren't the chronically homeless. It's people who are underemployed, not unemployed - people who can't make it through the entire month," he said. "Those are the same ones who will be shopping at supermarkets and might end up buying our products that they saw originally at the food bank shelves."
Learn more at www.seashare.org/.





This fishing column began in 1991 at the request of the Anchorage Daily News and now appears weekly in 20 newspapers and web sites. A spin off - Fish Radio - airs weekdays on 30 radio stations in Alaska. The goal of both is to make all people aware of the economic and social importance of Alaska's fishing industry to our state, the nation and the world. Thanks for your continued interest in Alaska's most fascinating industry!
E-mail your news, photos & letters to editor@sitnews.us


SitNews ©2009
Stories In The News
Ketchikan, Alaska

Articles & photographs that appear in SitNews may be protected by copyright and may not be reprinted without written permission from and payment of any required fees to the proper sources.