Fish Factor
Alaska Hosts First International Salmon Soccer Tournament
By LAINE WELCH
September 10, 2009
Thursday

Alaska can now lay claim to hosting the farthest north global soccer competition.
The first annual Prince William Sound International Salmon Soccer Invitational Tournament fielded a mix of teams sponsored by four major seafood processors last week in Cordova. The event was the community's way of recognizing the nearly 800 seafood processing workers that come to Cordova each summer from all over the world.
"There were teams and folks from the Ukraine, Eastern Europe, the Czech Republic, Central America, the Caribbean, Turkey, you name it - even the ref who did all 10 games is a professional soccer judge in his other life in the Ukraine," said Torie Baker, a Sea Grant marine advisor in Cordova.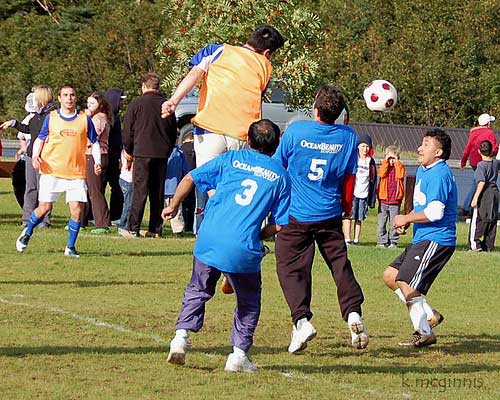 The Ocean Beauty soccer team from Mexico wins the first International
Salmon Soccer Tournament.
Photo Credit: Torie Baker, AK Sea Grant MAP

Vying to win were teams from Ocean Beauty, Copper River Seafoods and Trident's north and south plants. Some processors even held playoffs within their own ranks to see who'd go to the big game, Baker said.
"Ocean Beauty had playoffs and their Mexican team defeated the Turkish team so they got to represent Ocean Beauty," she said.
The idea for a competition stemmed from the Cordova processors and the Park and Rec. Department, which had set up a makeshift soccer area in the local park for the workers to use during breaks and time off.
"We immediately capitalized on that and organized the tournament, along with a barbecue picnic. It took off like wildfire," Baker said.
Elders were brought over from the senior center and given prime seats on the field, and school classes were let out so kids could watch the international competition.
"It was awesome," said Martin Moe, president of the Cordova Chamber of Commerce. "You know, these workers are part of our community for up to six months each year. This was such a great way to bring people together so that each one recognizes they are all part of our community."
"Wow, there was a mass of people around," Baker added. "We felt like we'd been dropped into the middle of some London soccer match with the fans singing and waving banners and shaking noise makers - it was pretty amazing."
And the winner is. Ocean Beauty won the match against Copper River Seafoods by 6-1; third place went to the Trident north facility in overtime over Trident south.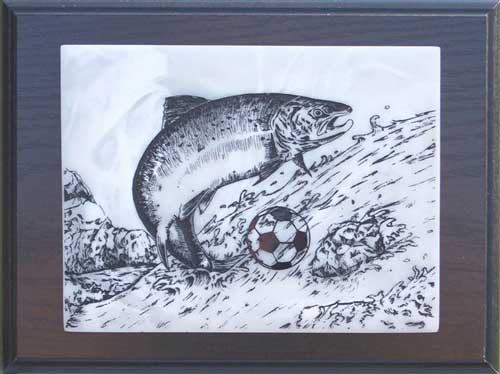 Headpiece on the four-foot Slammin' Salmon Soccer Cup, awarded to the Ocean Beauty team.
Photo credit: Cordova Chamber of Commerce

Cordova has already issued an invitation to more teams next summer.
"We are challenging Peter Pan in Valdez and Great Pacific in Whittier to bring their best teams over on the fast ferry," Baker said.
"Heck, let's extend the invitation to teams from Homer, Seward and Kodiak, too!" said Moe.
All winning teams will live forever on a perpetual trophy from the Chamber of Commerce that Moe has dubbed the Slammin' Salmon Soccer Cup. The four foot trophy is topped with a scrimshaw pictogram of a king salmon flipping a soccer ball through the waves.
Net recycling runs smoothly
Five Alaska fishing communities launched no-cost fishing net recycling programs this summer - Petersburg, Cordova, Kenai, Naknek and Dillingham. Each got $13,000 in seed money from the Pacific States Marine Fisheries Commission to coordinate a nylon net recycling program for two months over two summers. The towns all had attempted net recycling programs years ago, but failed for various reasons. By all accounts, the latest efforts have gone better than expected.
A full van load of old web just left Dillingham, said project director Billy Maines of the Curyung Tribe.
"It was pretty busy," Maines said. "Not only from the fishermen, but also some of the canneries and local net hangers had kept old web stored next to their shops, and when they heard we were recycling it, they brought them over by the truckloads."
Nets are still being dropped off he said.
"It's safe to say I've got 20 to 30 shackles sitting here by the office waiting for us to do it again next year," Maines said.
Ditto at Naknek, where nets are still being dropped off, said Donna Williams of the Native Village Council. Naknek already has shipped out 45,000 pounds of recyclable nylon nets in two container vans.
Williams said word got out before the salmon season at the annual Fishermen's Send Off, and the whole community was very involved.
"We'll catch them at the start of the season, in mid April when the net hangers come out to redo nets before the season starts, then again at the end of the season," Williams said. "We'll get lots more nets next year - four or five vans."
Cordova fishermen have filled six 20-foot containers with donated nets so far.
"It's actually going a lot smoother than I had thought," said project director Michelle Dawkins with the Copper River Watershed Project.
Dawkins said salmon fishermen have really embraced the recycling project.
"The guys like to point out how their nets are free of corks and lead lines when the drop them off - they're really proud of it. I didn't know if it would be viewed as just more work for the fishermen, but the whole town is into it, so it's really cool," Dawkins said. She added that she has received calls from Unalaska and Juneau about starting similar programs.
At Kenai, the borough is pitching in to cover costs for continuing the program, said Audrey Stevens at the United Cook Inlet Drift Association.
The net recycling project is just gearing up at Petersburg, where most of the fleet is still out fishing. Ben Johnson, project director for the Petersburg Indian Association, said the goal right now is to get the word out.
"We're doing everything we can to make sure people understand it's going to be easy, painless for the fishermen, and it's good for all involved," Johnson said. "We're just waiting for them to finish up the season at the end of September or early October. We expect to have nets dropped off all through the winter."
Alaska shipping companies have donated space to take the recycled nets to Seattle, where they are offloaded and taken to Skagit River Steel and Recycling in Burlington. The nets are ground up, pelletized, and sold to plastics manufacturers. The price a community can receive for the webbing depends on the market and how the nets are handled, said recycler Lois Young. Generally, they get about 4 cents a pound, sometimes 6-8 cents, and it can go as high as 11-15 cents a pound (rare). Having the nets bagged or bundled tightly before shipping reduces labor costs and fetches a higher price.

Eco-crab pots
Alaska's crab industry is gearing up for its biggest fisheries in the eastern Bering Sea. The seasons for red king crab and snow crab kick off on October 15th. That means tens of thousands of big '7 bys' will be launched overboard - but in Alaska, all pots have built in protections.
"All commercial, subsistence and personal use crab pots must have a mechanism that biodegrades in salt water over time to allow crabs and other animals to escape, if the pot is accidentally lost or left unattended," said Wayne Donaldson, regional shellfish manager at ADF&G in Kodiak.
Biodegradable twine has been required since the late 1970s, and is also used in groundfish pots. Alaska pots also use far less twine, and have escape mesh and escape rings.
"Those function at all times," Donaldson explained. "That is intended to let out the small female crabs which cannot legally be landed. So even when the pot is actively fishing, we're promoting escapement of crab."
Donaldson said it's tough to estimate how many derelict pots remain on any given sea floor. A British Columbia study estimated eight to 15% per year in some of their fisheries were lost or abandoned pots.
Meanwhile, Alaska crabbers eagerly await word in a few weeks of the catch quotas for the red king and snow crab fisheries. The so-called 'road map' of the 2009 crab surveys is available now. It gives details about the abundance and distribution of crabs collected this summer at 360 test stations throughout the eastern Bering Sea. Find the draft report at www.afsc.noaa.gov .




This fishing column began in 1991 at the request of the Anchorage Daily News and now appears weekly in 20 newspapers and web sites. A spin off - Fish Radio - airs weekdays on 30 radio stations in Alaska. The goal of both is to make all people aware of the economic and social importance of Alaska's fishing industry to our state, the nation and the world. Thanks for your continued interest in Alaska's most fascinating industry!
E-mail your news, photos & letters to editor@sitnews.us


SitNews ©2009
Stories In The News
Ketchikan, Alaska

Articles & photographs that appear in SitNews may be protected by copyright and may not be reprinted without written permission from and payment of any required fees to the proper sources.