Fish Factor
Kodiak now home to Alaska's biggest boat lift
By LAINE WELCH
August 03, 2009
Monday

Kodiak is now home to one of the biggest boat lifts in the world - and with it comes the promise of plenty of new jobs.
The 600 ton, 54 foot high hoist, built by Marine Travelift of Wisconsin is one of just five in the U.S., and the only one in Alaska. It was shipped in 24 containers to Kodiak in June and assembled on the island. Since then, workers have been building the site for the boat lift adjacent to Kodiak's larger harbor and preparing for the first test lifts next month.
Kodiak is home to the state's largest and most diverse fishing fleet with roughly 700 boats, but big trawlers and crab boats have had to travel to Seward, Seattle or further for repairs and maintenance.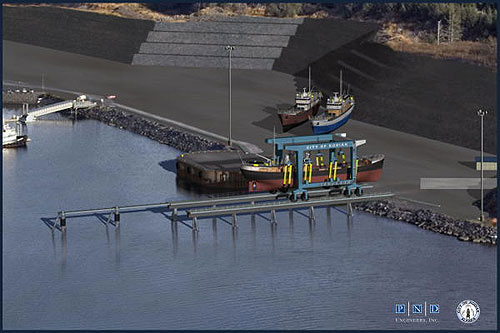 Alaska's largest boat lift - the Marine Travelift 600C - at Kodiak Harbor.

"Right now we can only lift boats up to 150 tons and that's a stout 75 -80 footer," said Kodiak harbormaster, Marty Owen who has been advocating for the new lift for 15 years. "We have lots of bigger boats up to 150 feet and 700 tons. The new lift is designed to lift boats up to 42 feet wide and 180 feet."
Every 18 months to two years, a boat must be pulled out to have its zincs checked, propellers tuned up, barnacles scraped off, new paint and other upkeep.
"We call that a shave and a haircut, and that's the basic boat maintenance you have to do," Owen explained. "The fleet really gets tired of having to travel elsewhere just to get the basics done. With today's fuel costs, running a boat to Seattle and back is a $25,000 to $30,000 bill."
The Kodiak boat lift is self propelled, has a heated wash pad, and can accommodate up to seven boats at a time. Owen said the boat lift will operate an 'open yard', meaning users can do the boat work themselves, or hire their own contractors.
User fees will help repay the $18 million tab for the lift, which is owned by the City of Kodiak. The state contributed $2 million to the project, along with $2.3 million in federal economic development funds.
That's a big part of what the boat life project is all about, said Nick Szabo, Chairman of the Kodiak Port and Harbor Advisory Board.
"Creating jobs and supporting the industry that Kodiak does best - catching and processing fish - was the rationale for building the boat yard," Szabo said.
There are 75 people on the job now, and the project will create many new jobs, Owen said.
"Right now you can't get a big propeller repaired in Kodiak. We have welders and mechanics, but not that many," he said. "Every day I have craftsmen calling and asking when the lift will be done. Now that there will a lot more opportunities, these kind of skilled workers will be moving to Kodiak. I think the economic return to the community will be ten-fold."
Owen said there are already 16 boats on the boat lift waiting list for service. Find out more about Alaska's biggest boat lift at harbormaster@city.kodiak.ak.us or call 907-486-8080.
TAA to the rescue
Is competition from foreign imports biting into your business? Trade Adjustment Assistance programs are designed to help American workers and businesses become more competitive. Three TAA programs have been funded again, under the U.S. Departments of Labor, Agriculture and Commerce.
"Salmon pollock, crab - we can find imports coming in for just about any seafood, so therefore, they would qualify," said Gary Kuhar, director of the nonprofit Northwest TAA Center, which administers funds for the Commerce program in five states, including Alaska. "Our program focuses on helping the firm, and secondarily, saving jobs. We're the only program that not only helps develop a strategic plan, we implement the plan for them," he added. NWTAAC also handles all the paperwork and federal bureaucracy.
First, a client must show that his or her business has been hurt by foreign imports.
"We have to show a 5% decline in sales or production, and a decline in employment, and then be able to tie it into an increase in imports over the past three years. We also talk with former customers that are now buying a product or service from a foreign source," Kuhar explained.
The NWTAAC program is best suited for medium to large businesses, but it is also open to co-ops, associations and individuals. Small companies can get grants up to $30,000; for large firms, the limit is $150,000. Both require some cost sharing.
"If your heart is set on buying equipment, we're not the program for you. But if you're interested in becoming more vertically integrated and taking over some of your own marketing efforts - we do a great job in creating brand identification, brochures and labels in multi languages, and web site development.
"It could be a fish marketing firm that has lost sales of Alaska salmon, say, in Iowa to a foreign source like Chile, Canada or Norway," Kuhar said. "We've helped a Southeast seiner develop an eco-tour business - they wanted to get out of the salmon industry but had a nice 58 foot seiner and they didn't know what to do with. Another salmon fisherman is now selling his canned pack in Eastern Europe. We've designed a small hydroelectric dam for a sheep rancher in Idaho. He's now generating over a quarter million dollars a year in electricity, and using it to keep his sheep operation going. We're really only limited by our imaginations."
Get more info at www.NWTAAC.org or contact gary@nwtaac.org .
Center of the plate
Last year was tough for all the proteins that compete for the center of America's dinner plates. Per capita seafood consumption fell to 16 pounds, a drop of 1.8% from 2007. Still, that ranks as the fifth highest level ever - and market analyst Ken Talley said the industry "did a decent job of playing defense in a tough economy."
Seafood wasn't the only item that took a hit - the global recession, combined with less disposable income and lower supplies took a bite out of meat and poultry sales as well. Chicken consumption also dropped by nearly two percent, while prices rose 5.1%. Americans ate 59.3 pounds of chicken per person in 2008. Seafood eaters did top turkey, which had a consumption level of 13.9 pounds per person. Shoppers paid 4.7% more for turkey last year, and 6% more for seafood.
Pork consumption decreased 2.5% to 46.5 pounds per capita. Pork prices last year rose 2.3%.
By far, beef is still 'what's for dinner' - although it, too, took a dip. Beef consumption dropped 4% while reduced lower supplies pushed prices up 4.5%. That kept many away from the meat counter - still, Americans ate 59.9 pounds of beef in 2008.
As for this year, Talley points out that many of the trends that drove the lower eating levels remain in play. On the bright side, US economists believe the 'recessionary freefall' appears to be slowing down.
This fishing column began in 1991 at the request of the Anchorage Daily News and now appears weekly in 20 newspapers and web sites. A spin off - Fish Radio - airs weekdays on 30 radio stations in Alaska. The goal of both is to make all people aware of the economic and social importance of Alaska's fishing industry to our state, the nation and the world. Thanks for your continued interest in Alaska's most fascinating industry!
E-mail your news, photos & letters to editor@sitnews.us


SitNews ©2009
Stories In The News
Ketchikan, Alaska

Articles & photographs that appear in SitNews may be protected by copyright and may not be reprinted without written permission from and payment of any required fees to the proper sources.