Fish Factor

Alaska's king crab harvests
By Laine Welch
July 24, 2005
Sunday

Alaska's biggest king crab catch might come from Bristol Bay, but many crab lovers are enjoying the prized crustacean long before that fishery opens in the fall.
Each summer since 1977, red king crab has been harvested from far away Norton Sound. Starting on July 1 through mid-August, a fleet of about 30 local crabbers, mostly in boats under 32 feet, hauls in up to 400,000 pounds of red kings from waters ranging from Cape Romanzof up to Cape Prince of Wales.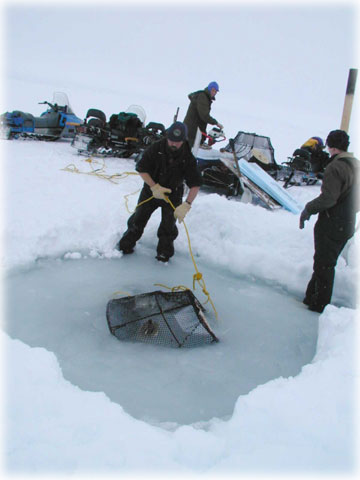 ADF&G technician Paul Thompson prepares to tag red king crab during the winter fishery at Norton Sound.
Photo credit: ADF&G/Betsy Brennan
That wasn't always the case. In the late 1970's and early '80's, a flotilla of large boats from elsewhere would steam into Norton Sound and take away two million pounds of king crab in a week. Managers changed the rules in 1994 and turned it into a "super exclusive" registration, meaning boats fishing in any other Bering Sea crab fishery could not drop pots at Norton Sound.
It is a region where king crab has become increasingly important, especially with other fisheries remaining in a slump. "We've had trouble getting buyers for herring, there's no interest in our chums, and until this summer, we haven't even had a fishery for king salmon. So our best fishermen have turned their attention to crab," said Jim Menard, area management biologist for Norton Sound and Kotzebue.
There's been no problem finding buyers, and all of the crab is committed even before it's caught. For example, Red Lobster in Toronto, Canada, takes all it can get. "For the past five years they've been using our crab in that one region," said Tom Magwire of Norton Sound Seafoods. The company provides Red Lobster with about 130,000 pounds of frozen crab that is a "unique pack just for them." Magwire added that it is listed on menus as Norton Sound red king crab. "That is a requirement," he said.
Crab also goes to eager buyers in the fresh, whole cooked market. Working with a broker who specializes in shellfish, Norton Sound Seafoods sends out 5,000 pounds a week to supermarkets in places like Florida and Las Vegas. "We cook it one day and it's in stores 48 hours later," Magwire said.
Norton Sound is not just the source of Alaska's only summer king crab - it also is the state's first winter crab fishery. Amazingly, it is done through the ice. "It's done on show machines, and they use power saws or augers to cut a big square and drop cone shaped pots through the ice. Pictures of it make quite an impression at annual management meetings," said Jim Menard with a laugh. "The fishery opens in mid-November, but since we don't have a good ice base, it usually gets underway after New Year's," he added. The fishery yields up to 25,000 pounds of king crab, depending on ice conditions. Most of it is sold locally, although 300-400 pounds of live crab is shipped each week to New Sagaya in Anchorage, Tom Magwire said.
Norton Sound harvesters average $3.00 a pound for their king crab ($4.00 in the winter), and the fishery brings in more than $1 million to the region each year. At least for the near term, its future looks secure. Yearly tagging studies show the crab stocks are continuing to make a come back, and two strong year classes have recruited into the fishery.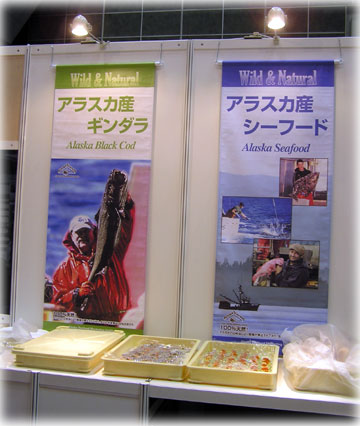 ASMI features images of "real fishermen catching real fish" at trade shows around the world...
Photo credit: Alaska Seafood Marketing Institute
Tom Magwire credits the Norton Sound Economic Development Corporation for developing the infrastructure to make the region's small boat fisheries a success. "Nome is a regular seaport now," he said. "If it wasn't for them, it wouldn't have happened.

PINK SALMON SNACKS ­ Grab 'em and go jerky sticks made from Kodiak pink salmon are making inroads into the snack food market. "We developed our product with the convenience food and organic markets in mind. It isn't greasy like smoked salmon, and it doesn't require refrigeration. They're perfect for hikers or outdoorsy types," said Mark Witteveen of Kodiak. The salmon sticks, which are marketed under the Alaska Spirit label, were introduced at the Symphony of Seafood in February and won second place in the smoked category. The product also merited nearly $86,000 this year in federal and state grant money. The funds will be used for production equipment and market development. "It will enable us to develop other flavors and package sizes," said partner Rob Baer. One idea is to get the snack sticks into school vending machines.
The novelty product is already on retail shelves in various outlets in Alaska, Washington and Oregon. "People are ordering more, so that's a good sign," said Witteveen. Both entrepreneurs hope that as Americans become more aware of the health benefits of salmon, their product will take a big bite out of the beef jerky market. And they believe their salmon sticks can serve a loftier goal. "Hopefully, there is no limit to the amount of fish we can use to saturate the snack food market," Witteveen said. "Our end goal is to have a successful company and make a positive impact on Alaska's salmon industry. I really think it can make a difference." Get details at www.wildsalmonjerky.com .

GET REAL ­ In its mission to spread the word about the superiority of wild seafood, the Alaska Seafood Marketing Institute is using some new images at trade shows around the world. "We're focusing more on the harvesters. We're using pictures of real fishermen catching real fish to push our seafood a step further in the differentiation process," said international program coordinator, KC Dochtermann. The new focus attracted a lot of attention in Europe and most recently at the Japan Seafood and Technology Expo.
ASMI is also taking the lead to introduce younger generations of Japanese to all things Alaska. In partnership with the Genuine Alaska Pollock Producers (GAPP), ASMI sponsored a media tour a few weeks ago. "It's been 13 years since that's been done," Dochtermann said. The group toured Bristol Bay to see the salmon fishery, and Dutch Harbor and Akutan for an up close look at the whitefish industry. "We've got some generational changes going on with consumers and businesses," Dochtermann said. He added: "In fact, all of the media that came over were younger folks who were getting a new education about Alaska. You could see the wonder in their faces and it's important for us to create that awareness." He pointed out that Japan remains as Alaska's most important customer, purchasing at least half of all seafood exports.

YUKON KINGS KA-CHING ­ A small order of 130 fresh Yukon king salmon recently fetched almost $273 per fish at the Tsukiji Market in Tokyo. Market analyst Bill Atkinson said Nichiro wanted to introduce the "true flavor" of wild kings to Japanese customers. Yukon king salmon are prized for their high fat content which tops 30 percent, three times more than any other kings. Buyers were pleased at the strong demand and plan to repeat the fresh sales next year.

FISH FACTS ­ NOAA Fisheries latest business report is now available at no charge. The 44 page report contains the latest information about such programs as fisheries management, habitat conservation and law enforcement, as well as awards, outreach and goals. Email your address to Alicia Pimental (Alicia.Pimental@noaa.gov), and she will send you a copy.


Laine Welch has been covering news of Alaska's seafood industry since 1988. Her weekly Fish Factor column appears in a dozen newspapers and web outlets. Her daily Fish Radio programs air on 25 stations around the state. Laine lives in Kodiak.

Publish A Letter on SitNews
Read Letters/Opinions
Submit A Letter to the Editor
SitNews
Stories In The News
Ketchikan, Alaska