Fish Factor
Tide information off for Port Moller
By LAINE WELCH
May 27, 2011
Friday

Tides rule the day for most mariners, who plan their work days based on its ebb and flow.
"A tide book is like a Bible to a fishermen. It is constantly referenced – they lay their nets down by the tide, they launch by the tide – all their activity is centered around that every day," said Jerry Thompson of Soldotna, publisher of the Alaska Tide Book for 23 years.
Fishermen and other mariners are being warned that the tide information for Port Moller is off by 8 to10 hours. The error was first noticed a few weeks ago by Richard Lovano, dock boss for 30 years at Peter Pan Seafoods at Port Moller, when he was planning the best time to work under the company dock.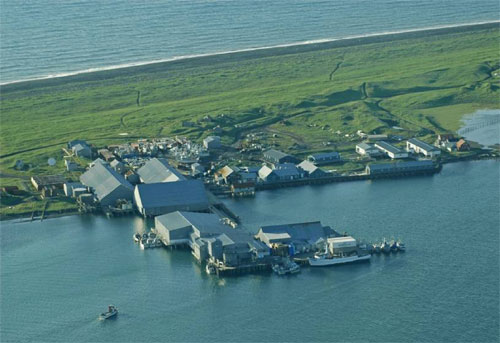 Port Moller
Photo courtesy of Lee Anne McDermott, Peter Pan Seafoods

"I started watching the tide first thing in the morning and it was low at 9am and not high like it was supposed to be. So that's how I became aware that the tides were way off," Lovano said in a phone interview.
But don't blame the tide books, said Thompson.
"It's not only a situation with our book, but the official tides published by NOAA include the same data. So anyone who is buying a tide product based on NOAA's predictions has these incorrect tides," he explained.
Thompson said it takes nearly 17 years of study to nail down the predictions for a particular location before tides can confidently be predicted for an area. He suspects NOAA miscalculated when it upgraded Port Moller from a secondary to a primary station in 2009, and no longer bases tides off of the Nushagak.
"This is whole new set of harmonic files NOAA produced for Port Moller, and we're not sure yet what happened with this particular set of data. But it is considerably off from what we have traditionally been using," he added.
Despite its distance down the Alaska Peninsula, Port Moller is a busy place all year for hundreds of fishing boats, freighters, barges and tenders.
"Port Moller has the only land based processing and vessel support facility between Unimak Island and Ugashik," said Lee Ann McDermott, office manager for Peter Pan. "Virtually all vessels travelling from the Gulf of Alaska to Bristol Bay will travel outside Port Moller, sometimes coming into the port for refueling or emergency repairs."
"It affects everyone passing by," said Lovano. "Even during the winter when we're not here, Bering Sea crabbers and other boats know there is a dock they can get to, and if they need to medevac someone out of here, they know it can be done. If the tide is 10 to 2 hours off, it can really affect what is going on with them," said Lovano.
Thompson said he is troubled that NOAA has been slow to respond to the incorrect tide data.
"It's really disconcerting to me that we are not getting a quicker response from NOAA. I believe at the very least they should issue some sort of public service announcement and let people know – because it's not only our book, it's every published tide table, every computer software program for generating tides, all have this information," he said.
Todd Ehret, a physical oceanographer at NOAA, said in a May 25 email that the tide predictions for Port Moller were wrong and have been corrected.
"The database error which caused a near reversal of the predicted tides in the Time Meridian field of the database for this station has been corrected (on NOAA's web site). This error is an isolated incident, and is unlikely to recur in the future," Ehret said. He added that a Notice to Mariners will be issued to the Coast Guard.
Jerry Thompson agreed that the error is unusual.
"In 23 years of working with NOAA and producing tide books, nothing like this has ever happened on their end," he said, adding one caveat.
"For 10 years the tide predictions for Bethel have been off by as much as three hours and it is very irritating for the local community," Thompson said. "We have discussed it many times with many NOAA agencies and they feel they are relatively close and blame it on low water in the river. So we have been publishing a non supported NOAA tide because the locals says that's what works for them. You have to believe your eyes," Thompson said.
Find accurate tide information for all Alaska regions, including a printable copy for Port Moller, at www.tidebooks.com/.
Easy news
Getting news about Alaska's commercial fisheries has gotten easier. ADF&G has launched a new online system for distributing news releases for fishery openings and closures and other updates for fisheries all over the state. The system replaces the older method of news releases being published in different ways by separate districts all over the state.
"This is a more efficient way of doing things because we have one system we are all using and it is a much quicker process to post and distribute releases to emails," said Geron Bruce, assistant director of the commercial fisheries division.
The new 'clearinghouse' method will be easier for the public to navigate, he added.
"Once you subscribe you will automatically receive in your email inbox every news release that is issued by the division at the time it is issued."
Announcements about subsistence fisheries and state managed personal use fisheries are included. The new email system will be in place on May 31. Sign on at www.adfg.alaska.gov/index.cfm?adfg=cfnews.main
Free DVD for MOB
"Man overboard" (MOB) is the second most deadly cause of fishing deaths nationwide, following vessel sinkings. Between 2000 and 2009, 155 fishermen lost their lives from falling overboard; none was wearing a PFD. The National Institute for Occupational Safety and Health is offering a free DVD on the importance of wearing PFDs on deck, and more importantly, how to get a man back on the boat.
"That's really the big thing for us – how do you retrieve the guy, how do you monitor him in the water to make sure he is still able to make it to the boat and get him back over the rail," said Ted Teske, A NIOSH Health Communication Specialist.
Response to the free DVD has been very strong, Teske said. The Southeast Alaska Dive Association has ordered several hundred. The Alaska Scallop Association has taken it a step further and set a policy of 100% PFD usage on deck.
"That's one of the recommendations we have for vessel owners and skippers. Make a concrete policy with the crew so they know what is expected of them," he said. Order the free "Man Overboard: Prevention and Recovery" DVD at www.cdc.gov/niosh/topics/fishing
Fish watch
The Copper River sockeye fishery set a record in its first 12 hour opener on May 16 with a catch of 105,300 reds. The latest tally after three openers was 454,191 sockeye and 5,331 king salmon. The sockeye price dropped from $4 per pound to $1.99/lb since the first opener; king prices were $6/lb, a drop of 50 cents
This year marks the 21st year for this weekly column that focuses on Alaska's seafood industry. It began in 1991 in the Anchorage Daily News, and now appears in over 20 newspapers and web sites. A daily spin off – Fish Radio – airs weekdays on 30 radio stations in Alaska. My goal is to make all people aware of the economic, social and cultural importance of Alaska's fishing industry to our state, the nation and the world.
Laine can be reached at msfish[AT]alaska.com

E-mail your news, photos & letters to editor@sitnews.us


SitNews ©2011
Stories In The News
Ketchikan, Alaska

Articles & photographs that appear in SitNews may be protected by copyright and may not be reprinted without written permission from and payment of any required fees to the proper sources.