Fish Factor
Recycling old fishing nets for energy
By LAINE WELCH
May 23, 2009
Saturday

Recycling old fishing nets gets underway this summer at several Alaska fishing ports. The communities of Naknek, Dillingham, Petersburg and Cordova received funding via the Pacific States Marine Fisheries Commission for two years to jump start net recycling projects. The pool of money comes from the US Fish and Wildlife Foundation, which has committed $2 million to the 'Fishing for Energy' program over the next five years.
"The goal is to find an alternative use for these mountains of web that otherwise go in our landfills," said Kristin Smith, director of the Copper River Watershed Project, one of many recycling project partners in Cordova.
Each community is in the process of hiring a net recycling coordinator, whose first task will be to set up convenient net drop off areas near local harbors. The old fishing nets will be barged to a salvage company in Washington where they are converted to pelletized plastics and sold to Asian markets.
An attempt to recycle nets in Cordova in 1991 tanked due to the high shipping costs, but the town is getting an assist this go around.
"Alaska Marine Lines has agreed to contribute shipping and they are a key to the whole process," Smith said. "Because the economics are not there right not - there was a time when they would pay 12 cents a pound for old web, now it's 4 cents."
"Fishing for Energy" projects began two years ago in New England fishing ports. In just one year, more than 80,000 pounds of old nets, buoys, pots and other derelict gear was collected and converted into energy. That pales in comparison to the port of Dutch Harbor, for example, which has roughly 10,000 tons of old nets in its landfill now, and it accumulates by another 1,000 tons each year.
Get this - energy experts say that just one ton of old fishing nets converts into enough electricity to power one home for 25 days!
Meanwhile, as Alaska's recycling projects ramp up, Cordovans have already put old fishing nets to good use. The Watershed Project uses them to help surface a scenic 1,100 foot trail on the Cordova breakwater that is made up of big boulders, called riprap. Instead of paying for costly shot rock, the group got the idea to use gillnet web.
"We have a big pile of gillnet web and we hack it into pieces and stuff it down inside the big riprap and fill in the bottom part of the trail. Then we can put 12 inch rock on top of that, and then gravel is used for the final walking surface," Smith said, adding that Cordova also uses old nets at its ski hill.
"In the summer it's just a pile of nets, but in the winter when it's covered with snow, it helps forms a ramp that people can ski off of. You don't have to buy fill or do a lot of earth-moving to make that kind of a ramp."
Big boat on display
A new maritime history exhibit called On the Water opened this weekend at the Smithsonian's National Museum of American History. It features a model of the largest U.S. fishing vessel, the 376 foot catcher processor Alaska Ocean. The four foot cut away shows a cross-section of the wheelhouse, factory decks, crew staterooms, galley and cold storage hold. A video produced by the History Channel also shows the vessel in operation.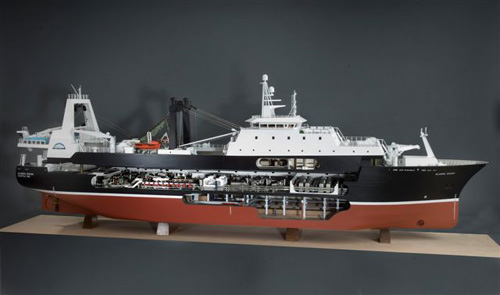 The Alaska Ocean
Credit: National Museum of American History

The Alaska Ocean, which carries a crew of 125 and participates in the Bering Sea pollock fishery, is owned by Glacier Fish Company and the Norton Sound Economic Development Corporation, representing 15 western Alaska coastal communities. Along with catching and processing fish, the state-of-the-art vessel also is equipped to make fish meal from inedible portions, and to produce fish oil to create heat and power for the big boat. The Alaska Ocean, model was donated to the Smithsonian by the At-Sea Processors Association. (www.atsea.org)
Tell me a story
Social scientists are gathering oral histories across the US as a way to preserve the culture of America's fishing communities. Fishermen, processors, boat builders, businesses, managers, scientists - anyone with a fishing story can contribute.
A handbook called "Voices from the Fisheries" offers tips on gathering oral histories, said Susan Abbott-Jamieson, a NOAA social scientist and co-author of the handbook for audio, video or written interviews. (www.voices.noaa.gov)
"It starts from the beginning of a project and tells you how to get started, how to get people in the community involved, there is a section for teachers about how to include it in their curricula, legal and ethical issues about interviews, and information on on recording technologies and web site resources," Abbott-Jamieson told KMXT/Kodiak.
When the oral histories are completed, they can be uploaded to a NOAA database that serves as a repository for America's fishing stories. Currently, there are only two oral histories from Alaska on the database, from women in Kodiak and Cordova who talk about working in the male dominated fishing industry.
"We want to encourage people and organizations and schools to interview people in the fishing industry, especially those who have memories of 40 or 50 years ago, and contribute their stories so they can be available to anyone in the world," Abbott-Jamieson said.

Superstitions wanted
Fishermen are notorious for being superstitious - now a popular magazine wants to feature their stories.
"I've been exploring the general psychology of superstitions and why people believe strange things," said Matt Hutson, a science writer for Psychology Today magazine. "What's fascinating is that even people who are skeptical, like myself, will still do certain rituals or avoid certain taboos or say things that might prevent bad luck."
Hutson said research shows that in unpredictable and dangerous situations, such as fishing, people use superstitions as a way of finding some control over their environment.
"When they don't have any real control, they try and rely on certain habits. In the fishing industry there is a lot of unpredictability and it's an incredibly dangerous job. When people are under stress, or facing danger, that also increases their reliance on superstition," Hutson said in a phone interview from New York City.
The strangest superstition he has heard so far is a taboo against bananas on board, likely due to deadly spiders hiding in the bunches. Hutson said he will use fishermen's stories in Psychology Today's magazine and website, and perhaps in a book.
"I'm trying to dig up good stories - maybe someone who left port on a Friday believing that it would not bring bad luck, and a bunch of strange things started happening so he changed his mind about that one," he explained.
Contact Matt Hutson at (212) 260-7210 x 207 or via at matt@psychologytoday.com .


This fishing column began in 1991 at the request of the Anchorage Daily News and now appears weekly in 20 newspapers and web sites. A spin off - Fish Radio - airs weekdays on 30 radio stations in Alaska. The goal of both is to make all people aware of the economic and social importance of Alaska's fishing industry to our state, the nation and the world. Thanks for your continued interest in Alaska's most fascinating industry!
E-mail your news, photos & letters to editor@sitnews.us


SitNews ©2009
Stories In The News
Ketchikan, Alaska

Articles & photographs that appear in SitNews may be protected by copyright and may not be reprinted without written permission from and payment of any required fees to the proper sources.