Fish Factor

Alaska salmon shifts slowly towards pricier product forms
By Laine Welch
May 01, 2006
Monday

Alaska salmon is making a slow but steady shift towards pricier product forms.
Canned salmon, primarily pinks and sockeye (reds), will always be an important component of each year's catch, but it's the lowest valued commodity. In recent years, more of the fish are being frozen as well as going into the fresh market.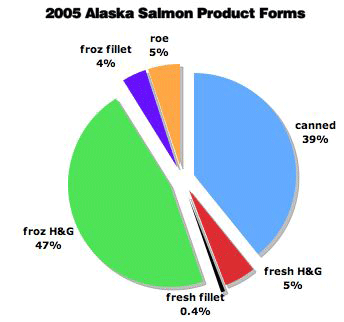 Credit: Alaska Seafood Marketing Institute
The trend is especially notable with pinks, and it could result in an upward tick in prices. Traditionally, 75 percent of the total pink pack has ended up in cans, but that began to change about three years ago. According to the Seafood Market Bulletin, closer to 55 percent of the total 2005 pink salmon harvest went into cans, the lowest percentage ever.
"Two things are happening at the same time - there is increased demand for frozen pinks, and that has also reduced the supply for canned," said market analyst Chris McDowell of the Juneau-based McDowell Group.
Huge harvests of pink salmon during the past decade (a record 146 million last year) have resulted in a chronic oversupply of canned pinks, and kept a downward press on prices. "If the product form shift continues, two years or so down the road we might be looking at little or no carry over inventory from the previous season," McDowell said.
It's hard to find anything positive to say about record low pink prices, which in recent years have equated to about three fish for a dollar. But the cheap raw material has provided incentive for new product development. Now, frozen wild pinks from Alaska are being made into burgers, pouched entrees and other sale-ready products by food manufacturers. McDowell said the increased demand has pushed the first wholesale price for frozen pinks to over 60 cents a pound.
Last year, a total of 31 percent of Alaska's sockeye harvest went into cans, a drop of 14 percent. McDowell said canning this season could see more of a dip, depending on what occurs at the world's largest red salmon run at Bristol Bay.
"In recent years, 50 percent or more of the Bay's sockeye is canned, whereas that number is about 20 percent from other Alaska sockeye fisheries, and the bulk of the catch is frozen. But this year, we've got a projected harvest shortfall of six million sockeye from non-Bay fisheries (12 million, down from 18 million). So it will be interesting to watch the product mix that comes out of Bristol Bay," he said.
High fuel prices are likely to have an impact on the shifting emphasis to frozen production. The Bulletin said that "increasing frozen production and storage in remote areas typically means relying on electricity produced by costly diesel generators and relatively inefficient freezer vans. On the other hand, canned salmon can be stored and shipped without incurring that expense. This cost factor will not be a primary driver of product form decisions, but may play some role in determining pack composition in remote areas of the state."

OTHER SALMON NEWS - For the past five years, virtually all of the growth in the U.S. salmon market has been in fresh and/or frozen fillets. Alaska producers are responding: last year's production was 25 million pounds, nearly double the amount of fillets produced in 2003. Despite the encouraging growth, that is only about four to five percent of the total Alaska salmon production.
The total North American supply of wild chinook (king) salmon has been around two million fish in recent years. However, harvests from the West Coast fisheries (OR, WA, CA) will be slashed by 30 percent this year, to about 400,000 fish. That shortfall means Alaska will be well poised to benefit from the avid demand in niche markets for its projected harvest of 780,000 wild kings. That's been the case for Southeast's winter troll fishery, where prices topped $7 per pound in November, reached $8 a pound in early March and settled at $6 for the remainder of the season, which ended on April 30. The total harvest of 45,000 winter kings will ring in at more than $3 million at the Southeast docks.
The market for coho (silver) salmon continues on an upward trend. The first wholesale price for frozen H&G (headed and gutted) coho is averaging $192 a pound, compared to $2.09 for sockeye salmon.
The salmon species showing the biggest price increase is chums, with an average price of 76 cents a pound in 2005, up 38 percent from the average of 55 cents the previous year.
Get the latest market updates on salmon and other fish and shellfish from the Seafood Market Bulletin, a service of the Alaska Seafood Marketing Institute, at www.alaskaseafood.org.

CRAB WATCH - Just seven boats that still have quota shares of snow crab remained out on the Bering Sea grounds and the fishery will close shortly. In all, 60 boats registered for the snow crab fishery, which began in January. That compares to over 200 boats last year, before the new quota share system was put in place. By last week, 1.7 million pounds of snow crab remained out of a 37 million pound total catch limit.
The preliminary snow crab price for the season is 85 cents a pound, down one dollar from last year. Trade reports listed first wholesale prices for clusters on the west coast at $3.25 to $3.35 a pound, also down a dollar from the same time last year.
The golden king crab fishery is also winding down in two districts of the Bering Sea. That fishery, which began last October, has a harvest of just over five million pounds. Golden king prices were at $2.50, again down one dollar.
In fact, crab prices have been down across the board this year. Prices for Bristol Bay red king crab averaged $4.50 a pound when that fishery ended in December, down 20 cents. Depending on size, U.S. wholesale prices for king crab have dropped between 8 and 24 percent from a year ago. In February, Kodiak Tanner crab prices averaged $1.44 a pound, down from $1.65. Southeast Alaska's Tanner price was about $1.42 a pound, down from $1.96 in 2005. Along with Alaska, producers in Canada and Russia are also feeling the pinch of lower prices, which are being blamed on a glut of all kinds of crab in world markets.
COD PIECE - According to trade reports, production of Norwegian farmed cod could reach 26.4 million pounds this year. By comparison, that is more than the total catch for state water cod fisheries in the entire Westward management region of Alaska.
Laine Welch has been covering news of Alaska's seafood industry since 1988. Her Fish Factor column appears weekly in over a dozen papers and websites. Her Fish Radio programs air on 27 stations across Alaska.
Contact Laine at msfish[AT]alaska.com

Publish A Letter on SitNews Read Letters/Opinions
Submit A Letter to the Editor
SitNews
Stories In The News
Ketchikan, Alaska