Fish Factor
Alaska economy sees more than $5 billion return on ADFG's budget
By Laine Welch
March 25, 2006
Saturday

Anyone interested in the values of some of Alaska's most important industries will find answers from a snazzy presentation that's making the rounds in Juneau.
Designed to impress decision makers working on next year's budget that the Alaska Dept. of Fish and Game is a state "profit center," Commissioner McKie Campbell is personally showing off a colorful 150 page power point report to anyone who will watch. The message reveals contributions made to the state's general fund by commercial fishing, sport fishing, hunting, subsistence and other divisions under the ADF&G umbrella.
Earlier this month, Rep. Jim Holm (R-Fairbanks) rejected more than $6 million of a $10 million budget increase for ADF&G in the Governor's FY 07 budget proposal, including $1.4 million from commercial fishing spending.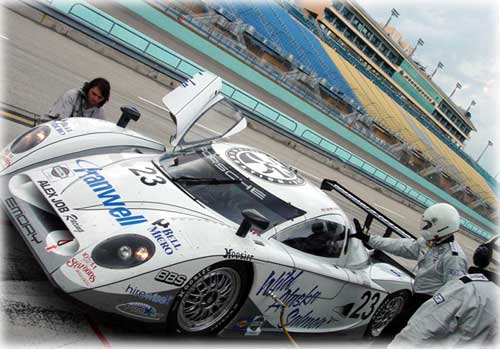 NASCAR SALMON UPDATE
The Porsche-powered prototype race car emblazoned with Wild Alaska salmon is featured again at the Grand Prix of Miami on March 28. Co-sponsored by Emory Motor sports and 10th & M Seafoods of Anchorage, the car most recently finished third at the 24 Hours at Daytona race. Along with promoting wild salmon, the racing effort is also a fund raising and awareness campaign for the Limbs for Life Foundation, which provides prosthetics to those who could not otherwise afford it.
PHOTO CREDIT: Chris Greenwood - Emory Motorsports

ADF&G returns $35 for every $1 lawmakers invest in its budget, according to the report. ADF&G's total FY 07 budget proposal of $171.4 million includes only $43.9 in state General Funds, of which 65 percent is earmarked for the Commercial Fishing Division. Commercial fishing provides 34,200 peak season jobs, including 17,000 harvesting and 17,200 processing jobs in 2004. State and local income from the seafood industry topped $53 million in 2005.
Sport fishing license sales earned $14.8 million for the state last year, including over 187,000 to residents and 324,000 to visitors. According to data from the American Sport Fishing Association, anglers spent $640 million in Alaska in 2003; and generated 12,065 jobs that paid $259 million in wages for a cumulative impact over $1 billion that year. Alaska's combined fish and game subsistence harvest each year totals 53 million pounds, and would be worth $260 - $520 million in replacement value.
Resident hunters far outnumbered those from outside Alaska (119,000 to 14,700), according to 2004 license sales, which generated $3 million to state coffers. Campbell's report also revealed data from the Division of Wildlife Conservation that show wildlife watching is an increasing draw for visitors to Alaska. Last year, one of three visitors (565,000) engaged in wildlife viewing. Tourism generates over 39,000 jobs in the state and represents 5.5% of Alaska's gross state product, Campbell said.
In all, the Alaska economy sees a return of more than $5 billion on the Dept. of Fish and Game's budget, according to Commissioner Campbell. But lawmakers aren't paying much attention. In his weekly publication Laws for the Sea, policy watchdog Bob Tkacz said that only Sen. Con Bunde (R-Anchorage) attended Campbell's briefing last week before the Senate Finance Subcommittee, which Bunde chairs
FEDS SAY STOCKPILE CANNED TUNA - As more countries mobilize to prepare for potential outbreaks of bird flu, U.S. officials are telling Americans to stockpile canned tuna! Intrafish reports that at a conference last week, Mike Leavitt, director of the U.S. Dept. of Health and Human services, said "no one in the world is prepared for a flu pandemic." A pandemic occurs when a new, fast moving flu virus emerges for which people have little or no immunity and there is no vaccine. The flu pandemic of 1918 killed more than 400 million people world wide.
Leavitt told the conference audience, "When you go to the store and buy three cans of tuna, buy a fourth and put it under the bed. After four to six months, you'll have a few of weeks of food." (He also recommended stockpiling powdered milk.)
That endorsement opened the door for the tuna industry to immediately jump on the promotional bandwagon. The Tuna Nutritional Council quickly issued a statement touting tuna's nutritional pluses, including being low in fat and high in omegas.
Clearly, it would have been more politically correct for a government spokesman to include other canned fish in his recommendations. The snub could be especially hurtful to Alaska's canned salmon industry, for which large inventories have kept a downward press on prices in recent years.
World leaders believe bird flu could reach the U.S. this year and many eyes are on breeding grounds in Alaska where migrating birds from Asia are now heading. Health experts estimate about 200,000 Alaskans would become ill if there is a bird flu outbreak. Many believe the virus may be spreading through the common practice of using poultry poop as food in Asian fish farms. Known as "integrated livestock-fish farming", the technique involves transferring the wastes from pigs, ducks or chickens directly to fish farms, with sheds sometimes sited directly over the fish ponds themselves. The nutrients in the manure give an enormous boost to the growth of plankton in the ponds, which are the main food of fish such as farmed tilapia. But along with the growth burst, infected chickens may also be setting up large reservoirs of the flu virus, according to Bird Life International.
On a more positive note, fears surrounding bird flu (and mad cow disease) are boosting seafood sales around the world.
OFFSHORE FISH WATCH - The Senate Commerce Committee's National Ocean Policy Study Subcommittee has announced a hearing on Offshore Aquaculture for Thursday, April 6 at 10am in Washington, D.C. The hearing will examine current proposals to regulate offshore aquaculture operations, discuss research being done off the coasts of New England and Hawaii, and explore the impacts that expanded aquaculture operations would have on fishermen, seafood processors, and consumers. Witnesses have not yet been announced.
A live webcast of this hearing will be available at
http://commerce.senate.gov/hearings/witnesslist.cfm?id=1810


Laine Welch has been covering news of Alaska's seafood industry since 1988. Her Fish Factor column appears weekly in over a dozen papers and websites. Her Fish Radio programs air on 27 stations across Alaska.
Contact Laine at msfish[AT]alaska.com

Publish A Letter on SitNews
Read Letters/Opinions
Submit A Letter to the Editor
SitNews
Stories In The News
Ketchikan, Alaska