Fish Factor
Salmon or coal strip mine?
By LAINE WELCH
February 28, 2015
Saturday AM

(SitNews) - The state Dept. of Natural Resources is getting ready to choose between giving water rights to a traditional salmon stream or to Alaska's largest coal mine being proposed at Upper Cook Inlet. If DNR opts for the mine, the decision will set a legal precedent for Alaska.
"It would be the first time in Alaska's state history that we would allow an Outside corporation to mine 14 miles through a salmon stream," said Bob Shavelson of Cook Inlet Keeper. "And the purpose is to ship all the coal to China. It's really a very dangerous precedent, because if they can do it here in Cook Inlet they will be able to do it anywhere in the state."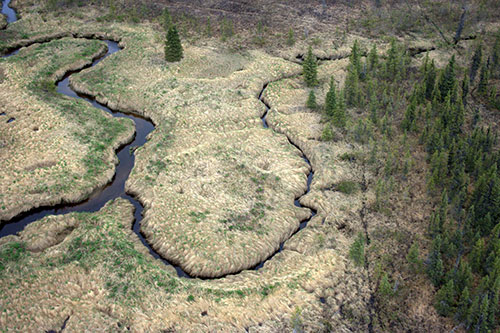 View of salmon stream in the center of the proposed mine area.
Photo courtesy Chuitna Coal Project
http://www.chuitnacoalproject.com

Driving the issue is an application filed back in 2009 by the Chuitna Citizens Coalition to reserve water-rights to Middle Creek, a key tributary of the salmon-rich Chuitna River dubbed the "Kenai of the West Side."
The Parnell administration dragged its feet on the decision until two years ago when a Superior Court judge ordered DNR to prioritize the Chuitna application. Meanwhile, mine developer PacRim Coal filed its own application to divert all water from Middle Creek to get to the underlying coal.
Based on PacRim data, the first phase of the strip mine would remove 20 square miles of salmon habitat, and discharge seven million gallons a day of mine waste into the Chuitna River. PacRim aims to mine 12 million tons of low grade coal each year for 25 years.
"Never, ever in the history of restoration has anyone ever dug down 300 feet to the geology and the hydrology of a salmon system and put it back together. And experts have not been able to find any examples of where it has been done," said Shavelson.
DNR waters resources chief Dave Schade agreed that the water rights decision is precedent setting, and that it comes down to "saying yes to one applicant, and no to the other."
The public comment period has been extended to April 9. Unless there is an appeal by either party, a decision could be made 30 days after.
"Do we leave water in streams for salmon, or do we give it to Outside companies to ship coal to China?" said Terry Jorgensen, who owns a setnet site at the mouth of the Chuitna River. "For the next few weeks, Alaskans will have the opportunity to weigh in on this important decision."
Alaska broker trends in IFQs/catch shares: Part 2
Right after the yearly halibut catch limits are announced each January, brokers usually are busy with buying and selling and transferring shares of the catch. But it's been slow going so far, even with slight harvest increases in nearly all Alaska fishing areas for the first time in nearly a decade. The buyers are there – it's the sellers that are scarce.
"There's less of a rush this year, but there are less quota shares available," said Olivia Olsen at Alaskan Quota and Permits at Petersburg. "We've had some good sales in Southeast (2C), and we're seeing very strong interest for halibut quota pretty much across the board. But shares for both halibut and sablefish are practically non-existent in the Central Gulf. I think the increases in both areas and the higher prices might bring out some more sellers, and of course, the buyers are sitting there waiting."
Blocks of halibut shares in Southeast Alaska are selling at $50 per pound, Olsen said. Recent sales in the Central Gulf reached a high of $45/pound, with others fetching a few dollars less.
"These are record high prices, and of course, the folks that are buying must believe that the resource is recovering," said Doug Bowen at Alaska Boats and Permits in Homer. "I have my doubts with very modest catch increases we've seen just this year, but there certainly is a feeling out there that maybe things have bottomed out and will improve from here on. We see that in the prices that people are willing to pay for halibut quota. It's amazing."
Olsen said the biggest sellers in Southeast at the moment are "the charter halibut permits, and any 2C quota we can come with."
The cost for charter halibut permits is based on the number of anglers aboard the boat. The prices last year ranged from $20,000 to $29,000 for parties of four to six, the most common numbers of clients, Olsen said. Her company also brokers Guided Angler Fish (GAFs) – halibut poundage that charter operators can lease from quota share holders, which last year started out at $7 a pound.
Both brokers said interest in sablefish quota shares also is picking up with those fetching $15-$30 a pound in prime fishing areas.
The Alaska halibut catch limit for 2015 to be divided up among share holders is 21.2 million pounds; the catch quota for sablefish is 10,522 metric tons, similar to last year. Both fisheries open March 14.
Dock Street brokers in Seattle is the go to place for Bering Sea crab shares, which also have more interested buyers than sellers. Listings show 1,750 pounds of red king crab offered at $52 a pound; 5,000 pounds of snow crab at $16; and 16 offers for Tanners at $13-$16 per pound.
Read Part 1: Busy year for Alaska brokers By LAINE WELCH
SitNews - February 23, 2015
Seafood three-peat
Record crowds turned out to taste and vote on the latest seafood products debuted last Saturday at the 22nd annual Alaska Symphony of Seafood.
The new seafood items always are judged first in early February by a private panel in Seattle with criteria including packaging and presentation, overall eating experience, price and potential for commercial success. Winners are kept secret until the final Symphony soiree a few weeks later in Anchorage. This year the Symphony made a third stop in Juneau, where self-proclaimed "fish snob" Senator Lisa Murkowski welcomed a SRO crowd, and Governor Walker announced the People's Choice Award voted by ballot at the event.
The People's Choice Award was a surprise three-peat this year -- Kodiak's Pickled Willy's Black Cod Tips (known jokingly in town as "crack cod,") won the popular vote at all three venues.
"That was very unusual," said Julie Decker, executive director of the Alaska Fisheries Development Foundation, host of the seafood event. " That was wonderful to see," and a real testament to what a good product it is."
Pickled Willy's also took first place in the food service category, as selected by the judges. The biggest surprise was the Symphony's Grand Prize Winner in a new category this year called Beyond the Plate – Anchorage's Arctic Paws Yummie Chummies dog treats.
"This demonstrates that we have some very good innovative, top quality co-products coming out of Alaska. It's a perfect time to be promoting them," Decker said, adding that AFDF plans to expand and separate the category next year.
"I know there are a lot of companies in Alaska that are producing products … cosmetics and skin care, fish skin leather, supplements, even clothing from crab and shrimp shells. They would qualify for this and I hope word of mouth will encourage them to enter," Decker said.
Other winners: Copper River Seafoods' Zesty Cod Portions won top honors in retail; Tilgner's Smoked Seafoods of Ninilchik took home a first in the smoked category for its Ruby Red Sockeye Salmon Chips and a second for its Ruby Red Salmon Candy. www.afdf.org

This year marks the 25th year for this weekly column that focuses on Alaska's seafood industry. It began in 1991 in the Anchorage Daily News, and now appears in over 20 newspapers and web sites. A daily spin off – Fish Radio – airs weekdays on 30 radio stations in Alaska. My goal is to make all people aware of the economic, social and cultural importance of Alaska's fishing industry to our state, the nation and the world.
Laine Welch ©2015
Laine can be reached at msfish[AT]alaska.com
www.alaskafishradio.com


SitNews ©2015
Stories In The News
Ketchikan, Alaska
Articles & photographs that appear in SitNews may be protected by copyright and may not be reprinted without written permission from and payment of any required fees to the proper sources.

E-mail your news & photos to editor@sitnews.us

Photographers choosing to submit photographs for publication to SitNews are in doing so, granting their permission for publication and for archiving. SitNews does not sell photographs. All requests for purchasing a photograph will be emailed to the photographer.