Fish Factor
World's first portable floating dry dock &
Door/hatch monitoring systems
By LAINE WELCH
February 16, 2012
Thursday AM

(SitNews) - The world's first portable floating dry dock has been launched at Sitka and it could bring more than just boat repairs to remote coastal communities.
The lightweight, marine grade aluminum dock was created at Allen Marine, a builder of ships and structures for the marine industry in Sitka since 1967.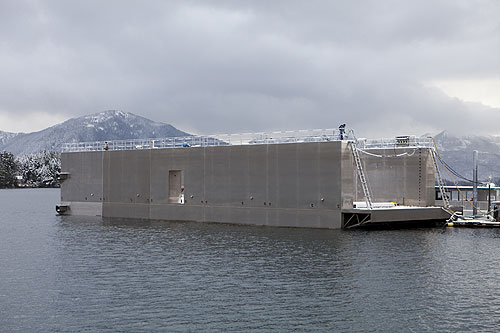 The lightweight, marine grade aluminum dock was created at Allen Marine

The modular dock can stretch to 160 feet and accommodate vessels up to 1,000 tons.
"It sinks so a vessel can just float right on to it," said Gene Kause, company Vice President of Business Development. "The boat floats right over to the top of the blocks and the blocks pick up the hull and away she goes. It's really slick – you don't even get wet."
The dock is friendly to the environment, which is an important goal of the 45 year old company, Kause added.
"It will not rust and it does not need to be painted. The whole unit is self contained so anything on the deck goes into a sump, so nothing goes overboard," he said.
The floating dock is portable and can be disassembled into three modules, shipped by air, and reassembled anywhere. Its light weight makes it easy to transport through shallow waters and over sandbars to a deeper location. That makes it well suited for remote Alaska regions.
"Being that we are a Native owned company and the owners are all native Alaskans, that is exactly what they had in mind," Kause said. "We can take the folks in the village and bring them here to get vocational training so they can do all the painting and the electrical and mechanical and welding work. Then they can bring the floating dock to a village and service it there and you keep all the money in local economies."
www.allenmarine.com
Door/hatch monitoring systems
Over half of all fishing fatalities are due to vessels going down, and most of the boats sink because of flooding. The sinkings of the Alaska Ranger and Katmai in 2008, for example, in which 12 men died, both stemmed from flooding through open hatches.
Those and other sinkings highlighted the need for an alert that provides immediate status of all openings aboard fishing boats. To the rescue: a simple electronic monitoring system on doors and hatches that sends signals to the wheelhouse.
It's not new technology, said Chelsea Woodward, an engineering technician with the NIOSH commercial fishing safety program. (NIOSH is the National Institute of Occupational Safety and Health, a research unit within the Center for Disease Control.)
"It is used on military boats, ferries – even on the Titanic," Woodward said. "So it's not a new idea, but we are trying to do is put it in a package that fishermen can use and scale it to their vessel size."
"Our goal is to make it flexible and adaptable, so that everyone from a limit seiner all the way up to the big catcher processors can have this system on their boat and easily retrofit it to an existing vessel," added Ted Teske, a NIOSH communications specialist.
The simple system works via a control board in the wheelhouse that displays three lights for each instrumented door, Woodward explained.
"A green light when it is shut and dogged (latched), a yellow light indicates the door is shut but not dogged, and then a red light shows that it is open. So the captain and crew can look at the display and immediately know the status of each of the doors," he said.
The system was field tested in the Bering Sea by the F/V Lilli Ann, a freezer longliner, and the F/V Gladiator, a trawler and both gave it good reviews.
The cost for the monitoring system varies by door, but it can be as low as $20. NIOSH is partnering with Wapato Engineering of Oregon to have door/hatch monitoring systems available by the end of the year.
The NIOSH team also is working on a system for the compartment in the stern called the lazarette, which houses shafts for a propeller or rudder and can often leak.
"We would like to combine a flood rate monitor with a hatch door monitor for the lazarette, especially for smaller vessels," Woodward said. "That would tell the skipper not only the status of the door, but what is going on behind the door without opening it. If there is flooding behind that door, he would an indication of the water level before he opened it and then couldn't shut it again."
Questions? Contact Chelsea Woodward at ciw7@cdc.gov
Fish Correction
Doug Vincent-Lang was named acting director of the ADF&G Division of Wildlife Conservation, and not director as reported last week. Commissioner Campbell is in the process of gathering a list of qualified candidates for the permanent position.
This year marks the 21st year for this weekly column that focuses on Alaska's seafood industry. It began in 1991 in the Anchorage Daily News, and now appears in over 20 newspapers and web sites. A daily spin off – Fish Radio – airs weekdays on 30 radio stations in Alaska. My goal is to make all people aware of the economic, social and cultural importance of Alaska's fishing industry to our state, the nation and the world.
Laine can be reached at msfish[AT]alaska.com

E-mail your news, photos & letters to editor@sitnews.us


SitNews ©2012
Stories In The News
Ketchikan, Alaska

Articles & photographs that appear in SitNews may be protected by copyright and may not be reprinted without written permission from and payment of any required fees to the proper sources.