Fish Factor
Fish go to hunger relief programs
By LAINE WELCH
February 07, 2016
Sunday AM

(SitNews) - Needy Alaskans are enjoying a rare taste of sablefish, thanks to a science project that kept research fish from going over the rails.
Sablefish, more commonly called black cod, are one of the world's priciest, high end fish, and Alaska waters are home to the largest stocks. The deep water fish are found at depths of 5,000 feet or more and can live to nearly 100 years. The Gulf of Alaska fishery, which has a catch total of about 20 million pounds this year (18.2 million in 2017) is usually worth more than $90 million to Alaska fishermen at the docks.
But the population – as measured by the amount of spawning females - has been decreasing about 3 percent a year since 2004, and researchers aim to find out why.
In December a team from the NOAA Auke Bay lab in Juneau tagged 40 female sablefish with satellite tags that will release on a set date.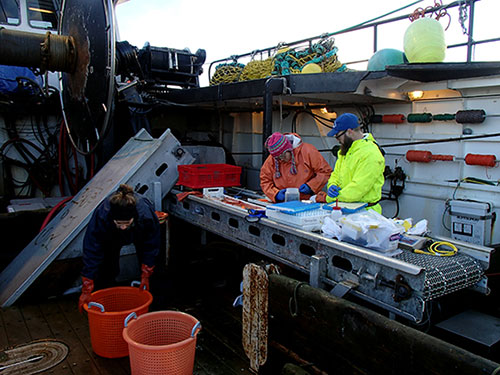 F/V Gold Rush, Christina Conrath and Pete Hulson working at table, Katy Echave bending over basket.
Photo by Karson Coutre, Photo Courtesy NOAA

"Sablefish movements have been tracked for decades, but this tagging will give us a better idea of where and when these females are releasing their eggs," said Katy Echave, chief scientist for the sablefish project. ""Accurate estimates of the amount of mature fish will give us better estimates of the number of spawners. And we also will have a better understanding of what environmental conditions are causing this period of low recruitment, which is likely due to low survival in their egg and larval stages."
Samples of sablefish ear bones, ovaries and livers and other survey data are being scrutinized in Auke Bay labs, but it will be a few years before it yields results. The ultimate goal, Echave said, is to have better assessments of spawners to abet fishery management and catches long into the future.
Meanwhile, needy Alaskans are enjoying the sablefish right now. By federal law, all research fish must be tossed overboard – but a quick collaboration sent this boatload of fish instead to feed the hungry.
"I cannot rave enough about the F/V Gold Rush, who we contracted to do the sablefish survey," Echave said. "They came to me and said instead of tossing this fish overboard, is there any way we can donate it? And the crew went about coordinating all the logistics for getting the fish processed by Trident, who donated their facility and staff time, and then getting it distributed it to the Kodiak food bank."
In all, 4,000 pounds of research fish went to local hunger relief programs.
"It was just a very neat example of healthy relationships in Alaska with members of the industry and researchers, all trying to do the good thing here," Echave said.
The fish donors were able to "do the good thing" because it dovetailed with Kodiak's "bycatch to food banks" program, which reclaims fish that by law would be dumped at sea. Last year trawlers from Kodiak, Sand Point and King Cove donated nearly 42,000 pounds of salmon, halibut and black cod taken as bycatch to local hunger relief efforts.
The program began with Gulf fishermen and processors five years ago in collaboration with Sea Share, the only organization that is federally authorized to retain and distribute fish taken as bycatch for hunger-relief. A similar program has been operating in the Bering Sea since 1993.
"We make it very clear that we are not asking for bycatch. These are some of the best fishermen who work hard to avoid it. But when they do catch it, they want to see something good done with it. They want to utilize everything that's in the net, so they donate it to us," said Jim Harmon, Sea Share director.
Since its inception, the nonprofit has become one of the largest protein donors in the nation. It has reclaimed 4.2 million pounds of fish that would otherwise have been thrown overboard, and grown to include a network of 138 fishing vessels, 34 at-sea processors, 15 shore side plants and countless packaging, freight, cold storages and national receiving agencies.
Sea Share has donated over 630,000 pounds of fish to Alaska hunger relief programs in Anchorage, Kenai, Nome and Kotzebue over the last 3 years. That equates to 2.5 million servings of high protein seafood, Harmon said, and plans are in the works to increase that amount.
"We are now working on a distribution project in Western Alaska," Harmon said. "The plan is to install freezers in four or five hub villages, and to accept larger quantities shipped via surface freight. That will reduce costs and improve distribution of seafood, which is one of the biggest hurdles."
It costs about 42 cents a pound, he said, to get the fish into the hands of the hungry.
February fishing
Fishermen have been hauling in thousands of pounds of cod from the Gulf of Alaska and Bering Sea since the year began. Alaska's biggest fishery – pollock – got underway on January 20. More than 3.5 Billion pounds of pollock will be taken in Alaska waters this year.
A lingcod fishery of nearly one million pounds is underway in Southeast Alaska, along with a fishery for seven different kinds of deep water rockfish. Divers are still going down for sea cucumbers, urchins and geoduck clams.
Southeast trollers are still fishing for winter king salmon – each worth more than a barrel of oil. The region's golden king crab and Tanner crab fisheries will open Feb. 17.
The big crab fisheries are still underway in the Bering Sea. Crabbers have landed about 11 million pounds of a 36.5 million pound snow crab quota.
And as soon as unstable ice conditions improve, the year's first red king crab fishery will kick off at Norton Sound, with a catch topping half a million pounds.

Grants for good works
American Seafood Company is again taking applications for community grants throughout Alaska. A total of $38,000 will be available to projects that address issues such as hunger, housing, safety, education and cultural activities. Most of the awards range from $500 to $3,000 per organization.
Deadline to apply is Feb. 12. Recipients will be selected by a community advisory board on February 23rd.


This year marks the 25th year for this weekly column that focuses on Alaska's seafood industry. It began in 1991 in the Anchorage Daily News, and now appears in over 20 newspapers and web sites. A daily spin off – Fish Radio – airs weekdays on 30 radio stations in Alaska. My goal is to make all people aware of the economic, social and cultural importance of Alaska's fishing industry to our state, the nation and the world.
Laine Welch ©2016
Laine can be reached at msfish[AT]alaska.com
www.alaskafishradio.com


SitNews ©2016
Stories In The News
Ketchikan, Alaska
Articles & photographs that appear in SitNews may be protected by copyright and may not be reprinted without written permission from and payment of any required fees to the proper sources.

E-mail your news & photos to editor@sitnews.us

Photographers choosing to submit photographs for publication to SitNews are in doing so, granting their permission for publication and for archiving. SitNews does not sell photographs. All requests for purchasing a photograph will be emailed to the photographer.