Fish Factor
Pacific halibut harvest not slashed for first time in 15 years
By LAINE WELCH
February 01, 2016
Monday AM

(SitNews) - Alaska's halibut stocks are showing signs of an uptick and fishermen's catches will not be slashed for the first time in 15 years.
Fishery managers on Friday set the coast wide Pacific halibut harvest for 2016 at 29.89 million pounds, a 2.3 percent increase from last year.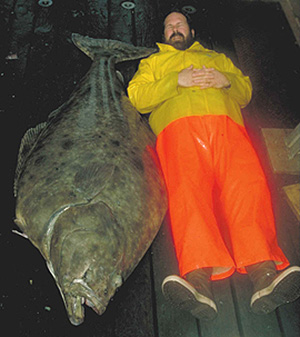 The Pacific halibut, Hippoglossus stenolepis, is one of the largest flatfish - they can weigh up to 500 pounds and grow to over 8 feet long. According to the Alaska Department of Fish & Game, the maximum documented age for male and female halibut is 55 years. Age is estimated by counting rings in the otolith, or ear bone.
Photo courtesy NOAA - wikipedia.org
"This was probably the most positive, upbeat meeting in the past decade," said Doug Bowen of Alaska Boats and Permits in Homer. "The feeling is the stocks are up and the resource is stabilizing and recovering, and it's the first meeting in a long time that there weren't any areas that are looking at double digit cuts."
"The bottom line for this year is that we can see some positive trends both in the data and in the stock assessment models," said Ian Stewart, a scientist with the International Pacific Halibut Commission (IPHC), which held its annual meeting last week in Juneau. The IPHC manages the catches and fishery research for west coast states, British Columbia and Alaska. "The stock appears to be stabilizing at a coast-wide level and the more years that we've see this play out, the more certain we become of that."
Alaska share of the total halibut catch was set at 21.45 million pounds, an increase of 200,000 pounds from last year.
Southeast Alaska saw the largest halibut harvest gain for recreational and commercial users at 4.95 million pounds, a 6.1 percent increase over 2015. Scientists said based on survey data, the Panhandle again showed the most improvement in both fish catches and weights.
Catches in the biggest halibut fishing hole in the Central Gulf (3A) were decreased by five percent to 9.6 million pounds, the only region to get a cut. Although the annual survey showed increased catches for the first time in nearly 12 years, scientists said they remain concerned that the fish are still showing slow growth rates. They also had questions about potential inaccurate accountings of halibut taken as bycatch in other fisheries.
For the Western Gulf (3B) the IPHC scientists said they "are optimistic that 3B has hit bottom and is showing stabilization."
The other three halibut fishing areas in the Aleutians and Bering Sea also showed "strong signs" of holding steady.
In other halibut news: The IPHC approved retention of halibut taken incidentally in sablefish pots in the Gulf of Alaska to reduce whale predation.
A proposal to reduce the legal halibut size limit from 32 inches to 30 inches to reduce wastage of small fish failed. Likewise, a proposal to limit the maximum size to 60 inches to protect the large breeders also got a thumbs down.
The 2016 halibut fishery will begin on March 19 and end on November 7.
The IPHC also selected David Wilson to replace Bruce Leaman as executive director as he departs after nearly 20 years. Wilson currently serves as secretary of the Indian Ocean Tuna Commission, and was formerly head of the International Fisheries Section of the Australian Bureau of Agricultural and Resources Economics and Sciences. He will join the IPHC in August.
Dr. Wilson is expected to join the IPHC staff in August 2016.
Here are the 2016 halibut catch limits in millions of pounds, with comparisons to 2015 in parentheses:
2C (Southeast AK) 4.95m (4.65m)
3A (Central Gulf) 9.6m (10.1m)
3B (Western Gulf) 2.71m (2.65m)
4A (W. Aleutians) 1.39m (1.39m)
4B (Bering Sea) 1.14m (1.14m)
4CDE (Bering Sea) 1.66m (1.285m)
Total: 21.45 million pounds (21.25m)

Seafood showcase
Canned smoked herring, salmon caviar, sockeye salmon candy – those are just a sample of the 18 new products to be showcased this month at Alaska Symphony of Seafood events in Seattle, Juneau and Anchorage.
The Symphony promotes new, value-added products in four categories: retail, food service, Beyond the Plate and new this year, Beyond the Egg.
"It's a great event for the industry, but it also shows how much work and effort is going into developing new products," said Julie Decker, executive director of the Alaska Fisheries Development Foundation, host of the Symphony for 23 years. "It is good for everyone because it creates more value for the resource, and in the case of Beyond the Plate, which focuses on fish byproducts, it is actually using more of the resources."
That category attracted several entries, including wallets, key fobs and other items made from salmon and halibut skin. Another is an anti-aging serum that uses omega-3 oils from ArXotica, a Bethel company.
Another attention getter is a product from Bambino's Baby food of Anchorage called "Hali Halibut."
"It is a frozen, portioned product made with halibut and Alaska grown vegetables. It's really cool!" Decker said.
The new Beyond the Egg category attracted one salmon caviar entry, with several more set to debut at next year's Symphony, she added.
All items will be judged by an expert panel prior to a Seattle bash on February 10, with their choices remaining under wraps. That will be followed by a seafood soiree for Alaska legislators in Juneau on February 16; then it's on to Anchorage on February 19 where all winners will be announced Top winners in each category get a free trip in March to Seafood Expo North America in Boston. See the full line up at www.afdf.org

New life raft rules
New safety rules for vessel life rafts go into effect on February 26, meaning the use of commonly used flotation devices will no longer be acceptable.
Smaller vessels will no longer be able to use life rings, rectangular red floats and other buoyant devices as their only form of survival gear, and instead must be equipped with a raft that ensures every passenger is safely out of the water in the case of a sinking.
"The big thing to remember is that it's one thing to be wet and cold, it's another thing to be immersed in cold water," said Scott Wilwert, U.S. Coast Guard Fishing Safety Coordinator in Juneau.
"On February 26, survival craft requirements for commercial fishing vessels, as well as other classes of passenger vessels, will change in a way that if a vessel is operating beyond three miles from shore, they are required to have a survival craft that does not allow for an immersed segment of a person's body," he explained. "So the big change for any fishing vessel, regardless of length or the number of people on board, is that they have to step up to a survival craft that is called an inflatable buoyant apparatus or a full life raft."
Even those who got their mandatory dockside safety exams last fall will need to recheck their survival gear to comply with the new regulations, Wilwert said.
"If you know that the new rule affects you, I would definitely start working with a local marine supplier and get one coming your way."
www.fishsafewest.info



This year marks the 25th year for this weekly column that focuses on Alaska's seafood industry. It began in 1991 in the Anchorage Daily News, and now appears in over 20 newspapers and web sites. A daily spin off – Fish Radio – airs weekdays on 30 radio stations in Alaska. My goal is to make all people aware of the economic, social and cultural importance of Alaska's fishing industry to our state, the nation and the world.
Laine Welch ©2016
Laine can be reached at msfish[AT]alaska.com
www.alaskafishradio.com


SitNews ©2016
Stories In The News
Ketchikan, Alaska
Articles & photographs that appear in SitNews may be protected by copyright and may not be reprinted without written permission from and payment of any required fees to the proper sources.

E-mail your news & photos to editor@sitnews.us

Photographers choosing to submit photographs for publication to SitNews are in doing so, granting their permission for publication and for archiving. SitNews does not sell photographs. All requests for purchasing a photograph will be emailed to the photographer.