William Paul Was The "Father of Native Land Claims"
And A Pretty Fair College Football Player, Too
By DAVE KIFFER
February 16, 2009
Monday

Ketchikan, Alaska - Although Elizabeth Peratrovich is probably the most honored of the Alaska Native leaders who fought for civil rights in the first half of the 20th Century, there were other prominent leaders, including William Paul Sr. of Ketchikan.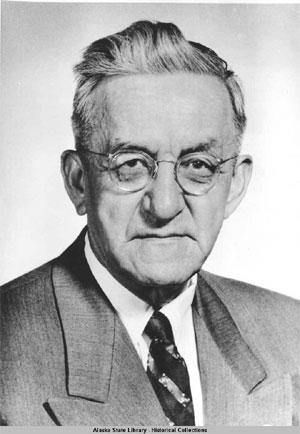 William L. Paul Sr.,
Grand President, Alaska Native Brotherhood
Period: 1939 to 1959
Courtesy Alaska State Library
Although Paul and his older brother Louis were not among the founders of the Alaska Native Brotherhood, they are credited with turning its attention toward important political issues and William Paul - Alaska's first Native American attorney - was personally involved in efforts to desegregate Alaska public schools and to ensure that Natives had the right to vote.
William Lewis Paul Sr. was born May 7, 1885 at Tongass Village, his brother Louis was born two years later. Their father, Louis Paul, died in a canoe accident in December, 1886 and their mother Tillie Kinnon Paul moved the family to Sitka, where she taught at the Presbyterian Sitka Industrial Training School, later renamed Sheldon Jackson School.
William Paul was raised in Sitka and at age 14 went to the Carlisle Indian School in Pennsylvania. He later attended Banks Business College in Pennsylvania and then went to Whitworth College (then in Tacoma) where he earned his baccalaureate degree.
First Native Attorney in Alaska
He briefly attended a seminary, reportedly expressed an interest in a career in opera, and then worked for a Oregon banking company for several years, according to Alaska historian Steven Haycox. While working, Paul sought his law degree through the LaSalle University Extension program. He passed the bar exam and was admitted to the Alaska Bar on December 18, 1920.
By then, Louis Paul had become involved with the Alaska Native Brotherhood, serving as its Grand Secretary in 1919. The ANB had been formed in 1912 as a Native self-help organization and Christian solidarity, according to Haycox. Most of the founders had been involved with Sheldon Jackson School.
"The ANB accepted the objective of preparing Indians for citizenship," Haycox wrote in a 1994 book "Tlingit Life Stories." "After his return from the army, Louis became involved in the ANB and its goals of acculturation and citizenship."
William also joined the ANB and both the Paul brothers quickly assumed leadership roles.
"A very intelligent man, energetic and charismatic, and with extraordinary talents as an orator (he is said to have had a remarkable tenor singing voice), William saw that with an aggressive agenda and dedicated leadership that the ANB could be an important voice for Native interests," Haycox wrote. "Additionally, his legal training and reading had convinced him that many rights might be won for Alaska Natives through legal action."
For the next two decades, the Paul brothers would dominate the ANB, both serving as Grand Secretary and Grand Marshall numerous times.
In 1920, the ANB, under William's prodding, first attacked the idea of segregated schools in Southeast Alaska. It took part in a legal case challenging segregated schools in Wrangell, which was eventually resolved in the Native students favor.
The next year, the group sent William to Washington DC to lobby for Native rights in regard to the salmon fisheries, that were being dominated by Salmon Canning companies which had placed fish traps in many traditional Native fishing areas.
Spurred Growth of the ANB
In order to build up support for the new ANB positions, William Paul also traveled widely in the region, creating new ANB "camps" and building the organization from less than 100 members in 4 camps to more than 2,200 members in 20 camps, mostly in Southeast Alaska.. Paul also aligned himself politically with Judge James Wickersham, Alaska's Territorial Delegate in Washington DC.
In 1923, Paul launched a regional newspaper, the Alaska Fisherman, as an official publication of the ANB. The paper would publish until 1932.
He also briefly published a separate Ketchikan paper called the First City News. In 1926, the First City News opined that it was time for Ketchikan to gather totem poles from throughout the region and place them in the city park to be used as a draw for tourists.
After both the First City News and the Alaska Fishermen went out of business, Paul founded a community paper in Petersburg, called The Alaskan, which did not specifically focus on Native issues.
"Both papers, however, were important in the history of Alaska Natives, for they presented the Natives as equal, as competent, articulate and legitimate citizens visibly, competitively and successfully engaged in mainstream activities," Haycox wrote in 1994.
In the mid 1920s, Paul also used the Alaska Fisherman as the base for his political ambitions. Before he could run for the Territorial Legislature in 1923, he had to first establish an iron clad right of Natives to vote.
In 1922, Charlie Jones and Tillie Paul attempted vote in Wrangell and both were charged with "falsely swearing to be a citizen."
The case went to trial, and the district court judge, Thomas Reed of Ketchikan, ruled in favor of the Native voters.
"If you findthat the defendant Charley (sic) Jones was born within the limits of the United Statesthen you must conclude that the said Charley Jones was born under and within the terms of the 1st Section of the 14th Amendment," Reed ruled.
Within two years, the US Congress had passed the Indian Citizenship Act, making citizens of all Indians.
First Native Legislator
Paul - running as a Republican from Ketchikan - was elected as Alaska's first Native legislator in 1924 and was also re-elected in 1926, but defeated in 1928.
In 1925, he faced strong efforts to enact a "literacy" law for voting in the state. Paul perceived it as a veiled attempt to disenfranchise older Native voters in the same way that similar laws were used to disenfranchise immigrants, Blacks and Hispanics in other parts of the country in the first half of the 20th Century.
"The 1925 legislature did pass a literacy law," Haycox wrote. "However, Paul had succeeded in amending it to include a provision that no one could be denied the privilege of voting who had ever voted before. Indians who had always voted continued to do so and increasing numbers of new voters were either literate or presumed to be so."
While in office, Paul also forced the territory to pay widows, orphans and old-age benefits, by threatening to sue the territorial government if it did not do so.
In 1927, Paul also helped with the adoption of Benny Benson's Alaska flag design. In explaining the design to his fellow legislators, Paul used the term "eight stars of gold on a field of blue" and those words were later incorporated into Marie Drake poem that became the official words to the song.
When Paul ran for re-election in 1928, he was defeated after his opponents uncovered evidence that he had accepted campaign contributions from the canned salmon industry, which he publically continued to vilify as the "enemy" of Alaska Natives.
The revelation also reflected poorly on the ANB and Haycox notes that it was first time Paul began to hear dissent to his policies in the ranks of the organization. He continued to be elected to leadership roles within the ANB, but his authority began to wane.
It didn't help that Paul was not a consensus builder.
"William Paul was a dedicated but stubborn man," Haycox wrote. "He was not always able to work well with others and he did not accept criticism gently."
In 1929, Paul first floated the idea - at the ANB convention - that Natives had land rights in Southeast Alaska. Some historians suggest that ANB founder Peter Simpson first promoted the land rights issue, while other suggest that Wickersham was also the main proponent, but there is little question that Paul then became the biggest promoter of the idea, which would take nearly 50 years to realize.
In 1932, Paul made his one attempt at territory-wide office, running unsuccessfully for Attorney General. He did not have the endorsement of the Republican party and ran as an independent.
"He lost the election, partly because the Indian vote in Southeast Alaska was split for the first time since before the Pauls," Haycox wrote. "Two capable and ambitious young men from Klawock, Frank and Roy Peratrovich, unhappy with William's confrontational methods, campaigned for his opponent."
The Peratrovichs would also begin to usurp much of Paul's power in the ANB.
Represented 'Fish Pirates'
All the while that Paul worked for Native rights he continued to have a private law practice.
In 1926, he represent Val Klemm and Walter McCall when they were charged with fish piracy for stealing salmon from a local trap and then selling it back to the cannery that owned the trap. Despite Paul's spirited defense of the two men, they were convicted - the first people in the territory to ever be convicted of fish piracy.
After the conviction, the Ketchikan Chronicle opined that Paul and other "deepsea lawyers" had led Klemm and McCall astray by suggesting that the fish did not officially belong to the cannery until they were "brailed" out of the traps.
In 1936, the Roosevelt administration named William Paul to be the first Native BIA official in Alaska, unfortunately he was soon embroiled in a dispute with the courts over fees that he had collected from plaintiffs in a suit against a salmon cannery. In 1937, he was disbarred from practicing law in the territory, although Haycox suggests that Paul's real crime was in accumulating too many political enemies over the years
It wasn't until statehood came 22 years later, that Paul's law license was re-instated.
By the time final debate on Alaska Native Land Claims took place in 1971 - spurred mainly by federal and state interest in getting the Trans-Alaska Pipeline built - William Paul had long since retired from the public arena, But the nearly 90 year old leader continued to offer behind the scenes counsel to those involved in the debate, according to Haycox.
William Paul died on March 4, 1977 in Seattle, two months shy of his 92nd birthday.
Quarterback of Whitworth Football Team
When he was a student at Whitworth in his early 20s, William Paul was a bona fide football hero. As quarterback of the Whitworth team, Paul led his team - which featured 14 of the 31 men on campus to a fabled upset against the University of Oregon.
Dale Soden, a history professor at Whitworth, wrote about Paul and the football team on the 100th anniversary of its "big" win against Oregon for the Whitworth alumni magazine in November of 2008.
Soden noted that Whitworth was coached by Arthur Reuber - who had been a star player for Northwestern University. Reuber convinced the players that they could compete with the Universities of Oregon and Washington and even the regional powerhouse of the day, Whitman College.
Paul also brought outside experience to the Whitworth team. He had played football previously at the famed Indian school in Carlisle, Pennsylvania under the legendary coach, Glenn "Pop" Warner.
"Paul left Carlisle and went back to his native Alaska but could not find work.," Soden wrote in 2008. "Years later he remembered finding a catalog for Whitworth with the cover torn off-scrounged up $125 and came south to Tacoma. He did every odd job possible including sweeping sidewalks, cutting grass, milking cows and even doing some bookkeeping for the college. He played football, basketball, baseball, edited the newspaper, helped start the literary society and later made the debating team, played the lead role in the senior class play, and married his college sweetheart."
In addition to Paul, the other star player on the Whitworth team was the first African-American to play college football in the Northwest, Ernie Tanner, who would later become a well-know leader in the west coast longshoreman's union. But in the fall of 1908, there were only 31 men enrolled at Whitworth. Half of them tried out for Reuber's football team.
The first game of the year was against the University of Washington, then led by Gil Dobie,which was just beginning a streak in which Huskies would be undefeated for 61 straight games.
"But on that October day in 1908, Whitworth gave the UW all they could handle before falling 24-4 on a couple of late touchdowns," Soden wrote. "Indicative of the struggle to establish rules in those early years, apparently the first half was played in 25 minutes and the second half in 35 minutes and it was in those last ten minutes that Washington scored most of its points. A few years later in the Seattle P-I, coach Dobie recalled 'Washington University rooters would never concede it, but I'm telling you now that the greatest victory Washington won in the last three years was that over Whitworth College of Tacoma We have beaten Oregon, Washington State and all the rest of the them since then, but no victory ever gave me such satisfaction as that one over coach Reuber's Whitworth team.'"
A Great Game at Quarterback
Whitworth's next game was against its emerging rival in Tacoma, the University of Puget Sound, and Whitworth prevailed by a score of 10-0, according to Soden.
The next game was against Whitman College, which at that point was considered on par with UW at the top of the pecking order in the Pacific Northwest.
Whitworth shocked Whitman, 17-11.
"Claude McQuillan was credited with a number of tackles in the Whitman backfield and Bill Paul played a great game at quarterback," Soden wrote.
"With little time to recoup, tiny Whitworth traveled to Eugene the following week to play the University of Oregon," Soden added. "There was no question that Oregon was a prohibitive favorite. The team featured Fred Moullen, an all-Northwest player for four seasons and apparently one of the best place-kickers in the country. Oregon also featured Dudley Clarke, who was named to the all-Northwest team three years at fullback."
Yet, Whitworth hung tough with Oregon and the Ducks only led 6-5 at halftime. In the second half, Whitworth's Percy Colbert returned two punts for touchdowns - with helpful blocks from both Paul and Tanner - to win 16-10.
"No better men ever played on Kincaid field than the Whitworth backfield taken as an aggregation," the Eugene News reported afterwards. "Every man outplayed Oregon, particularly in team work. Their linemen brushed aside the Oregon warriors with the greatest ease and their back field excelled the Oregon team in all departments."
The upset of Oregon was followed by easier victories against University of Puget Sound (45-0) and Williamette University (18-0).
With the exception of the loss to UW, Whitworth was at the top of the football heap in the Northwest in 1908, thanks to William Paul and others.
On the Web:
Historical Ketchikan... Historical Alaska - More Feature Stories by Dave Kiffer


Dave Kiffer is a freelance writer living in Ketchikan, Alaska.
To republish this article, the author requires a publication fee.
Contact Dave at dave@sitnews.us

Dave Kiffer ©2009

Post a Comment View Comments
Submit an Opinion - Letter

Sitnews
Stories In The News
Ketchikan, Alaska