World War II: 60th Anniversary
By DAVE KIFFER
August 04, 2005
Thursday

Ketchikan, Alaska - Sixty years ago this week World War II was about to come a sudden end, but like most other Americans, Ketchikan residents were preparing for many more months of sacrifice.
Although Germany had surrendered in early May and the Japanese were suffering horrific losses in the Pacific, stories in both the Ketchikan Chronicle and the Alaska Fishing News - the forerunner of the Ketchikan Daily News - were focusing on the expected invasion of the Japanese mainland.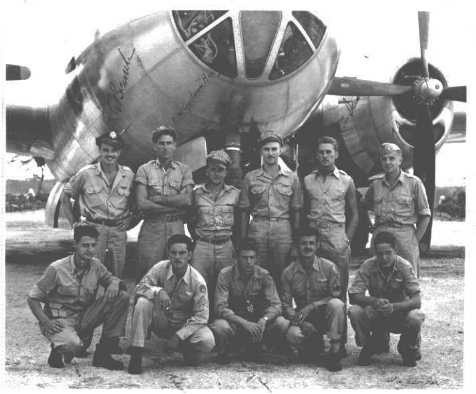 "City of Ketchikan" - Replacement Crew 6
Standing L to R: 1st Lt Richard Brinck Airplane, Commander; 2nd Lt Elmer M. "Andy" Anderson, Navigator; 1st Lt William O'Brien, Flight Engineer; 2nd Lt Hollis B. Logan - Radar; 2nd Lt Cecil E. Davis, Pilot; 2nd Lt Julian Radziewitz, Bombardier
Kneeling L to R: S/Sgt John Buell, Radio Operator; Sgt Joseph R. Nalepa, Right Gunner; Cpl Harvey Schwartz , Tail Gunner; S/Sgt George E. Dellopoulos, CFC Gunner; Cpl William P. Leonhardt, Left Gunner...
Photograph courtesy 39th Bomb Group (VH) Association http://39th.org/
---

"500,000 American casualties expected" trumpeted a headline in the Chronicle.
"Campaign said likely to last a year," echoed one in the Fishing News.
Although many of the able bodied young men of the community had already joined the service, many had been given food production deferments because they were involved in the fishing industry. In late 1944, it had been announced that many of those deferments would be cancelled. By the summer of 1945, a great many more Ketchikan residents were either in training for the war or had just recently reached the battlefield
Amongst the new arrivals 1st Lt. Richard Brinck and the crew of the "City of Ketchikan." The B-29 bomber had just been assigned to the 39th Bomber Group at North Field in Guam in July and had flown three combat missions. As commander of the plane, Brinck named it after his hometown.
Another Ketchikan airman, Rodger Elliot returned home on August 3 with a 70 day furlough. Elliot, who would return to his job as a pilot for Ellis Airlines after the war, had been a prisoner of war in Germany.
"No youth from Ketchikan has captured the affection and the imagination of the citizens more than Rodger, and when new was received about his being missing in action in Italy deep sorrow and regret was generally expressed," The Alaska Fishing News had reported in March of 1944. "Moreover, on his last trip he had fulfilled his number of bombing missions to be entitled a furlough home."
The Fishing News reported that Elliot's wife, Pauline, had received a letter from one of Elliot's former crewmen, engineer-gunner Sgt. Harold Warner of Ohio, who gave her the circumstances of Elliot's downing.
"Your husband had a new crew. I tried to get on the flight but they wouldn't let me go," Warner wrote. "They went out on a target just south of Rome. He got a direct hit on his nose wheel well and the hydraulic fluid caught fire. The tactical bombardment command reported that they saw six chutes on the ground so that means that they all got out and probably are prisoners. Your husband was a grand fellow and was liked by the whole outfit and I was proud to be a member of his crew. I am enclosing a picture of our ship, "The Terrible Texan." She was a swell ship and swell guy flew her."
Elliot was imprisoned at Stalag Luft One camp in Barth, Germany along with more than 9,000 other POWs, primarily aviators like himself, according to the "Prisoners of War at Stalag Luft 1" website on the internet. The camp was liberated by the Russians when the war in Europe ended in May of 1945. But the prisoners return home was put into question when a repatriation dispute arose between the US and the USSR.
Apparently, some liberated Russian POWs were refusing to be repatriated to Russia, according to POW camp historian and former pilot Raymond Darling. Russia was also concerned that another war might break out with large American and Russian armies facing each other in Germany and was not interested in immediately releasing the American prisoner.
In an article on the Luft 1 website, Darling reported that the 8th Air Force took matters into its own hands with a lightning evacuation called "Operation Revival."
"The Russians don't seem to want to cooperate in releasing our American airmen POW's so we're going in and getting them," Darling said he was told during a pre-evacuation briefing. " If the Russian's don't like what we're doing. Then it's just - Tough S."
In three days, more than 200 bombers of the 8th Air Force, evacuated more than 9,000 prisoners from the camp. Three months later, Elliot returned home, to do a little fishing and to greet the infant daughter who was born after he left for Europe,
Reports of other Ketchikan participants in the war were in the Chronicle in early August. Private Harry Newell was in the air corps in Italy, Technical Sergeant Clifford Philips had received the bronze star and was in Czechoslovakia , Second Lt. Dick Traversy had been wounded in Italy but was recovering, Staff Sergeant Jimmy Tatsuda was reported on his way back to the US after receiving the Purple Heart in Europe.
Locally, Alaska Statehood was a big issue, with federal officials - most notably Harold Ickes, Franklin Roosevelt's longtime Secretary of the Interior - making statements in support of Alaska becoming the 49th state.
Although the war effort curtailed much domestic travel, it didn't stop of group of Congressmen from taking an Alaska tour in the summer of 1945. The Congressmen were surveying military installations in the state, but also were gauging whether or not the sparsely populated state was ready for statehood and self-sufficiency. The Fishing News reported that the Congressmen were clearly taken with Alaska's scenery but seemed more impressed that there was little of the commodity rationing that was taking place in the Lower 48.
"I guess I'd better buy a pair of shoes before I leave Ketchikan," Rep. Jed Johnson of Oklahoma, said. "I've been needing a new pair for months."
Democrat John Rooney of New York was surprised by the selection of cigarettes.
"They haven't had popular brand cigarettes in Washington for almost three months," he told the Fishing News. "It will certainly feel wonderful to smoke again."
The Congressmen held a public hearing in the city council chambers with also included territorial Gov. Ernest Gruening. Ketchikan's Senator in the territorial legislature, Norman "Doc" Walker sparred verbally with both Gruening and Rooney over Alaska's ability to support itself. According to the Fishing News, Walker contended that Alaska's fishing and mining industries could generate significant revenues to support state government but that territorial and federal officials conspired to keep industry taxes too low.
During the Congressional visit, the Chronicle conducted a poll of local residents to determine whether or not local residents favored statehood.
"Of 175 persons queried, 100 favor statehood," the Chronicle reported under a headline reading "Statehood Favored If It Will Keep Wealth In Alaska." "31 oppose it and 44 are undecided."
While the Fishing News did not directly address its competitor's "poll," it used an editorial to dismiss recent "minimal efforts" to gauge public interest in statehood and noted that the opinion of a population of more than 5,000 could scarcely be judged the thoughts of a "couple of hundred" residents.
A few days later - at a public hearing in San Francisco - Rooney and the other Congressmen declared that Alaska was not yet ready for statehood.
Other local news was also in the headlines, including the widening and paving of Stedman Street from Ketchikan Creek to the Whitney Fidalgo Cannery. The city council set aside approximately $60,000 to the project.
In early August, it was also declared safe to swim in Ward Lake again. The lake had been closed to swimming for several months because of outfall from sewers at the former Civilian Conservation Camp nearby which was being used to house Natives relocated from the Aleutian Islands earlier in the war.
The Fishing News also reported that Nels Nelson on the Thelma had unloaded the largest troll Coho salmon trip of the season with more than 14,600 pounds of fish caught over a 10-day period. That amount of Coho was worth $2,200, according to the Fishing News.
But the biggest issue to the Fishing News in the summer of 1945 - besides the war - was the inability of the community to control its young people. There was a significant amount of vandalism being caused in addition to several small fires being set. Police suspected minors in each case.
Worst of all, the Fishing News concluded, was a complete disregard of community curfew laws.
"Thirty Seven children of minor age, under 18, who were strolling about the streets of Ketchikan in groups, pairs and foursomes between midnight Saturday and 3 a.m Sunday were given a severe warning by the Ketchikan Police Department," the Fishing News reported under the banner headline "MINORS ROAM STREETS."
This story was followed by two editorials extolling the virtues of hard work, parental supervision and obeying curfews.
But on August 6, the war was back at center stage.
"US has a new Atomic Bomb," announced the Fishing News.
"Japan city flattened by new weapon" echoed the Chronicle.
After the second atomic bomb was dropped on Aug. 9, the local papers speculated with the rest of the country on how much longer Japan would hold out. After several days both newspaper trumpeted "War is Over."
"Church bells rang out, car horns blared, flags went up as Ketchikan received the momentous news of peace this afternoon," The Chronicle reported on August 14. "Shop owners left their places of business and ran into the streetswithin a half an hour of the official report, Ketchikan bars and many other businesses closed downlast minute liquor store patron were being turned down as well as dozens who made a rush for the cocktail lounges when the news was announced."
Mayor R.C. Pedersen proclaimed a day of prayers and thanksgiving.
"Let our conduct in the excitement and elation of victory be tempered by discretion so that we may merit the degree of honor that we have enjoyed in our efforts to make victory possible," he proclaimed, according the Chronicle.
Juneau, on the other hand, celebrated a little differently, also according to the Chronicle.
"Liquor stores began opening at 6 am," the paper reported. "In the lobby of the Baranof, G.I's, Ratings and Officers staged a 'free drinks for everybody' party that had 100 participants by 8 amG.I.'s roamed the downtown streets and stopped late sleepers after 6 am with their announcements that "the war is over, get up and celebrate."
Dave Kiffer is a freelance writer living in Ketchikan, Alaska.
Contact Dave at dave@sitnews.us

Dave Kiffer ©2005

Post a Comment View Comments
Submit an Opinion - Letter

Sitnews
Stories In The News
Ketchikan, Alaska