Voss Family: From Europe to Ketchikan
By DAVE KIFFER
September 28, 2007
Friday AM

Ketchikan, Alaska - When a new Ketchikan library is eventually built, a big thank you will be owed to a family that may have had its roots in the upper class circles of Europe but made its home in our small working class Alaskan town.
When Marjorie Anne Voss died last year in Ketchikan, the 84-year-old, life-long resident left her entire estate - including the house in which she had lived her entire life - to the city of Ketchikan in order to jump start the efforts to build a new library.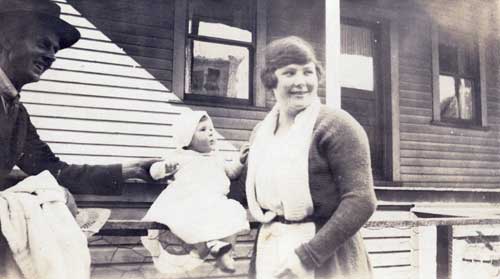 The Voss family, June 1922
Marjorie Ann Voss sitting on rail beside Theodore H. Voss and her Mother Ann
Donor: Marjorie Anne Voss, KM
Photo courtesy Ketchikan Museums

"Marjorie Anne loved Ketchikan," said her long-time friend Lou Harrington. "She was an only child. She didn't have any close relatives who needed the estate and she wanted to do something for Ketchikan."
Marjorie Anne's parents came to Ketchikan nearly nine decades ago, primarily because her father was a man who loved the opportunities available in America and especially the wide open Pacific Northwest and Alaska. After he died, in 1927, the family stayed on in Ketchikan.
Theodore Voss and Anne Steinbrunere (there are several different spellings of the family name in the family papers, this is most common one) met in New York City in the 1910s, according to longtime Voss friend and former Ketchikan Library Director Mary Smith.
Theodore Voss had been raised by his grandmother and aunts on the family estate near Amsterdam after his mother died when he was born.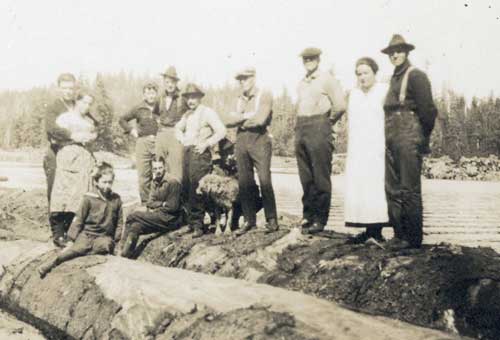 Theodore H.Voss's and logging crew on a log raft at their logging camp in SE Alaska, 1923
Donor: Marjorie Anne Voss, KM
Photograph Courtesy Ketchikan Museums

"His father had an import/export business and expected him to take it over" Smith wrote in a recent manuscript about the Voss family. "He was given the freedom to skate on canals, ski in Switzerland and ride horseback anywhere.Voss yearned for an outdoor life."
Smith wrote that Voss was educated as a lawyer and spoke seven languages fluently. He invested money in the Amsterdam stock market and decided to move to America to further seek his fortune.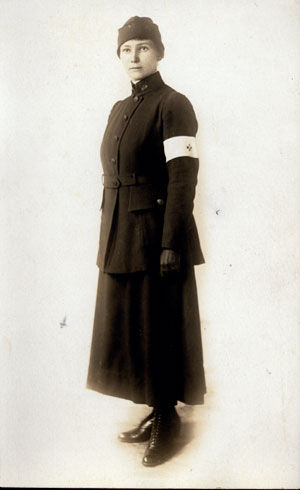 Martha Steinbrunere in her uniform for the Signal Corps Telephone Operators Unit
Donor: Marjorie Anne Voss, KM
Photograph courtesy Ketchikan Museums
Steinbrunere was raised in Eastern France and had been educated at a Swiss boarding school and the Sorbonne in Paris. She was fluent in German, English and French. She and her sister Marthe both moved to New York City in the mid 1910s, where Anne modeled clothes for department stores. Smith wrote that Anne moved in "literary circles" and was an acquaintance both author Sinclair Lewis and scientist/author William Beebe.
Voss and Steinbruener agreed to be married, but not until Voss went west, first to California and then to China and the Far East.
Martha Steunbruener had moved out to San Francisco and it was there, in 1919, that Anne and Theodore were married.
"Theodore found employment in the Scandinavian American Bank in Seattle from where he made a trip to Southeast Alaska and was enamored with the region," Smith wrote. "He purchased several trolling boats and had them sailed to Alaska where they were sold for a slight profit. Anne also adapted well to small town life in Ketchikan."
Towards the end of World War I, Anne's sister Marthe returned to Europe as a member of the U.S. Signal Corps telephone operator's division. "Tante" Marthe would remain close to Marjorie Anne over the years, even after Marthe decided to return to Strasbourg to live, where Voss last visited with her in the mid 1970s.
Marjorie Anne Voss was born on June 29, 1921 and the family immediately moved into the house at 1222 Tongass (the house was slightly up from the wooden Tongass Avenue in those days and was sometimes called Cliff Street) where she would spend the rest of her life. The family also owned a second smaller house closer to the bottom of the hill.
Smith wrote that initially Theodore Voss tried his hand at trolling and then turned to logging even though "he had to be shown how to hold an axe." In the early 1920s, Voss purchased a logging company and began logging in Kendrick Bay.
Marjorie Anne saved several early photos of the Voss Logging operation in Kendrick Bay not far from Cape Chacon on the south end of Prince of Wales Island. Several showed how the company tied log booms together for the long trip across Clarence Strait to the Ketchikan Spruce Mill.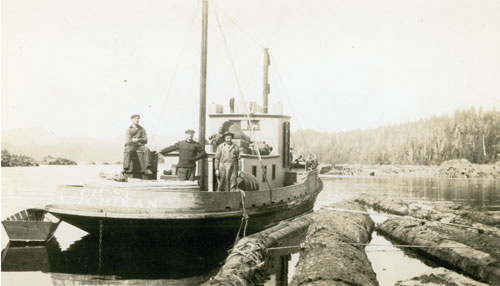 Theodore H.Voss's boat the Chief with a log raft in tow, 1923
"Teddy towing one of his rafts from the logging camp to mill"
Ketchikan, Alaska 1923"
Donor: Marjorie Anne Voss, KM
Photograph Courtesy Ketchikan Museums

In 1925, Marjorie Anne and her mother made a trip back to the family home near Strasbourg in eastern France. They spent more than a year in France.
While the trip itself was apparently uneventful, the return in September of 1926 was very eventful.
Their passage was on the liner La Savoie.
"The French liner La Savoie came into port today, nine days out of Havre, badly damaged from a collision in mid ocean with a British freighter last Wednesday and a 24-hour experience with a fierce hurricane on Thursday and Friday," the New York World reported on September 20, 1926. ".all of the 416 cabin passengers signed a testimonial certifying their belief that but for the superior seamanship of Capt. Thomas and his officers the vessel might have been sunk in the collision."
According to the World, the voyage seemed jinxed from the start with the ship having to take a sudden evasive maneuver to avoid a fishing boat by only a few feet outside the Havre harbor.
Then - a few days later - came the dense fog and the collision with the freighter Medonsly which punched a 50 foot long hole in the side of the side of the French ship. Fortunately the damage was well above the water line and the hole could be covered by canvas.
But then two days later, the ship faced hurricane force winds and high waves that threatened to tear off the canvas covering and flood the ship. According to the World, Captain Thomas had to literally turn the ship around and try to run with the storm for more than 12 hours in order to keep the ship afloat.
"The force of the waves was greatest on the port side and against the canvas coverings, which were soon demolished," the World reported. "Capt. Thomas maneuvered the ship so that the uninjured starboard side was presented to the force of the storm until the wind blew itself out."
Although the La Savoie arrived safely in New York, the damage was significant enough that the ship was scrapped a year later.
Anne and Marjorie Ann returned to Ketchikan on the Princess Louise but four months later tragedy would strike the family when Theodore Voss died in a boating accident.
Voss, Thomas Berry and Gust Swanson left Ketchikan in January 4, 1927, headed for the Voss Logging camp in Kendrick Bay on Voss' boat, the "Three Twins."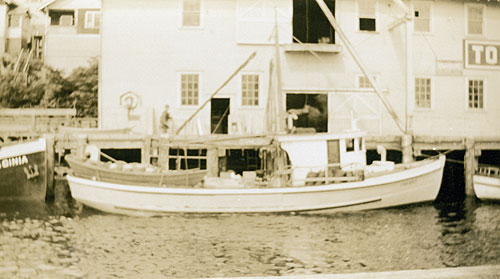 Bernhard Klatten's boat the Friendly at a Ketchikan dock.
Donor: Marjorie Anne Voss, KM
Photo Courtesy Ketchikan Museums

"That evening the sea was getting strong and we pulled into Cholmondeley Bay," Berry told a Ketchikan coronor's jury on January 8, 1927 according to the Ketchikan Chronicle.
The next day, they started again for Kendrick Bay, but about noon the boat engine quit.
"The sea was becoming worse every minute and suddenly we found ourselves in the trough of the sea," Berry testified. "We were swamped in little or no time and all three of us grabbed whatever we could get. Our skiff had been washed away."
Berry testified that Voss grabbed a hatch cover and he grabbed a life preserver. Swanson apparently was washed overboard without anything to float on.
"I made for shore about 800 feet away and was in the water for about 30 minutes," Berry testified. "The last I saw of Swanson he was about 100 feet from me, fighting to swim through the breakers."
When Berry got ashore he saw Voss "clinging with a death-like clutch" to the hatch covering and floating toward shore. It was "freezing cold" and Voss finally floated ashore.
"I worked over him for more than an hour," Berry testified. "He kept mumbling to me to start a fire but the only matches I had were soaked."
At 2 p.m., Berry said he decided to try to find help.
"Voss was breathing but unconscious when I left him on the beach," Berry testified. "I kept walking until 10 O'clock that night when I found a deserted shack. Early the next morning I tied of piece of newspaper to a stick and hailed H.N. Young, a fox farmer on Skin Island."
They went back to where he had left Voss.
"He had moved about eight feet and apparently removed his wet coat," Berry testified. "We took the body to Skin Island immediately and then went to Salt Chuck where we got Fred Nelson to bring the body to Ketchikan on his gas boat."
After his testimony, the Chronicle reported that Berry addressed the coronor's jury directly.
"It was a terrible experience, watching Voss die because a single match was unavailable and seeing poor Swanson fighting through that storm," Berry said. "Someday the law of Alaska will make it imperative that matches and food be stored in shacks along deserted beaches and that the death penalty be inflicted on any one taking them."
The coronor's jury ruled that Voss had died from exposure.
A year after Voss's death. Anne Voss married Bernhard "Ben" Klatten, a local halibut fisherman who had a boat called the "Friendly." Ben Klatten died in 1968, Anne Klatten, who shared her French culture and language with students at Ketchikan Community College in the 1950s, died in 1963..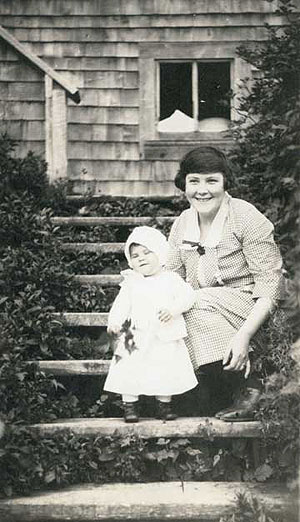 Marjorie Ann Voss and mother Ann
Donor: Marjorie Anne Voss, KM
Photograph courtesy Ketchikan Museums
Marjorie Anne Voss would grow up and spend nearly all the rest of her life in Ketchikan. Her 13th birthday party even rated a notice in the July 8, 1934 Ketchikan Chronicle under the headline "Marjory Anne Voss Celebrates Thirteenth Birthday"
"A large artistically decorated birthday cake bearing 13 candle was placed before Marjory Anne and cut by her," the Chronicle reported. "During the evening games of all sorts were played and some of the girls entertained the others with interesting stories."
Marjorie Voss graduated from Ketchikan High School in 1940 and later graduated from Washington State College in Pullman. She worked as a social worker, a substitute teacher and then worked for many years at the Tongass Historical Museum. Besides her interest reading - which made her one of the most frequent patrons of the Ketchikan Public Library - she also had an interest in writing, penning at least three novels. She self published "Raising the Jinx" a novel about a Ketchikan fishing family that she dedicated to her step father, Ben Klatten.
Voss also worked with her friend Lou Harrington to finish up a manuscript by local author Margaret Bell.
When her eyesight failed in recent years, it didn't stop her from reading and writing, she used a talking computer to continue to write a mystery called "Finders Keepers" and a book about her guide dog, Lady.
The estate that Voss is leaving to the library is estimated at well over $500,000 by city officials. It includes the two small houses that the family owned, several pieces of antique European furniture that Voss probably inherited from her "Tante Marthe" and a large collection of French and American gold coins that Voss inherited from her parents.
On the Web:
Historical Ketchikan... Historical Alaska - More Feature Stories by Dave Kiffer


Dave Kiffer is a freelance writer living in Ketchikan, Alaska.
To republish this article, the author requires a publication fee.
Contact Dave at dave@sitnews.us
Dave Kiffer ©2007

Post a Comment View Comments
Submit an Opinion - Letter

Sitnews
Stories In The News
Ketchikan, Alaska