Schallerer's Shuttered: Ketchikan Photo Shop was nearly 80 years old.
By DAVE KIFFER
October 18, 2006
Wednesday

Ketchikan, Alaska - One of longest lasting businesses in Ketchikan history is ending its run this winter according to current owner Joe Shinn, but at least there will be plenty of photographs to remember it by.
Schallerer's Photo Shop has been a Ketchikan landmark for nearly 80 years but changes in the photo business combined with earlier changes in Ketchikan's downtown mean Schallerer's dark room light is going out for good.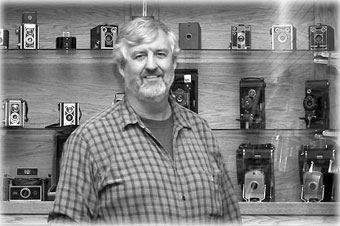 Current owner Joe Shinn in front of a portion of Schallerer's antique camera collection - a collection that dates back to the very earliest Kodak brownies...
Photograph by Ty Rettke©
In the last year, Schallerers had moved from Downtown to Ketchikan's West End.
"The reason for the West End move was to recapture local business, as the stigma of Downtown drove people away," said Schallerers manager Ty Rettke. "Constantly people were saying that if we weren't Downtown, they would shop with us as they 'never go Downtown.' Even in the Winter. Unfortunately, this was not the case, as we did not recapture much if any old business and we lost all the summertime processing."
Film processing had always been a major part of the business and that was already down dramatically in recent years because many customers had switched to digital cameras.
"Digital has had a large effect on roll counts, as has Wal Mart coming in," Rettke said. "During the summer we used to do (pre-digital and pre Wal Mart) 80-100 rolls of film a day. In the winter we still did 35-45 rolls, all local. We now average a dozen rolls a day. During the summer, while we were processing Downtown, the roll counts were down quite a bit as people are using more digital cameras and not printing as many pictures. So it was kind of a one-two punch."
Rettke said that the troubles experienced by Schallerers in recent years are common in the industry. He noted that several prominent brands such as Minolta and Konica have gone out of business and many others are merging. The days of the old "mom and pop" full-service photo stores like Schallerers appear numbered.
"You won't see camera stores anymore, only large retailers with 5 percent margins on merchandise, but moving millions of units," Rettke said. "The photo shops are professional areas only. People looking for quality printing that they can not get at a grocery store or a box store."
Rettke said that he and store owner Joe Shinn hope to open a professional photo lab in town to provide those and other services such as photo restoration, copy work, studio work and archival prints.
"This is the way that many stores are going to have to go," Rettke said. "There is just no money in retail, unless you are a large outfit, any more."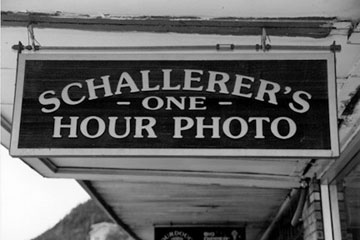 Photograph courtesy Schallerer's
The genesis of Schallerers Photo Shop was another well-known Alaskan photographer, John E. Thwaites.
"Jack" Thwaites had lived in Alaska since 1905 and had made a name for himself as a photographer from Bristol Bay to Prince William Sound. In 1919, he and his wife, Isabelle, moved from Seward to Ketchikan and opened a small photo shop on Stedman Street because the town was recommended to them by Isabelle's cousin, Ketchikan Methodist minister, Rev. C.M. Van Marster.
Although Ketchikan already had at least four or five other professional photographers, the community was growing rapidly - it would soon briefly be the largest city in the state - because of the booming salmon canning industry and was also attracting many visitors brought by the Alaska Steamship Company, the Admiral Line and the Canadian Pacific Railway steamers. There was apparently more than enough work for all the photographers, especially in the ever increasing post card trade.
By 1925, the Thwaites' were ready to expand their business. They purchased a store ion the brand new Ingersoll Hotel Building on Front Street.
"Back in the early nineties (1890s), Mr. Thwaites could be found snow-shoeing over the hills of the Lake Superior region or treading his way under the Spanish moss of the jungles of Florida, camera in hand," the Ketchikan Chronicle reported on January 24, 1925. "Six years ago (he) selected Ketchikan for (his) home and established a little shop for the production of Alaskan pictures. On December 15, they moved their shop to the new Ingersoll Hotel building."
Not unsurprisingly, the Chronicle saw the store as a sign of Ketchikan's growing sophistication.
"That such a business could live and flourish in Alaska is a surprise to many, but is a standing compliment to the culture and artistic sense of a large percentage of Alaska's people," The Chronicle gushed on. "Not only do they want to decorate and adorn their own homes with pictures and other articles of refinement and of high artistic value but they buy liberally of these things to send to their friends in the States."
On April 18, 1932, Otto Schallerer announced in a Chronicle advertisement that he had purchased Thwaites photo shop and would continue to operate it under that name. Schallerer noted that Thwaites was retiring from business due to "ill health." In the advertisement , Thwaites thanked his "loyal and generous" customers for their support for the past 13 years.
According to Pennelope Goforth's 2003 biography of Thwaites, "Sailing the Mail in Alaska," Thwaites was 69 years in old in 1932 and sick with a form of gout.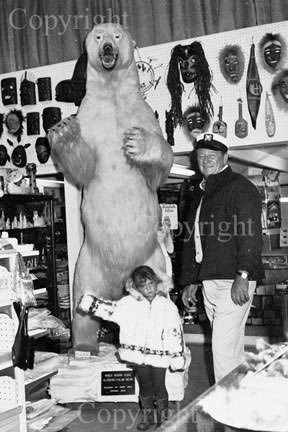 John Wayne and Fred the bear.
Permission granted to SitNews
for publication by Schallerer's ©
A fee is required for this photograph. You can purchase a copy of this photograph from www.schallerers.com
After "retiring" from the photo shop, Thwaites and his wife spent two years at Bell Island, partaking of the "cure" of the mineral waters. The spa did work wonders on his gout, but in 1934, they left Alaska for good on a steamship for Seattle.
They lived on Mercer Island until Thwaites died at age 77 in 1940. He was cremated and his ashes scattered in Tongass Narrows.
By 1935, the name was listed in the Ketchikan phone book as Schallerers Photo Shop.
Otto Schallerer was born in Chicago, Illinois in 1884 and came to the Aleutian fishing community at Unga Island in 1909. He spent several years fishing off the Alaska Peninsula before opening a photo shop called The Alaska Store in Seward where he first met Jack Thwaites.
The May 1920 edition of The Pathfinder, the magazine of the Pioneer's of Alaska included biographies of both Schallerer and his wife Lillie.
"Mr. Schallerer has never rambled much in Alaska," the Pathfinder wrote. "But has been active in the communities in which he has lived and is an enthusiastic booster for his town."
The Pathfinder noted that Schallerer had met his "life partner" in Seward but that Schallerer himself was a not member of the "Pioneers" because he had only been in Alaska since 1905, a scant 15 years in "The Northland."
Lillie Schallerer, the Pathfinder noted, had been born in Kansas in 1882, but had come to Alaska during the Klondike Goldrush and had been one of the first residents of Seward and had served as postmistress for eight years.
"Mrs. Schallerer arrived in Alaska in time to be classified as a Pioneer," The Pathfinder noted in full disclosure mode. "She is the Seward agent for the Pathfinder and is an inveterate worker for its advancement. Having served so long as postmistress in Seward, she probably knows more of the old-timers that most any one else on Kenai Peninsula."
The Schallerers first worked with John Thwaites when they came to Ketchikan in 1930 and produced several well-regarded "books" of scenic photo post cards of the area.
In addition to the thousands of photographs chronicling Ketchikan from the early 1930s to the mid 1960s, Schallerer was also known such photo innovations such some of the earliest aerial photos of the area. He also climbed large communications towers in the area to get photos of Ketchikan's growing West End.
His scenic photos proved popular with both residents and visitors alike. Many were hand tinted by Lillie Schallerer.
"During his years in Ketchikan, Mr. Schallerer played a significant part in recording photographically the beauties and history of this area," said former Ketchikan museum director Virginia McGilvray, according to Goforth's book.
Schallerer was also one of the first Alaskans to realize the true importance of the artist Sydney Laurance. Schallerer collected several Laurance originals and even produced some 40 black and white reproductions of Laurance's work.
Laurence and Schallerer met in the early 1900s when both were starting out. The Sidney Laurance painting of Mt. McKinley on display at Ketchikan High School was donated to the school by Schallerer.
Lillie Schallerer died in the early 1960s and in 1965, Otto Schallerer sold his photo shop to the Freddy and Lillian Greuter and their family which continued to operate it as Schallerers for the next 20 years. Schallerer died in Colorado Springs, Colorado in 1968.
For many visitors to Ketchikan a stop by Schallerers for a "photo op" with Fred the 9 1/2 foot tall stuffed Polar Bear was a must do. Even movie star John Wayne was photographed with "Fred" in the 1960s.
In the mid 1980s, Dave Coates bought the Front Street store from the Greuter's and in 1993, Joe Shinn purchased it from Coates.
In 2003, it left its location of nearly 80 years and moved to old Bon Marche Building on Mission Street.
At the time, Shinn told the Ketchikan Daily News that rents had become too high to sustain the photo shop on Front Street.
But within two years, Schallerers had moved once again, this time to a location on Tongass Avenue in Ketchikan's West End in the Marine View Building.
With the closing of Schallerers, the fate of 9 1/2 foot Fred the bear is still undecided.
"Fred the Bear isn't sure where he'll end up," Rettke said. "He wants to stay in town, if at all possible. I'd say there's always room for him on my couch, but that, in this case, is a bit of a stretch,"
Dave Kiffer is a freelance writer living in Ketchikan, Alaska.
Contact Dave at dave@sitnews.us
Dave Kiffer ©2006

Post a Comment View Comments
Submit an Opinion - Letter

Sitnews
Stories In The News
Ketchikan, Alaska