Revilla Hoped to Eclipse Ketchikan
Ward Cove Community Sought to Be "The Town of SE Alaska"
By DAVE KIFFER
July 31, 2009
Friday

Ketchikan, Alaska - Most Ketchikan residents are aware that at in 1900 both Ketchikan and Loring were locked in battle to be the "big town" in southern Southeast Alaska.
But what is less well known is that one of the most prominent businessmen in Ketchikan was rooting against his hometown by promoting a third option, the village of Revilla.
In 1900, Revilla was a small collection of shacks and a couple of small stores along the west side of Ward Cove, when former territorial Governor Alfred P. Swineford pulled a few political strings and - on April 7, 1900 - got the federal government to locate a post office in Revilla.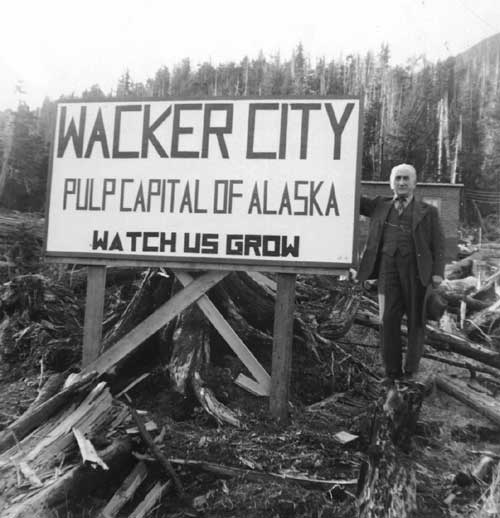 Mr. Wacker at Wacker City sign
Donor: John P. Wacker, Photograph courtesy Ketchikan Museums

Swineford - who published Ketchikan's lone newspaper, the Mining Journal and was the local representative for one of the region's largest mining concerns, the Alaska Bonanza Mining, Trading and Transportation Company - had begun developing "Revilla" in 1899. After getting the post office established, he turned his attention toward an even bigger prize.
The federal government had already announced plans to relocate the custom house, the official entry point for Southeast Alaska, from Mary Island, some 20 miles south of Ketchikan.
Both Ketchikan and Loring, a more established community some 15 miles north of Ketchikan, were in competition for the custom house because it was believed that the winner of the competition would then become the dominant community in the area.
In addition to running the local newspaper, Swineford was also a vigorous supporter of Ketchikan's small mining industry. He was in his 60s when he came to Ketchikan in the late 1890s and had already had long careers in politics and the mining and newspaper industries.
As an activist in the national Democratic Party in the 1880s, he had worked tirelessly to elect Grover Cleveland president. When Cleveland was elected in 1884, Swineford was named Alaska's second territorial governor in 1885.
Alaskan 'Purchase' Wanton
Swineford had originally been opposed to the purchase of Alaska in 1867, according to an his 1909 obituary in the Marquette Michigan Mining Journal, a newspaper that Swineford had founded four decades before.
According to the obituary, Swineford had "denounced the Republican party (in 1880) for the wanton expenditure of money in the purchase of Alaska, calling it wild spending and accusing (US Secretary of State William) Seward of buying a magnificent $7 million refrigerator capable of producing nothing but ice."
Later, in an interview with the Marquette Historical Society, Swineford conceded that he was still opposed to the purchase of Alaska as late as 1884, but then his mind had been swayed by the potential mineral riches in Alaska.
He was involved with mining companies in Michigan and Illinois and he believed that - as territorial governor - he could help open up Alaska to mining.
Unfortunately, he discovered that his ability to get anything done in Alaska was hampered by the lack of government infrastructure. In 1887, he noted in his official yearly report to the US Secretary of the Interior, that Alaska should be moving toward some form of self-determination in the near future. Nothing happened and no significant changes to Alaskan self government would occur before 1912 and "self-determination" would not some until statehood in 1959.
Swineford was replaced as territorial governor when Republican Benjamin Harrison was elected President in 1889. Swineford had been the first territorial governor to actually reside in Alaska and he decided to stay on and travel the country. He also continued to write about the area for national newspapers and magazines and even wrote a national bestseller "Alaska: It's History, Climate and Natural Resources" in 1898.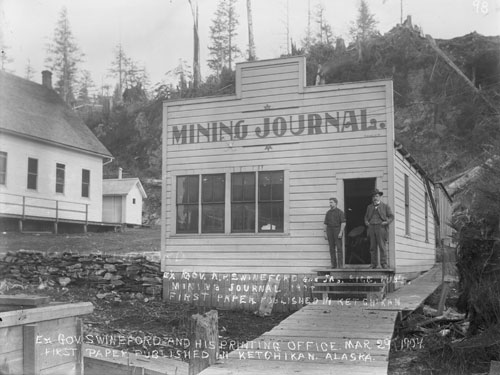 Mining Journal Building
First paper published in Ketchikan.
Harriet Hunt photo
Donor: Bertha Hunt Wells, THS 63.9.10.65

Chose Between Nome and Ketchikan
In 1898-99, he told the Marquette Historic Society, he was ready to settle down and chose between Nome and Ketchikan. He believed that both had great potential for future mining activity. He chose to come to Ketchikan and was immediately disappointed when a large gold strike hit Nome later in 1899.
Arriving in Ketchikan, Swineford found that much of the local economy was "controlled" by a tight knit group of businessmen who had come to Ketchikan from Wrangell in the mid 1890s when the Cassiar Gold Rush up the Stikine River had petered out.
Swineford was clearly an "outsider" and as a result began looking for opportunities outside the small town. He initially considered several mine or town sites on Prince of Wales Island but decided he needed to be closer to the steamship routes that traveled up the Inside Passage from Seattle to Juneau and points north.
He then turned his attention one of the best natural harbors in the area. It was locally called "Waud's Cove" in those days after W.W. Waud, a Portland resident who had drowned in 1883 shortly after starting a saltery in the cove.
But the federal government called the cove "Wards Cove." According to the Dictionary of Alaska Placenames, it was named after a crewmember of the survey ship, USS Paterson, which surveyed the cove in 1884.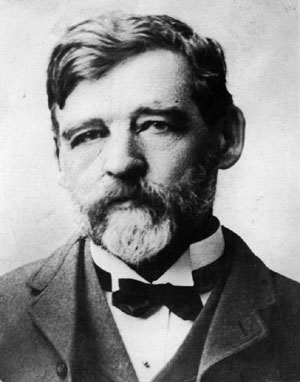 Governor Alfred P. Swineford, (1839-1919)
Childs Art Gallery of Ishpeming, Michigan photo
Donor: Ketchikan Public Library,
Photograph courtesy Tongass Historical Society
Swineford wasn't the old one who had an eye on the Cove. Mary Balcom reports in her Ketchikan history, "Alaska's Totemland" that the Pacific Coast Steamship Company built a small wharf in the cove and was planning to build a store there, along with a saloon and a sawmill.
At the same time they were pursuing the post office and the customhouse Swineford and Harper attempted to sell building lots in the new community.
The Town of SE Alaska
Several of Swineford's letters to his banker in Juneau, B.M. Behrends, are in the Tongass Historical Society collection and indicate that Swineford had big plans for "Revilla."
"Our townsite scheme is 'taking' most satisfactorily," Swineford wrote to Behrends on Feb. 10, 1900. " 162 applications for lots so far and work has already commenced on a number of buildings. I regret that you have not seen your way clear to taking an interest in the enterprise, but I hope yet to see you in business at Revilla either as a merchant or a banker or both."
In other letters to Behrends, Swineford frequently apologized for overdrafts at the bank yet he remained upbeat about the town's prospects.
"It will be the town of SE Alaska," Swineford wrote. "Unless the bottom drops out of our mining prospects, of which I have no fear whatsoever."
Unfortunately, that is exactly what happened to the mining industry region wide beginning in late 1901.
And despite Swineford's best efforts, the customs house ended up in Ketchikan - which signaled a death knell for both Loring and Revilla.
Despite Revilla's prime location, the few businesses that had located there quickly jumped ship to Ketchikan, among them Charles Sparhawk, who floated his store building from Revilla up to the channel to Ketchikan where it became part of his brother in law J.W. Young's business in Newtown.
Swineford also moved back to Ketchikan and continued his newspaper career. He made peace with the "Wrangell gang" and eventually served as Ketchikan "mayor" in 1901. He died in Juneau at the age of 75 in 1909.
Harper - who had been named postmaster in Revilla, stayed until 1901 when the post office closed. His and Swineford's sawmill, the Revilla Lumber Company, continued on sporadically for the next several years, primarily because it had a contract to provide salmon can crates for the Fidalgo Island Packing Plant in Ketchikan.
"H.H. Zumdieck has gone to Wards Cove for an indefinite stay as keeper in charge of the sawmill property at that place, which is plastered over with as many liens and attachments as there are counties and townships in any two states west of the Rocky Mountains," Swineford wrote in the March 7, 1903 edition of the Mining Journal.
A month later, it was someone else's turn.
"Capt. W.A. Connell arrived here yesterday morning and will take up residence at Revilla," Swineford wrote on April 10, 1903. "The Captain's many Alaskan friends will be pleased to learn that he has succeeded in straightening out the affairs of the Revilla Lumber Company in a manner satisfactory to all concerned and that the mill will be started up again not later than the 25th."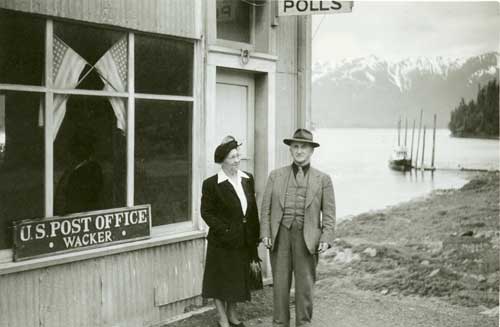 Mr. and Mrs. Wacker standing next to the Wacker Post Office on election day
Donor: John P. Wacker,
Photograph courtesy Ketchikan Museums

Wacker Arrived in 1907
But it didn't last long, because when Eugene Wacker homesteaded a large portion of the west side of Ward Cove in 1907, the sawmill was long gone.
In 1912, the Walsh Moor Canning Company opened the Wards Cove Cannery on the east side of the Cove. It was sold to Wards Cove Packing in 1914 and operated for more than nearly 90 years before finally closing in 2003.
Wacker eventually created a small descendant of "Revilla" on the east side of the Cove. It was named, appropriately enough, Wacker City, and had a school and a post office and was home to the bus company that Wacker ran on North Tongass Hwy.
In 1948, Wacker sold 50 acres of his homestead to the Bellingham Pulp and Paper Company which eventually led to the construction of the Ketchikan Pulp Company Mill which operated from 1954 to 1997.
The Wacker named lived on as the name of Ward Cove poling prescient station until the state consolidated voting precincts in Ketchikan in the early 2000s and eliminated the poling station there.
On the Web:
Historical Ketchikan... Historical Alaska - More Feature Stories by Dave Kiffer


Dave Kiffer is a freelance writer living in Ketchikan, Alaska. He is also currently the Ketchikan Gateway Borough Mayor.
To republish this article, the author requires a publication fee.
Contact Dave at dave@sitnews.us

Dave Kiffer ©2009

Post a Comment View Comments
Submit an Opinion - Letter

Sitnews
Stories In The News
Ketchikan, Alaska