Ketchikan Celebrates Milestone
By DAVE KIFFER
August 23, 2010
Monday

Ketchikan, Alaska - Ketchikan turns 110 years old this week.
On August 18, 1900, Ketchikan residents voted to incorporate and on August 25, 1900, the election board certified the results and Ketchikan became a "city."
The town population in that year was approximately 400, but the need to provide for a school ­ and collect taxes for it - was at the forefront of the incorporation drive. The incorporation petition also cited the need to "provide for good order, health and public wants."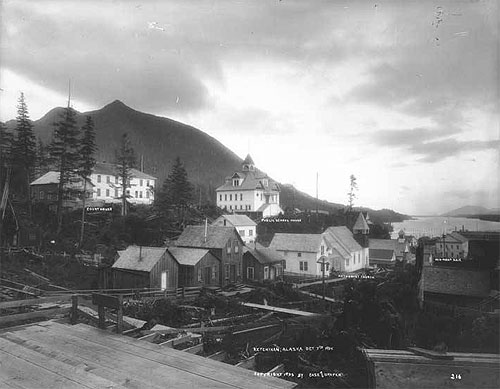 Ketchikan -- 1905
William R. Norton. Photographs, ca. 1890-1920
Courtesy Alaska State Library - Historical Collections

Left unstated was the "battle" going on between Ketchikan and the nearby community of Loring for supremacy/existence. Loring had been founded in the early 1880s and featured a large cannery and one of the world's largest salmon hatcheries. At time when Ketchikan was little more than a couple of shacks clustered around what was then called "Fish Creek" Loring had a population of between 200 and 300 people by the early 1890s.
But what Ketchikan had, and Loring wanted, was control of the giant salmon runs that returned to "Fish Creek."
In fact, a physical battle had taken place earlier in the summer of 1900 as fishermen from Loring had fought with fishermen from Ketchikan (a new cannery, owned by Fidalgo Island Packing was taking shape south of Fish Creek) over the ability to put nets at the mouth of the creek. That fight would eventually play out in the federal courts before a decision would be reached that no single company could "own" a creek.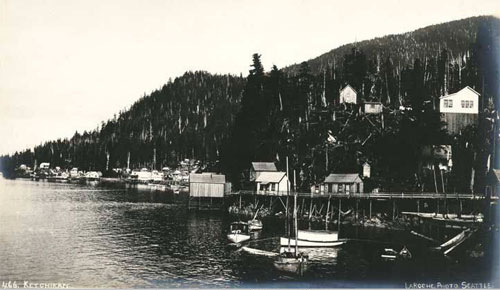 Ketchikan -- ca. 1890 and ca. 1902
Frank LaRoche Collection. Photographs, 1890-1902
Courtesy Alaska State Library - Historical Collections

The two communities also fought over which one would be "customs" station for vessels entering Southeast Alaska from the south. It was a lucrative position because all ships would be required to stop there. Ketchikan also won that battle and that was the end of Loring's efforts to be the dominant community in the area. Although it was the height of the busy summer season, August 18, 1900 was a quieter than normal summer day in Ketchikan.
For one thing, all the saloons, dance halls and card rooms were closed.
It was the law in the then Military District of Alaska, that those businesses and some others of even less repute should be closed on election day. So from 8 am to 7 pm, entertainment options were severely limited.
The petition for incorporation of Ketchikan had been filed on July 16, 1900 in the First Judicial District for Alaska. The petition noted there were 800 "bona fide" residents of Ketchikan, a number that was undoubtedly "inflated" in order to make Ketchikan appear to be a more substantial community.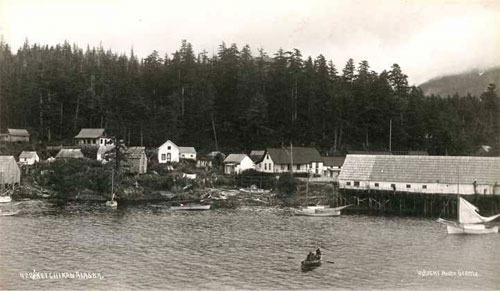 Ketchikan -- ca. 1890 and ca. 1902
Frank LaRoche Collection. Photographs, 1890-1902
Courtesy Alaska State Library - Historical Collections

The 1900 federal census had not been completed at the time and the census from a decade before -1890 - showed on 40 residents.
Still - at the time - no one apparently questioned the figure of 800, even though that would have made Ketchikan twice the size of its much more established neighbor Loring.
When the 1900 census was completed several months after the incorporation vote, there were officially 459 people in Ketchikan.
According to local historian Mary Balcom in her 1961 book,"Ketchikan: Alaska's Totemland," the petition also stated that Ketchikan was the "center" of the regional mining district, and an important point on the "the great highway of commerce between the states and Alaska on the Inside Passage."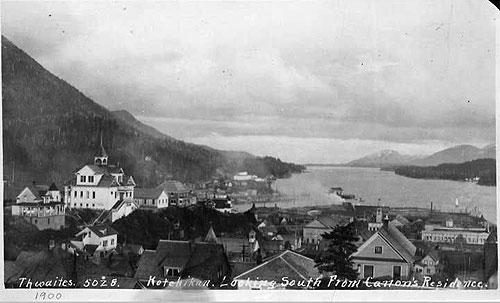 Ketchikan. Looking south from Canon's residence, ca. 1906.
John E. Thwaites. Photographs ca. 1906-1932
Courtesy Alaska State Library - Historical Collections

According to another local historian, June Allen, the July 16th petition was the second filed for incorporation. Allen wrote in her book "Spirit: Historic Ketchikan" in 1991 that an earlier petition had been denied in June because it included the names of female residents of the area.
Allen noted that of the 95 men who signed the July 16 petition, 35 listed mining or prospecting as their occupations, and many others were connected to businesses that served the mining industry. Oddly enough, despite the fact that Ketchikan had a brand new Fidalgo Island Packing cannery, there were no fishermen listed on the incorporation petition.
According to Allen, the petition was prepared by community leader - and future territorial legislator - Charles Ingersoll.
It boasted that Ketchikan had "four large wholesale mercantiles, the largest cannery in Alaska, six saloons, two drug stores, a church, two hotels, four restaurants, two meat markets, two barber shops, a tailor shop, two laundries, two shoe-repair shops, two large halls, the Red Men lodge, two assay offices, a news stand, two wharves, warehouse, boat building shop, offices of the U.S. Commissioner and the U. S. Marshall, a dairy, three law offices, a mining recorder, two dentists, four physicians and a hospital."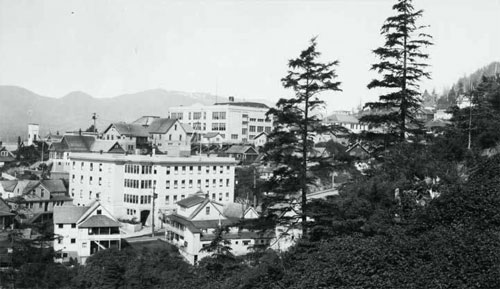 Ketchikan, Alaska.
Ketchikan General Hospital, left foreground, Main school above -- ca. 1906-1932
John E. Thwaites. Photographs ca. 1906-1932
Courtesy Alaska State Library - Historical Collections

Federal Judge M.C. Brown received the petition on July 26 and scheduled a public hearing for August 8. There was apparently little public concern voiced over the incorporation because Brown quickly set August 18 as the date for the incorporation vote.
He named Henry Strong, H.C. Whitney and Willis Bryant to the election board. For some reason, Whitney was unable to complete his duties, because when the canvas board released its report after the election, it was signed by Strong, Bryant and E.W. DeVoe.
Judge Brown also set the parameters for voting eligibility. Voters had to be citizens of the United States, male, 21 years old or older, residents of Alaska for one year and the Ketchikan area for six months and "owners of substantial property interests."
Those parameters alone may have been the cause of what would appear to be a fairly low voter turnout. It was not clear exactly what "substantial property interests" where, but in a highly itinerant community made up primarily of miners and fishermen, it is likely there were few actual "property" owners in Ketchikan in 1900.
Three polling stations were created, the post office, the Ketchikan Drug Store and J.W. Young's store in Newtown.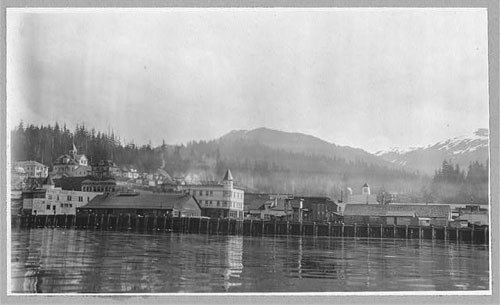 View of Ketchikan, Alaska [between ca. 1900 and ca. 1930]
Forms part of: Frank and Frances Carpenter collection (Library of Congress). Gift; Mrs. W. Chapin Huntington; 1951. Photograph courtesy Library of Congress

Residents dutifully trooped to the polling stations, no doubt wishing for the hours to move quickly in order for the saloons, dance halls and card rooms to reopen.
It took several days to count and certify the ballots and on August 25, 1900, it was declared that the incorporation had been approved by an 82 to 18 margin with three voters casting blank ballots. The total number of votes was 102 or 12.75 percent of the claimed population.
Both Allen and Balcom have suggested that many potential voters may have been out of the community during the vote as it was the height of both the fishing and mining seasons.
In addition to deciding whether or not to incorporate, the voters also chose a new town council and a three member school board. The new council members were saloon owner and town "founder" Mike Martin, hotelier John Stedman, mine owner Robert Allison, merchant Boyd Young, Dr. M.M Hopkins and prominent merchant J.R. Heckman. Martin was selected council president, the forerunner of the mayor's position.
The men elected to the school board were Forest Hunt, J.H. Garrett, J.R. Beegle, Tom Heckman and Judge Harvey Stackpole. By Sept. 15, the school board had met and hired Anna Hicks as the first school teacher at a salary of $75 a month.
Ketchikan was the third southeast town to incorporate in the summer of 1900, following Skagway and Juneau by a matter of weeks.
On the Web:
Historical Ketchikan... Historical Alaska - More Feature Stories by Dave Kiffer


Dave Kiffer is a freelance writer living in Ketchikan, Alaska.
A republication fee is required.
Contact Dave at dave@sitnews.us
Dave Kiffer ©2010

Post a Comment View Comments
Submit an Opinion - Letter

Sitnews
Stories In The News
Ketchikan, Alaska