Weinstein Longest Serving Ketchikan Mayor
By DAVE KIFFER
November 29, 2006
Wednesday AM

Ketchikan, Alaska - When Bob Weinstein completes his current term as Ketchikan City Mayor in 2009, he will be the longest serving mayor in Ketchikan's history with 12 years in office.
Actually, he's already the longest serving city mayor and only Jack Shay - who has served as both city and borough mayor - has been "mayor" for more years than Weinstein.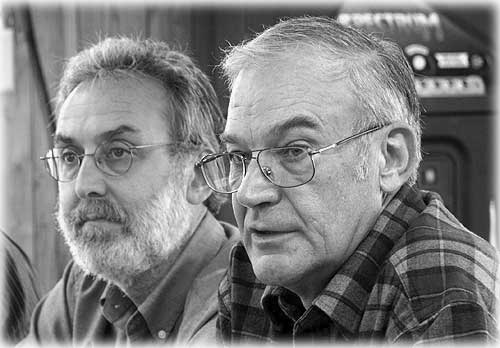 Ketchikan City Mayor Bob Weinstein and City Council Member Chuck Freeman who served as City Mayor in 1984. The two were photographed at the Greater Ketchikan Chamber of Commerce Forum in September of 2006.
Photograph by Dick Kauffman

Traditionally, Ketchikan city mayors only served one year terms before facing re-election or reappointment from the city or town council. It wasn't until 1961 when Ketchikan City Mayors began to be elected for three year terms.
Mike Martin
Ketchikan's first mayor, circa 1910
Donor: Mrs. Al Hagmoe
Photograph courtesy Ketchikan Museums
Mike Martin, one of the founders of Ketchikan, is generally considered Ketchikan's first "mayor" but he never actually held that position. When the first town government was formed in 1900, Martin was the first council president. He was also council president two more times in 1903 and 1904. Documents from the time refer to Martin as the "ex officio" mayor. Ketchikan would wait until 1909, when Jacob Pittenger was the first council president to be officially called "mayor."
Pittenger was also the first "mayor" to win three consecutive terms. Pittenger was followed in 1911 by one of the real "heavyweights" in early local politics. Thomas Torry (see accompanying story) was elected for two terms in 1911-1912 and then won six consecutive elections between 1921-1926. Mike Heneghan was also a constant force in city government, serving four different terms as mayor between 1913 and 1928.
Jack Talbot had a similar run, serving several different mayoral terms - five - between 1936 and 1950.
But, in general, Ketchikan mayors, at least in the early days, tended to serve one or two terms and then either leave office or spend more time on the city council.
The list of Ketchikan city mayors over the years is a "who's who" of familiar local names: Ellis, Gilmore, Ziegler, Hunt, Freeman, Hardcastle, Pinkerton, Beegle, Spaulding, Beck.
There have been two sets of father/sons who have served as Ketchikan city mayors, Forrest and Dale Hunt and Oral and Chuck Freeman.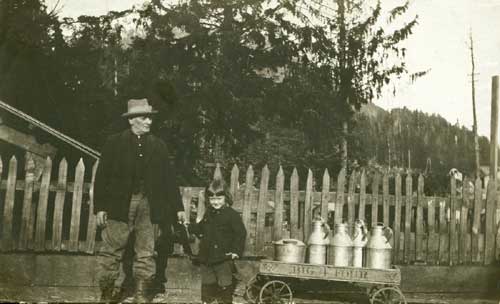 J. Pittenger and granddaughter Jesta Williams delivering milk from his dairy, 1912
Donor: Irene Chesney McGillvray, Tongass Historical Museum
Photograph courtesy Ketchikan Museums

After statehood, the city mayor terms expanded to three years and Ketchikan also began getting multiple mayors because the new borough government also had a one (although not at the beginning. The first borough "mayor" was Bob Ward, who was officially called the borough chairman).
Prior to Weinstein, the mayor who had the longest consecutive service streak was Borough Mayor Carroll Fader who served three terms - nine years - from 1975 to 1984. Jack Shay is the only person who has served as both Borough Mayor and City Mayor and he - like Weinstein - was also elected to four terms.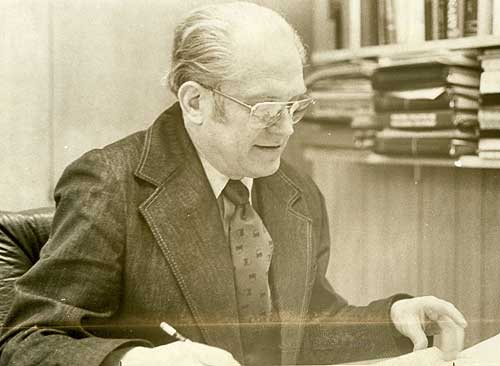 Mayor Carroll Fader sitting at his desk
Ketchikan Daily News Collection, Ketchikan Museums
Photograph Courtesy Ketchikan Museums

But Shay, who was elected twice as city mayor in 1979 and 1982 cut his second term short to take a job with the state government in Juneau in 1983. He was also elected borough mayor twice, in 1996 and 1999 and completed both terms, so he served a total of 11 years as either city or borough mayor.
Bill Moran was the first city mayor to serve two consecutive three year terms, from 1973 to 1978, setting a pattern that held until Weinstein was elected in 1997. Shay was elected to two three year terms, as were Ted Ferry and Alarie Stanton. Chuck Freeman filled out the last year of Shay's second term in 1983.
On the borough mayor side, single three year terms have been more common in recent years. With the exception of Shay every borough mayor since 1990 - Ralph Bartholomew, Jim Carlton, Mike Salazar and current mayor Joe Williams - has served a single term.
"Early Mayor Torry helped Build Ketchikan"
Like many of Ketchikan's early mayors, Thomas Torry was a bit of a roundabout before finally settling in Ketchikan. He was also a master builder who was responsible for many early Ketchikan landmarks.
CITY MAYORS
- Mike Martin (council president, ex officio Mayor) 1900, 1903, 1904 (photo)
- Alfred Swineford 1901
- George Irving 1902, 1905
- Forrest Hunt 1906-1907(photo)
- Jacob Pittenger 1908-1910 (first to called mayor in 1909)(photo)
- Thomas Torry 1911-1912, 1921-1926
- M.J. Heneghan 1913, 1916-1917, 1928
- D. Smith Harris 1914
- John R. Beegle 1915
- A.A. Wakefield 1918
- R.L. Petty 1919
- Dale Hunt 1920(photo)
- Frank Thompson 1927
- M.J. Bucey 1929
- Doc Walker 1930-1931
- F.R. Mitsch 1932
- P.J. Gilmore 1933 - 1935
- J.A. Talbot 1936-1937, 1943, 1949-1950 (photo)
- A.H. Ziegler 1938 (photo)
- Harry G. McCain 1939-1940, 1942
- W. K. Spaulding 1941 (photo)
- R.C. Pedersen, 1944-1945
- J.E. Johnson 1946
- Bob Ellis 1947-1948 (photo)
- George Beck 1950-1954 (photo)
- Joe Goding 1955-1957 (photo)
- J.E. Winston 1958
- Richard Hardcastle 1959-1960 (photo)
- Louis Glatz 1961-1963 (first three year term)
- James Pinkerton 1964-1966 (photo)
- Oral Freeman 1967-1969 (photo)
- Bill Hamilton 1970-1972
- William Moran 1973-1978
- Jack Shay 1979-1983 (resigned)
- Chuck Freeman 1984 (photo)
- Ted Ferry 1985-1991
- Alarie Stanton 1991-1996
- Bob Weinstein 1997 - 2009
BOROUGH MAYORS
- Bob Ward (Chairman) 1963-1966
- Don King 1966-1971
- Bob Boomer 1971
- Karl Steward 1971-1975
- Carroll Fader 1975-1984
- Ralph Gregory 1984-1990
- Ralph Bartholomew 1990-1993
- Jim Carlton 1993-1996
- Jack Shay 1996-2002
- Mike Salazar 2002-2005
- Joe Williams 2005-2008
According to the January, 1907 Ketchikan Mining Journal's Illustrated Annual, Torry was born in England in 1864. He moved to America in 1888 and settled in South Dakota, living there for three years before relocating to Tacoma, Washington where he spent two years. In 1893, he moved to the burgeoning community of Loring which was much larger than Ketchikan in those days.
He worked as a carpenter, engineer and architect at the Alaska Packers Association cannery in Loring until 1898 when he relocated to Ketchikan. His obituary in the June 20, 1940 Ketchikan Chronicle also noted that Torry briefly went north to prospect in the Yukon.
"He played a prominent part in the construction of Ketchikan," the Chronicle reported in 1940. "As mayor and city manager he was responsible for most of the wooden streets that now remain, while he also designed or was in charge of many houses and other buildings."
The Chronicle credited Torry with working on the Stedman Hotel, the Heckman Building and the Masonic Temple as well as at least two stately homes on Edmonds Street.
A report in a 1906 issue of the Mining Journal credited Torry with a major expansion of Ketchikan school building that year as well.
Torry was first elected to the city council in 1907 and served on the council until 1909. He was elected Mayor in 1911 and re-elected in 1912. He then disappeared from the local political scene for a few years.
In 1912, Torry also served a Ketchikan delegate to the first territorial convention with set the stage for the first territorial legislature in 1913
Beginning in 1921 he was elected mayor for a record six consecutive terms.
The Chronicle, in its 1940 obituary, reported Torry was a popular mayor.
"Tom Torry is a grouchy old beggar but he is straight as a string and I hope he will be re-elected," the Alaskan Episcopal Bishop Peter Trimble Rowe told the Chronicle in 1925. "There will never be any graft in municipal affairs as long as Tom is mayor. He is thoroughly honest and he never hesitates to let anyone know where he stands on any subject. I heartily and sincerely admire him."
One of Torry's major accomplishments in the 1920s was the widening and expanding of Water Street for nearly half a mile north of the downtown area.
Torry also led the charge for one successful initiative, putting Ketchikan on Pacific Standard Time, and one unsuccessful one, an attempt by Southeast Alaska to break off from the north and form its own separate state.
Torry was defeated in his bid for a sixth term in 1926 by Frank Thompson and retired from Ketchikan public life at the age of 62.
He died in Ketchikan in 1940 at age 76 after a long illness.
Editor's Note: A special thank you to Richard Van Cleave and the Ketchikan Museums for providing photographs for this feature story.


Dave Kiffer is a freelance writer living in Ketchikan, Alaska.
Contact Dave at dave@sitnews.us
Dave Kiffer ©2006

Post a Comment View Comments
Submit an Opinion - Letter

Sitnews
Stories In The News
Ketchikan, Alaska